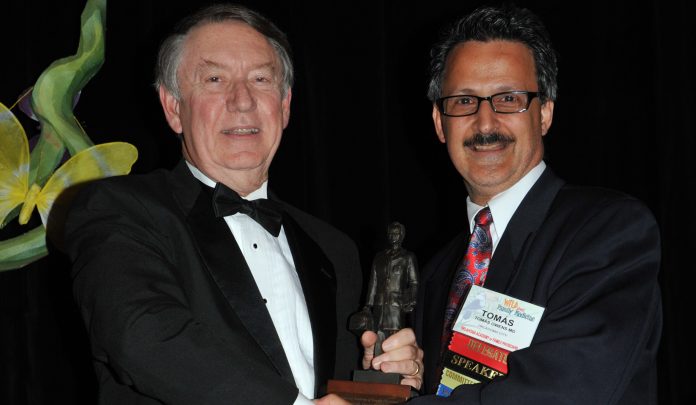 The Oklahoma Academy of Family Physicians (OAFP) has named Charles Womack, MD, the 2015 Family Physician of the Year at its Annual Scientific Assembly. The award honors one outstanding Oklahoma family physician who provides patients with compassionate, comprehensive care, and serves as a role model in their community, to other health professionals, and to residents and medical students.
"I am deeply honored and humbled by this award. I focus on doing what every family physician does, care for my patients," Dr. Charles Womack said. "I feel it's not only important have a positive impact in my practice, but also in the community in which I live and practice."
Born and raised in Oklahoma City, Dr. Womack has been a practicing family physician for nearly 40 years. He served as a physician in the U.S. Army for two years before starting his private practice in Oklahoma City in 1976.
Dr. Womack has been practicing with Deaconess Family Care for 10 years and is currently located at Deaconess Family Care – North Portland in Oklahoma City. Dr. Womack is an outstanding physician and leader within Deaconess Hospital and we are proud that the OAFP has honored him with this award. Dr. Womack serves as the Chairman of the Board at Deaconess Hospital and provides leadership that his peers describe as "quiet confidence that speaks to his years of serving people in healthcare." Dr. Womack has served in many positions within the OAFP, including President in 1988-89.
As the 2015 Oklahoma Family Physician of the Year, Dr. Womack becomes a candidate for the 2016 American Academy of Family Physicians Family Physician of the Year.
Deaconess Hospital, located in northwest Oklahoma City, is a 238-bed facility. With almost 500 providers on the medical staff, Deaconess is a full service, acute-care, medical/surgical hospital with a wide range of services including, cardiology, orthopedics, oncology, pulmonology, urology, general surgery, obstetrics and inpatient rehabilitation. Deaconess also operates 21 clinic locations with 45 providers across the Oklahoma City metro area. We work hard every day to be a place of healing, caring and connection for patients and families in the community we call home. Deaconess Hospital is directly or indirectly owned by a partnership that proudly includes physician owners, including certain members of the hospital's medical staff.