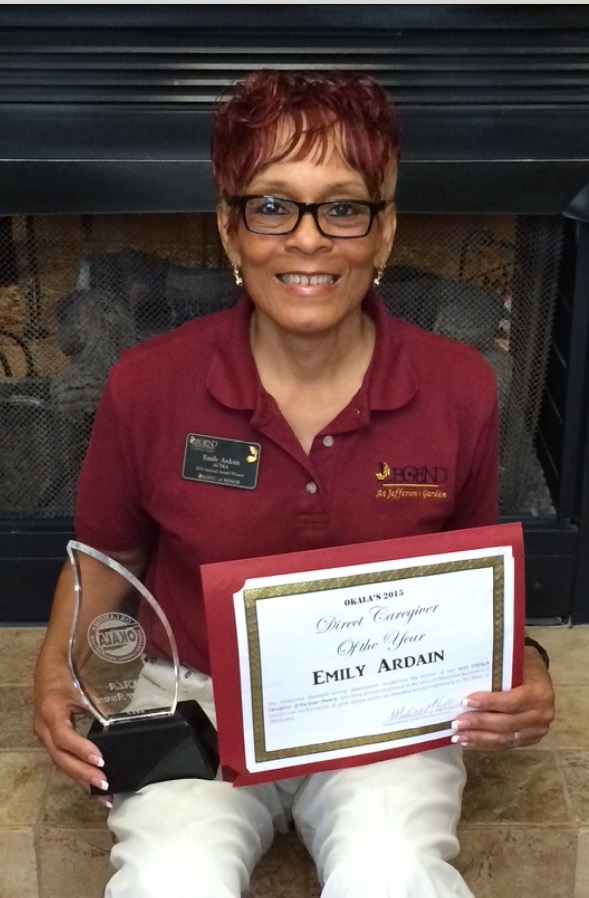 The Oklahoma Assisted Living Association recognized Emily Ardoin as the winner of 2015 OKALA Caregiver of the Year award. Ardoin serves as an Advanced Certified Medical Aide at Jefferson's Garden.
"Emily is truly a team player. She's willing to fill in wherever we need her," said Donna Kilgore, Residence Director at Jefferson's Garden.
The award indicates Ardoin has shown excellence in the care of Oklahoma seniors since August 2010. It also proves the exceptional performance of her duties within Jefferson's Garden Assisted Living.
Emily is respected and admired by her fellow associates and she can always be counted on to help where she's needed.
"Emily pays great attention to residents and details. I'm so glad to have her on my team," said Adrian Carpenter, Health Care Coordinator at Jefferson's Garden.
Everyone says Ardoin's smile and cheerful spirit is infectious. Residents adore her and she adores them.
Jefferson's Garden is a Legend Senior Living residence. Legend Senior Living is a privately owned company founded in 2001 by Timothy Buchanan and is dedicated to providing quality services and housing to senior adults. Legend Senior Living owns and operates Senior Living Residences in Kan., Fla., Colo., Okla. and Texas.