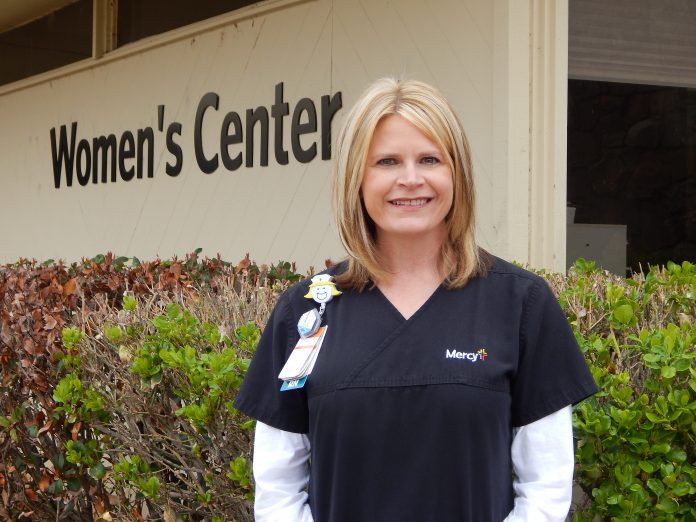 Gentle approach
RN leads breast cancer patients through first steps of diagnosis
by James Coburn
Staff Writer
Sheila Thurman's passion for nursing can be traced to her aunt's life with breast cancer, she said. Her aunt's chronic condition is no longer acute after treatment stemming back to her diagnosis in 1993, said Thurman, RN, at the Women's Center on the campus of Mercy Hospital in Oklahoma City.
Breast cancer touches a lot of women's lives as well as their loved ones.
The Women's Center serves the community by offering free risk assessments for patients, some of whom will have genetic testing if they meet the criteria, Thurman said.
Thurman assists with the biopsies and contacts the patients about their biopsy results, letting them know if they have cancer or not. She will help them schedule an MRI or a surgical consultation, depending on their test results. But her initial focus is telling patients they are doing the right thing by having a screening mammogram.
Thurman said sometimes there may appear dense tissue that later tests as being benign. Just because a woman has a lump in her breast does not necessarily mean it's malignant, she explained.
"Most people don't understand that things can be just benign, and they don't also understand the process by which we do things," Thurman said. They may wonder why they need another mammogram after a biopsy.
"So I educate them also in the process of how we detect things," Thurman said.
Current law mandates that all insurance companies are to provide women at least one mammogram every year without a doctor's order, Thurman continued.
Since Thurman is on the front-end of diagnosis, she will discuss with patients if they are on anticoagulants (blood thinner) before they are scheduled for a biopsy. Patients must be off an anticoagulant for at least seven days, Thurman said. Otherwise, the patient will bleed excessively during the procedure.
"I'm in there during the procedure and then I call them the next day," she said. "If it's benign, we're done. If not, then I notify their doctor or their referring physician to see who they would like me to refer the patient to for a breast surgeon."
There are three breast surgeons at Mercy Hospital, Thuman said, but some physicians have special doctors that they prefer to work with.
"That's kind of where I hand them off," she said.
Thurman uses a straight-forward approach in letting a patient know they have a cancer diagnosis. Patients want information and the facts of the matter, she said.
"You kind of have to feel the person out initially when we meet with them before saying 'You need a biopsy,'" Thurman said. "Well some you can flat out say, 'This is probably nothing,'" she said. "And then we try to introduce that thought that it could be a cancer. So you introduce it from the beginning to get them to start thinking about that. But some of them are so in denial that they just shut down and when you tell them, they're just blown away."
Other people are immediately receptive with a diagnosis, saying that they were prepared by the process.
"Some of them are just flat-out sobbing on the telephone," she described.
Results of a test may take 24 hours to a week, depending on what is being found during the procedure, Thurman said. So most people are receptive to learning if they have cancer on the telephone, she said.
"We tell them straight-up, 'Do you want to learn your results over the phone? When is a good time?'" she said. "Or if they want to wait for a family member, we try to tailor it around what they want and we give them choices."
Men will also come to the Women's Center when they have a concern with having breast cancer. Since Thurman was hired by Mercy in 2008, there have been three males with a breast cancer diagnosis that she knows about.
"A lot of times with male lumps, they can be associated with medications," Thurman continued.
Telling a patient that they have cancer is not easy, but Thurman's life is enriched when receiving thank you notes, expressing that she made a difference in somebody's life. She may get a phone call or a patient will come see her after being gone for six months.
"They will tell you a story, 'You did this, you really helped me out,''' Thurman recalled. "So it's nice hearing that I'm actually making a difference in someone's life."
She also enjoys keeping up-to-date with advanced technology. The Women's Center facilitates a breast conference each Wednesday for discussion that is headed by Dr. Alan Hollingsworth, who addresses the topics.
Thurman earned a Bachelor of Science in Nursing degree at the University of Oklahoma and has been with the Women's Center since 2008. Her nursing career also includes working in a PCU and an operating room. She has other experience with Gamma Knife and radiation therapy.
Thurman said she appreciates the caring staff that she works with at the Women's Center.