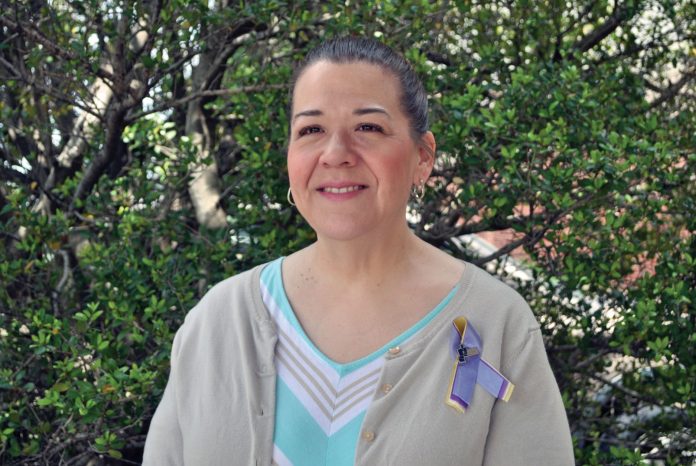 by Vickie Jenkins – Writer/Photographer
If you make a visit to the Oklahoma City Indian Clinic, you will more than likely see Helen Elliott, RN. Being a nurse for 23 years, she worked in several hospitals. Most of her medical days were spent working in Electro Physiology. Now, her job description is a little different as a case manager. "The work is totally different now, but I enjoy it," she says. "Now, I get to help patients and sometimes it can get complicated for the patient but I am glad that I can navigate them through the system and see that they get the help they need."
Elliott attended school at East Central University in Ada, OK. Elliott's mom retired after 40 years. When Elliott was a little girl, she knew that she would grow up and do something in the medical field. "It just felt like the natural thing to do," she says.
"What do you think is your greatest asset that you have to offer?" I ask. "I think I am a great listener. No matter where I go, people think that I am an easy person to talk to. I listen to them and they like that. I guess I have a calming effect on people. Since I am a case worker, being a good listener is a real blessing," she says. Elliott thinks the most rewarding part of her job is the fact that she has so much contact with others. "The patients remember me. It is so nice when I see a patient weeks later and they come up to me and thank me for taking care of them or they thank me for a referral that I gave them. It is nice to be praised for something so simple. It makes me feel good about myself."
"How would you describe yourself?" I ask Elliott. "I am shy. I don't like to be the center of attention. Sometimes, I am hard on myself and I try to be a perfectionist. I just can't help it, I've always been that way. I am a funny person, or so people tell me. I'm usually a happy person."
Elliott's typical day consists of talking with patients, taking care of the referrals, doing the follow-up phone calls and making appointments. "Is there something about yourself that would surprise others if they found out?" With a bit of shyness, she answered, "Well, I am a very quiet person and no one would expect me to listen to the kind of music that I listen to," she replied. "I like all kinds of music; jazz, rap, heavy metal, country, pop, and even opera. I love The Three Tenors. That will surprise people," she said with a laugh. "It depends on what kind of mood I am in," she adds.
Asking Elliot what advice she would give to someone going into the medical field, she would tell them it is nothing like the TV show Grey's Anatomy. Sometimes, that show makes it all look too glamorous and they have to remember that even though a real nurse has some good things happen, they have their share of frustrations too. Elliott says nurses put up with a lot of ups and downs but it is all worth it.
Elliott's hobbies include walking and attending all of the school activities that her 7 nieces and nephews have going on. "I also have a cat named Harpo. He is 17 years old and I call him my little fur baby. I like to watch the show House Hunters. My mother is a widow and she lives with me so I try to do the things she likes to do, like going to garage sales and thrift stores."
"Did you have a mentor in school?" I ask. "Yes, it was when I first started and it was my supervisor. Of course, everyone warned me about how mean she was and I had better not mess up or I would be in trouble. They told me she was an old army nurse. I was scared of her. Come to find out, she wasn't mean at all. Since I was a new, young nurse, I made so many mistakes and because of her, I learned from those mistakes. I can look back on that now and laugh about it. In fact, I admired her so much when I had to leave, I knew I would miss her and I had a good cry. She was my mentor." Oh, the joy of memories.