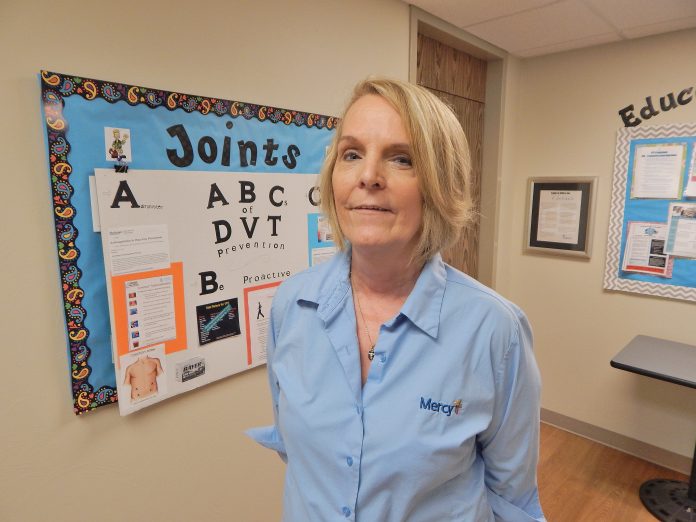 CAREERS IN NURSING
FINDING COMFORT: ORTHO NURSING RESULTS IN PATIENT SATISFACTION
by James Coburn – Writer/Photographer
A love for teaching her staff and patients about orthopedics motivates Connie Warren's career as a registered nurse and the joint program coordinator at the Orthopedic and Joint Replacement Center of Mercy Hospital in Oklahoma City.
"In that joint replacement world, they are more than eager to learn," she said. "It just feels like home."
There is a sense of shared governance at Mercy. Warren feels her voice is heard when there is something she wants to contribute to the betterment of patient care. She shares that philosophy of learning with other nurses, too.
"People know you by your first name and you know them," she said.
Warren returned to Mercy Hospital in 1998 after traveling for a couple of years. She has served in her present position for nearly five years of her nine years with the full-service hospital.
She earned her Bachelor of Science degree in Nursing at Oklahoma Panhandle State. Her nursing experience ranges from orthopedic care to cardiopulmonary, rehab and medical surgical. But orthopedics is where her heart is, she said.
"It's been a long journey," she said.
Finding a career opening in the world of orthopedics was not easy for her. All the hospitals wanted experience. And Mercy was willing to provide her the experience she needed to thrive in orthopedic nursing.
"Mercy gave me the opportunity to move from rehab to orthopedics," said Warren, who worked as a nursing assistant in a nursing home during high school.
Warren said she's has worked at other hospitals but stays with the friendly employees at Mercy. They are genuine and compassionate, she said.
"I find that my leaders and staff truly work as a team," she added.
This outstanding camaraderie translates well into patient care. Team spirit produces continuity of care, she said. Patients are introduced to the joint replacement program of orthopedics two weeks before their surgery date.
"I do an education piece with them," Warren said. "Everything I have taught them, I have also taught the nurses," Warren said. "So when we go in to take care of our patients, they know my face. They know the pain team's face, therapy's face. They have put a name with us and have talked with us."
Her sessions of educating orthopedic patients will last about three hours, she said. All of this results in patient satisfaction regarding trust and comfort. Patients become confident in the care they receive when they know what should happen during a procedure for a successful outcome, Warren explained.
"If they have a question, I tell them to call me," said Warren, who sees every one of her patients on a daily basis.
"We see them in the community. They talk to us. It is not just a sterile environment. And all the nurses know they can come in here and talk to me any time. I go out there and help them with their nursing care. So it just leads to continuity of care. And the patients are more comfortable and the nurses are more comfortable.
Patient care become more seamless without abrupt ramifications that interfere with the flow of life, said Warren, who loves being outdoors, gardening with her hands in the good earth.
Of course there are qualities a nurse must bring to their career. They must be compassionate to be good at their work, Warren said. A lot of educational options are available at Mercy for newer nurses to hone their skills.
"There are certain movements with the body when you've had a hip replacement or a knee replacement," she said. "There are some things that you can and can't do. So you need to know how to move them correctly. You have to have patience because people who have had replacement don't move as fast as other patients maybe do move. But they have to be willing to be a team worker and ask questions. Don't be afraid to ask questions. I love questions."
She said it's nice to see the transition that Mercy's patients make from feeling the pain they express in her educational session to feeling free of pain. Some of her patients must be transported to her office in a wheel chair because they cannot walk that far.
"So after the surgery, seeing them go from that, to seeing them up in the halls walking — then seeing them out in the community — there walk pattern is normal," Warren said. "They no longer have that limit."
So for Warren, gratification comes from the transformations that she witnesses as a nurse. A married couple, man and wife, recently had knee surgery and liked the program so much that they brought their entire Sunday school class who needed a joint replacement to Mercy.
"They told them about us and we replaced all of their joints," Warren said.
One of her gentlemen patients was able to reach his dream of walking on the Great Wall of China, she said. Square dancers, cowboys and people who want to continue working at their job have been helped by Mercy.
"Knowing that is the outcome is very gratifying," she said.