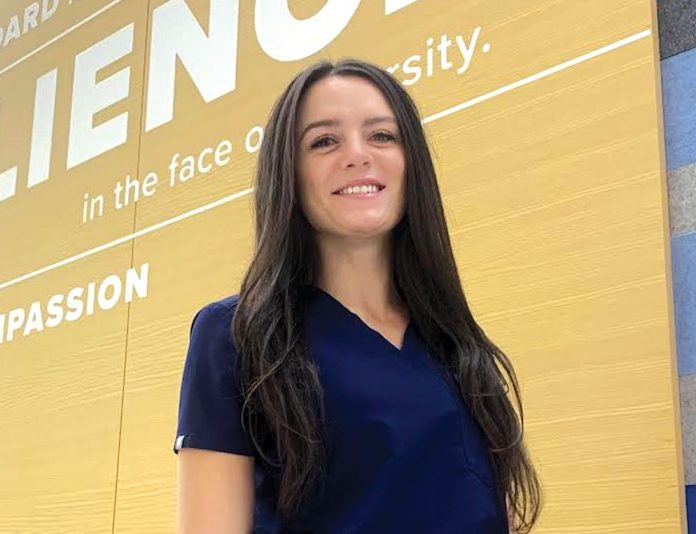 by James Coburn – staff writer
There are always opportunities for continuing education at OU Medical Center with classes and workshops to attend. But continuing education happens every day at OU Medical Center in Oklahoma City.
Critical care keeps Sydney McNelley, RN, intrigued in her career as the interim supervisor for the surgical ICU at OU Medical Center.
"There is always something new you can learn," McNelley said. "We do work in the surgical ICU with a subset of ICU population but in the end, we see everything. We get complex surgical patients. We take care of pancreas, kidney and liver transplant patients before and after they receive their transplant."
The surgical ICU nurses work with the ICU teams and every single surgical specialty in one form or another. (STORY CONTINUES BELOW)
"We learn from them. They learn from us," she said.
They formulate plans for certain types of patients that require special care. And they are constantly updating what they think are the best practices for patients, based on their learning. Nursing managers have fostered that specific challenge.
Surgical ICU nurses at OU Medical Center on NE 13th Street can bring their questions forward, McNelley said.
"We are able to champion things we think are important because each of us have certain passions we really are drawn to," she said. "In this unit we are able to continue that, and able to keep our fires growing."
Within the span of a few months, nurses do procedures in their unit that don't occur in any other situation, she said. Every day brings a new challenge.
"We are a unit that was started just a year and a half ago. So, there is always room for growth," she said.
A great team allows for that growth and allows nurses to challenge things with room for improvement. The team challenges themselves to learn and grow.
"That is something I feel is really unique in this unit. So, I have no problem feeling energized every time I come into work to know this is where I'm meant to be," McNelley said.
The first week of October marked her first year in the surgical ICU. Previously, she served as a staff RN for the surgical ICU and a charge nurse.
She did her nursing education in the state of Washington and her undergraduate work at Oklahoma State University before deciding to become a nurse. While she was completing her master's degree, McNelley served in a COVID clinic.
As with many nurses, she wanted to be in the medical field at a young age. She first considered becoming a veterinarian until she began seeing her own family members being cared for by nurses in different settings.
"It always kind of intrigued me. In the end, I don't know where I will end up, but right now I love nursing and when I decided to go to nursing school something just felt right," McNelley continued.
During nursing school, she worked as a nurse tech in a cardiovascular ICU. When she finished school, she knew she wanted a nursing career.
"I know that it's difficult, but I want to be an ICU nurse," McNelley said. "I don't want to do anything else. This is where my heart is and I'm going to work as hard as I can."
In her experience, she likes seeing how different nurses interact with each other in different teams.
What is special about the surgical ICU is how the nurses have made it a top priority to maintain a positive work environment, she said. Nurses know they can come and be supported.
"When I come to work and any time throughout my day, I never feel like I am doing anything alone — that I need to do anything alone," she said. "I never feel like I don't have someone to go to because no one is going to know everything, and I have never once with this team seen someone be put down by their peers when asking for help. That's special. That's absolutely vital to being a good nursing unit and being able to take care of your patients in the best way you can."
OU Medical Center on the campus of the OU Health Sciences Center is the only level 1 trauma center for the state of Oklahoma. Her unit is on the same floor as the trauma ICU and assists in care.
"We do take trauma patients coming from hundreds of miles for the care that they need," she said. "Between us and the trauma ICU, we specifically take care of them. And, we also get very, very sick patients who are waiting or hoping to get a transplant."
Nurses in the surgical ICU may witness the worst or best day in a patient's life.
"Either way, all we can do is to try to make everything better for them," she said.
For more information about OU Medical Center visit: https://www.ouhealth.com/find-a-location/ou-health-university-of-oklahoma-medical-center/