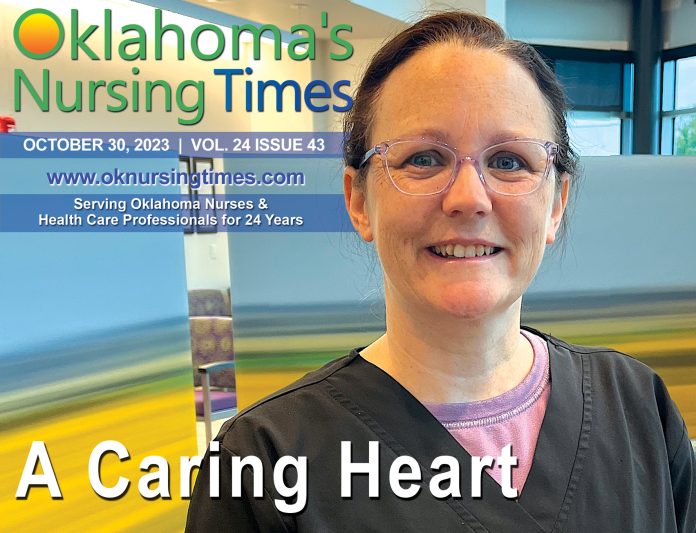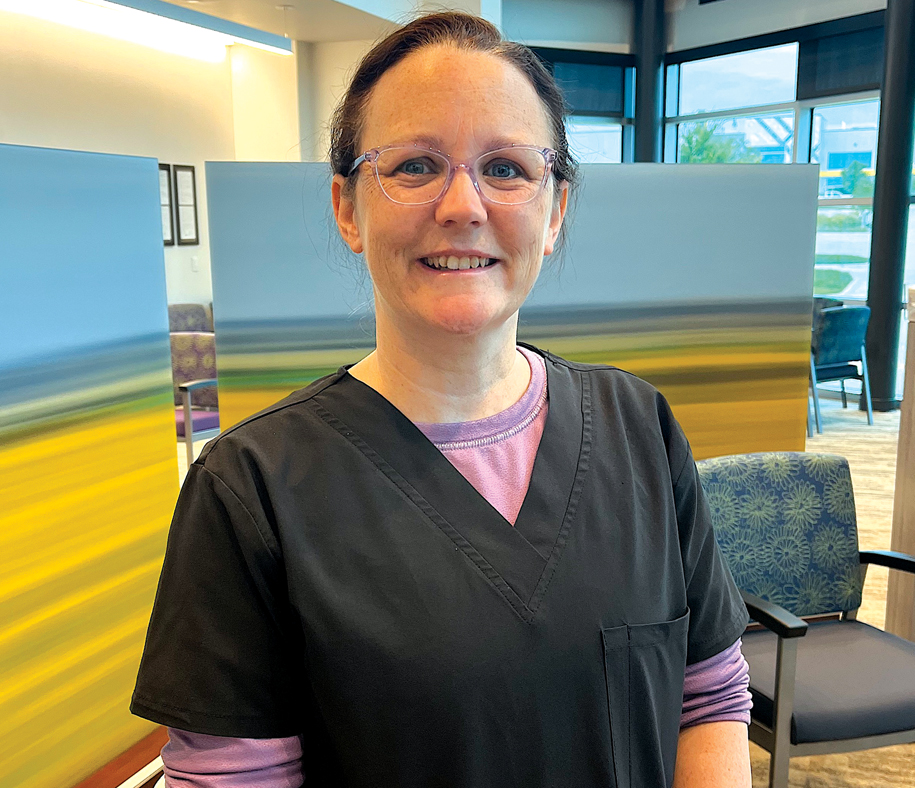 Misty Muller, RN – Recovery Room Nurse at OneCore Health
story and photo by James Coburn, Staff Writer
Serving patients as a post-anesthesia recovery room nurse has been Misty Muller's favorite role during her 26-year career as a registered nurse.
Muller is a nursing school graduate of Rose State College, located in Midwest City. Her career has also involved med/surg, clinical work in a physician's office, rehabilitation, a step-down unit, intensive care, and a float pool. This is her ninth year being a post-anesthesia recovery room nurse at OneCore Health. (story continues below)
"I like that it's a slightly smaller facility. So, it's not like the big hospitals where you're demanded of time and just turning over quickly," Muller said. "I get to spend a little more time with my patients, make sure they're comfortable, make sure they know that we're here for customer service."
Muller said OneCore Health's family atmosphere fosters loyalty and bonding that promotes a flexible team spirit. This helpful quality is especially important during a nationwide nursing shortage when nurses are called upon to float to different areas of patient care. She has observed other places where conflicts developed between recovery and the operating room due to being territorial.
"I feel like we really work hard here to try to get that team aspect," she continued.
As friends some of the nurses even formed a book club to do something outside of work to build camaraderie.
Muller thrives in tight-knit family environments. She credits her sister, an LPN, for being her inspiration to become a nurse. Muller had set her heart on a teaching career. But her sister convinced her otherwise.
Her first day of clinical exposure during nursing school had her feeding a patient. Her patient kept spitting the food out, which caused her to become jittery.
Her next day was better. Muller realized she had experienced a normal case of first-day jitters. Her anxiety began to subside. She felt ready for more challenges.
Her second favorite job was working for a physician who considered the whole person's needs. She enjoyed being greeted by former patients in the community. Patients today in OneCore Health's recovery room are unlikely to remember her because they had been anesthetized. She doesn't pop-up on surveys about patient care.
"I'm okay with that because I've grown in life to know it's not about recognition. It's about the care I give to the patient during the time I've had them. I know I've done the best I can do, and that's all that really matters," Muller said.
She is there after surgery to provide instructions for home care. Oftentimes patients who may seem cognizant may not have short-term memory for minutes following a procedure. It helps when a friend, family member, or caregiver is present to assist patients retain their verbal and written discharge instructions.
"We give them a folder with everything printed out. That way if they don't remember, they'll have something to look at to make sure they have the instructions they need for home care," she said.
One of her fond memories of being a recovery room nurse involved a patient she was acquainted with as a clinical nurse before joining OneCore Health. Knowing he was coming for surgery, Muller went to see him in the pre/op area.
"I told him, 'I'll be there when you wake-up. I promise,'" Muller continued. "So, when he wokeup, I was his nurse in the recovery room, and he just kept going on and on about that he woke up to an angel, and I kept my promise."
Muller kept track of the gentleman through the years. He was also a door greeter at Walmart. So, every time Muller saw him there, they would hug.
"It's a great feeling to know that you mean that much to somebody — that they'll remember you," she said. "And even though we're not at the hospital, we can have a friendship."
Nurses should always be caring even when they are busy because their patients are worried, Muller said. They are worried about surgery and everything else going on in their lives.
"You have to make sure you care enough that you can deal with stuff that has nothing to do with your actual job for that day," Muller explained.
Nurses need to be able to care for their own stress as well, she said. Nurses who cannot care for themselves are not prepared to care for others, she added.
Muller said she has a caring husband at home who is empathetic. She enjoys reading, sewing, and making quilts for babies. Her own children have reached adulthood.
"My husband is one of 16 kids, so somebody is always having babies. I've got plenty of work cut out for me," she said.
For more information or to joine OneCore Health visit: https://onecorehealth.com/jobs/