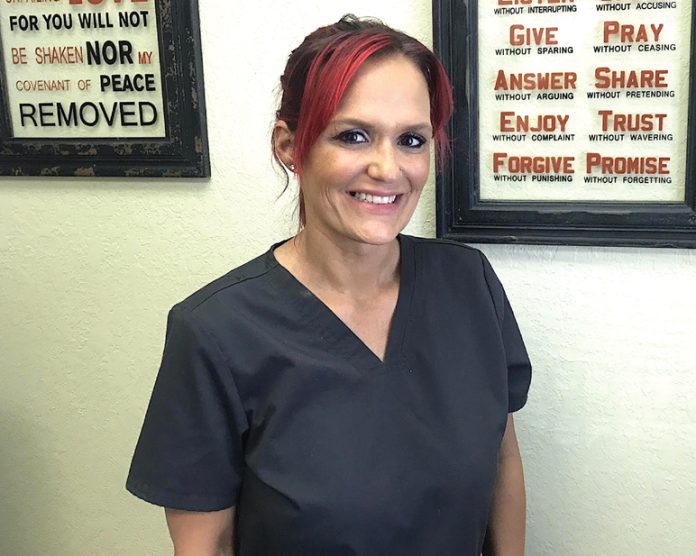 by James Coburn – staff writer
Tara Cory is fine tuned for the opportunities she has as a licensed practical nurse for AllFaith HomeCare. In fact, AllFaith HomeCare is sponsoring the AllFaith HomeCare Health Fair from 10 a.m. to 1 p.m. Thursday, Oct. 27 at the Wesley Village Community, a senior living apartment center located at 300 NW 12th Street, Oklahoma City.
The goal of the health fair is to give better health related opportunities to the residents and the surrounding community. Many educational materials will be handed out. Opportunities will abound to learn more about the outreach of AllFaith HomeCare and other vendors invited to the health fair.
Among the vendors will be FDIS (Family Development Intervention Specialists), Physicians House Calls, Oxford Pharmacy, Mike's Medical mobility company, and the Salvation Army. AllFaith HomeCare is sponsoring a community dinner after the health fair from 2-4 p.m. The event is inspired by AllFaith HomeCare owner Lisa Wariboko-Alali, and her loving staff.
"This will be the fourth time that AllFaith has had it there," said Michael G., AllFaith spokesman.
On Tuesdays, Cory visits the Wesley Village Retirement Community for senior independent living. She assists patients with any questions about their health, including if they need to see a doctor. She usually checks their blood pressure. For example, she provides medication for a blind woman each week.
"They are patients I need to see for medication planners or just general nursing assessments," Cory said.
Some people live with hypertension or diabetes. A few individuals need help with mental health issues, she said.
Residents of Wesley Village have taught her about humanity. They are good people, she said, and are very appreciative of her visits. She works more than one job as a nurse and homeschools three children. But when she considers cutting back on her work for some time for herself, Cory said she can't cut back the six hours a week at Wesley Village.
"The people there really latch on, and they appreciate the help," she explained. "They want that connection and it's nice. It's part of nursing that I love."
AllFaith HomeCare allows her flexibility with her time. Even when she was seeing COVID patients, it was recognized that she had a life beyond her work and it was valued, she said.
"Some visits are timed. But most of the time you can call your patients and set them up according to what works for you and the patient," she said.
Cory has been a nurse for 13 years since graduating from Platt College in Oklahoma City. She has been with AllFaith HomeCare for three years. Nursing is not about politics at AllFaith, Cory said.
"They really treat people like people and seem to really care about the patients," she said.
She followed her heart calling her to become a nurse. She credits nurses for saving her own life when she was a patient. Being accessible, nurses are the familiar ones she relates to in medicine. Cory likes making connections and feels like that is what nursing is all about, she said.
Cory's compassion in life has expanded as a nurse. She is gratified when learning more about her patients' lives and who they are. Her deeper-found compassion brought an awareness that nobody knows what somebody could be enduring in life behind closed doors. They could be experiencing something profoundly unsettling in life.
She recalls a young man in his 30s with four children. He was dying of pancreatic cancer. Both he and his wife were nothing but kind to Cory at each visit. One day she went to the grocery store. If his wife became short tempered nobody would know what was truly bothering her at that moment. So, kindness and tolerance to other matters, Cory said.
"And I love patient education. I love educating a to where they don't need me and can take care of themselves," she continued. "That's what I love about home health nursing specifically. We're providing a skill, but also we're teaching them about how to be healthy," she said.
Every home is different, and they all have distinct personalities with a range of residents. One of her patients prays with her at every opportunity.
"She always takes the time to pray, and it always ends up being something that I needed to hear," she said. "I've been doing home health for 10 years, and most of them are appreciative. They really look to the nurses for comfort. There's so much anxiety — they're confident being in their home and not in the hospital, but they're also kind of nervous. If they're post-op or have a new diagnosis, then they're scared. And so, there is a sense of relief when the nurse walks in."
All the concerns that have kept them up at night or they forgot to ask their doctor can be addressed, Cory said. There is relief.
"That's why I became a nurse," she said.