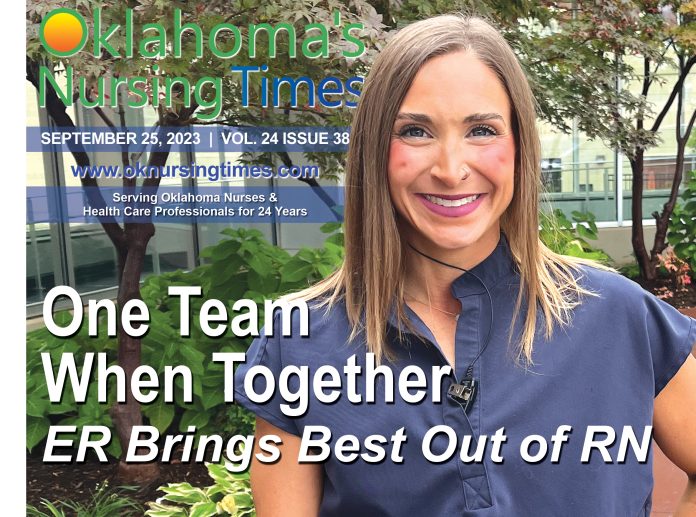 Amanda Gillett, RN
ER nurse at SSM Health St. Anthony Hospital – Oklahoma City
story and photo by James Coburn, Staff Writer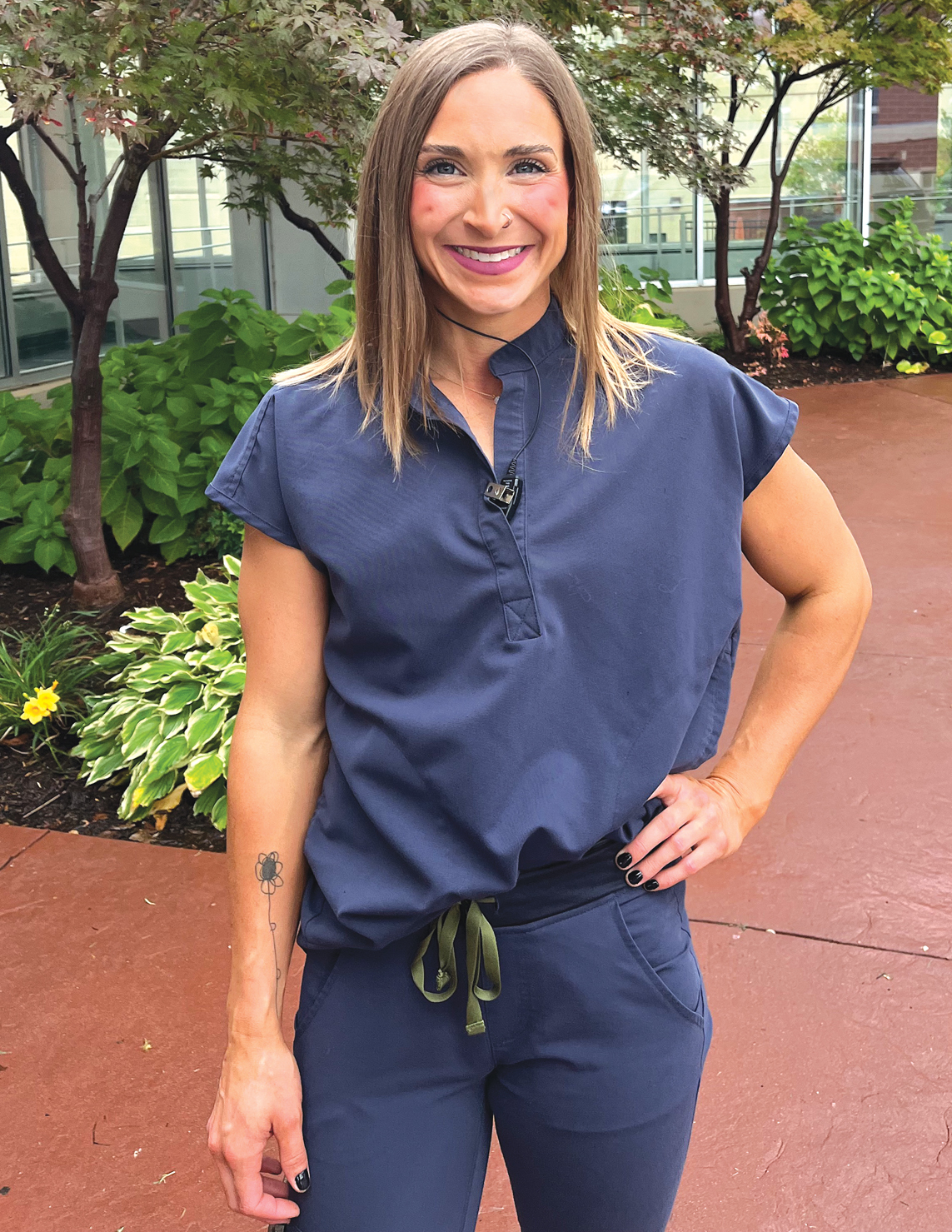 "These are friendships I will probably maintain for the rest of my life," Gillett said. "I think our department really cares for each other and we're willing to help each other when we need help."
Gillett became a registered nurse in 2018 after earning her Associate of Nursing degree at Oklahoma City Community College. She worked as a hospital certified nurse aide during her studies. The nurses she worked with taught her a lot about the best practices of patient care.
"That led me to pursue a career in nursing," Gillett explained.
In 2022 she earned her Bachelor of Science in Nursing degree from Southwestern Oklahoma State University in Weatherford. (story continues below)
Nurse Education Consultant – Salary Range $80,000 to $90,000
She has focused on emergency care for her entire career except for the six months she spent doing heart catheterization procedures. Gillett joined SSM Health St. Anthony Hospital in 2019.
"I love the pace. I love the wide variety of problems," she said. "You have no idea what's going to come in the next 30 seconds, two hours. You have no idea what your day's going to be like, and I love that."
Improving emergency health outcomes makes her days enriching. ER Nurses don't always get to see the outcome of their work to save lives and ease pain before being transferred to another unit. But they know they've done their best when their patients are stabilized.
Nurses often volunteer to come to work early to help when the ER is short of staff. Gillett's shift is normally from 7 a.m. to 7 p.m., but she has stayed to 11 p.m. at times, especially during the COVID pandemic when the ER was usually busy and short staffed.
"I was able to see how resilient we truly are," Gillett said. "It was a very difficult time. There are not a lot of good memories associated with it. And I think I can say that on behalf of most of the nurses I work with. What I do know is I was able to lean on them and they leaned on me. That's just what we do when we have to."
She believes that hospitals nationwide will be better prepared to counter another health crisis such as COVID. To do the best for the most people, hospitals had to be creative with how they allocated supplies and other resources during the height of COVID.
There is currently an increase in the number of COVID cases in the United States. Gillett said everyone has a choice to be vaccinated against the disease.
"I encourage people to educate themselves the best they can with legitimate sources, and make their choice based on that," she said. "I encourage everyone to wear a mask if you are ill or if you are around ill people. A mask is a very simple way to protect yourself and a lot of other people."
Patients are not experiencing their best moments of life during an emergency. But every second matters. It's normal for Gillett and the ER staff to treat patients experiencing one of the worst days of their lives. The nurses may not always receive a lot of kindness from people in excruciating pain or discomfort. But everyone receives the best efforts from the nursing staff regardless. People wake up in the morning and find themselves going to an unexpected place they never planned on going to.
"Every once in a while, I'll get a very genuine thank you. And sometimes that's enough to keep me going for a while longer," she said.
Nurses in the emergency department are in a unique position to see the best and worst of humanity, Gillett continued. This experience gives nurses a unique perspective on life, and an appreciation for the goodness found in living, she added.
Gillett spends a lot of her spare time working out.
"I do weightlifting about five days a week, and I spend about three hours a day at the gym" she said. "That's what I'm passionate about. And I spend a lot of time with my children."
She has an 8-year-old daughter named Nora, and a 5-year-old son named Maximus.
"They are very energetic kids, very happy kids, and I'm so grateful for them," she said.
……………………………………………………………..
For more information about SSM Health St. Anthony Hospital – Oklahoma City, or to join our team visit us HERE.