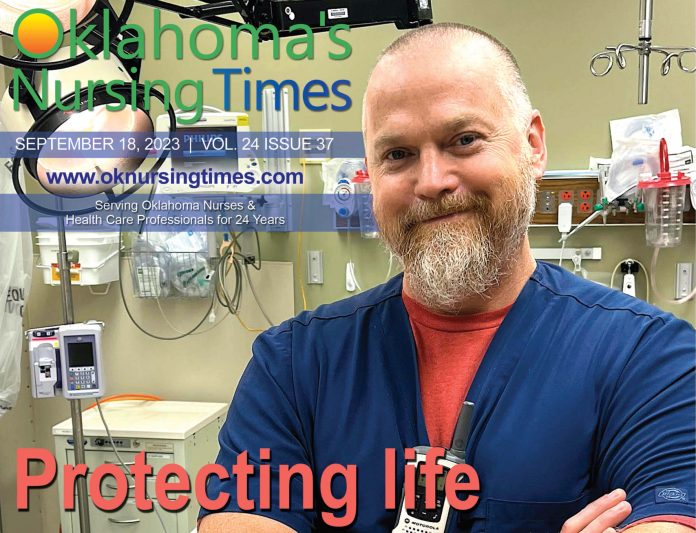 story and photo by James Coburn, Staff Writer
Zack Smith, RN
Supervisor of emergency nursing at OU Health Edmond Medical Center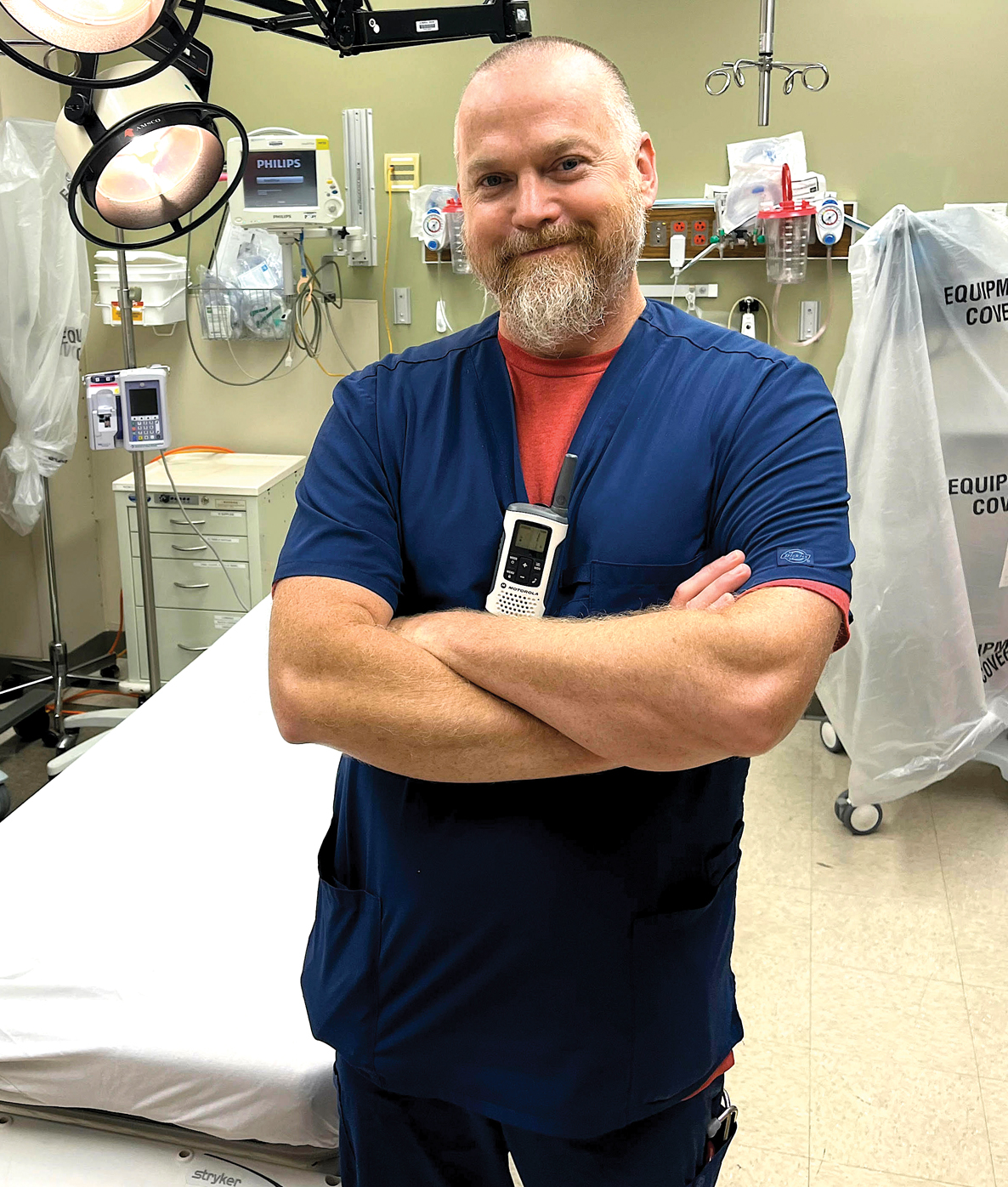 The journey to becoming a registered nurse was heartfelt for Zack Smith, RN, supervisor of emergency nursing at OU Health Edmond Medical Center. ER nursing is his home.
"Emergency medicine has always been a team sport for me," Smith said. "You never do anything by yourself. You always have your teammates with you."
He loves getting to see patients improve and go home. That is something the former paramedic never experienced in a pre-hospital setting, he said. Smith was always handing off patients to someone else. But that would change.
Smith's career path brought him to recall the raging wildfires that caused him and his family to be evacuated from their home in San Diego. At the time, he had been a construction worker building houses. (story continues below)
Clinical Research Nurse – Targeted salary at $60,500 – OU HEALTH SCIENCES CENTER
"I just saw the emergency workers and the community workers. Everyone was coming together, and it looked really interesting to me," Smith said. "So, I decided to get some training. I got involved in a community response team."
In 2008, Smith became an emergency medical technician before becoming a paramedic and a volunteer firefighter as an EMS coordinator for two years in San Diego. Smith earned his Bachelor of Science in Nursing degree in 2017 from California State University.
"In terms of becoming a nurse, I felt like I wanted to do more for the patients," he said.
He wanted to help people for more than a few important minutes as a paramedic. Becoming a registered nurse alongside physicians and other nurses allowed him to experience a full continuum of patient care.
He realized his dream of leaving California by moving to Oklahoma in 2020 with his wife and their six children.
"I've been happy here ever since," he said. "When I came here, I felt like the people were friendly, so open and warm. He felt a sense of freedom and place when joining the ER staff. Smith has worked in other areas of OU Health Edmond Medical Center as well. When staff was unavailable, Smith worked in every unit of the hospital during the COVID pandemic, including ICU, med/surg, and the OU Health – Autumn Life Behavioral Center. And COVID influenced his thought process and trajectory of being a nurse. He recovered from a non-severe case of COVID in 2021 and his career.
"Just seeing the response of our community to a pandemic, whether COVID, flu or whatever, it was interesting to see a lot of the lessons we did not learn from the Swine Flu pandemic," Smith said.
He noticed a lot of similar mistakes were made by the community and governmental level in comparison to 2010 when he was a paramedic. But COVID brought even more wide-spread fear to communities, he said.
"I think as a nurse it's important to really educate people so they're well informed," Smith said. "Hopefully we can allay some of those fears by sharing with people the important things they need to know — how to protect themselves, but in a way, that's not going to cause them to panic."
Patients enter the 10-room emergency department of OU Health Edmond Medical Center with a range of conditions from clinical-type visits, medication refills, to life threatening heart attacks, strokes, and trauma. So, it doesn't take a lot of patients to make the nursing staff busy.
The ER's culture is about customer service, with a goal of achieving high patient satisfaction. The ER is structured to not have ER patients wait in the lobby when room is available, Smith said.
"Most of the traumas we see don't come by ambulance because we're not a trauma receiving facility for the paramedics," Smith said. "But we still get people coming through the front door, people with stab wounds, gunshot wounds, severe lacerations and broken bones. We take care of all of them, stabilize and transfer to a higher level of care."
The ER is never a dull moment. There's always a new problem to solve, Smith explained.
Many moments touch his life. But a crisis tends to be compartmentalized. Smith said ER nurses have to be able to shut off their emotions to respond decisively.
"There are times when patients come in and it really affects you," he said.
Having the opportunity to help people through some of the hardest times of their lives is Smith's reward.
"For me, just having the opportunity to pray with patients, to minister to them not only physically meeting their needs, but just being there with them as a human being. Meeting that spiritual need as well has been a phenomenal opportunity for me," Smith said. "I feel like in addition to being my job, this is more like a calling."
For Smith, being a nurse is an opportunity to share love.
For more information about OU Health Edmond, click HERE.