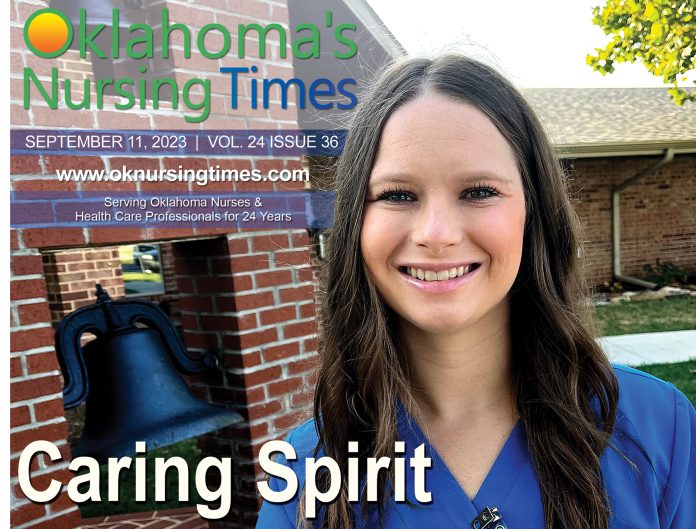 Being a nurse requires compassion and a caring spirit about how they carry out their skills, said Kaylin Neal, LPN, Belleview Health & Rehab, located in Oklahoma City.
"These patients sometimes, we're the closest thing they have to their family left," Neal said. "It's taking time to listen to the patients and get to know them. It goes a long way for them."
She is currently in her final semester of earning a Bachelor of Science in Nursing degree at Southwestern State University. She is grateful that her employer offered her a scholarship.
Neal credits her grandmother for inspiring her nursing career. She was in middle school when her grandmother became paralyzed due to a car collision. At age 52, her grandmother was in and out of a hospital until she reached the point of requiring a nursing home to care for her. (story continues below)
"I spent almost every day from middle school to high school, five or six days a week going up and seeing her," Neal said. "What the staff did for her, and my family inspired me to become a nurse and help other patients like her."
As a charge nurse she is responsible for the oversight and care of about 30 patients on hall 4 of long-term care. She does treatments, helps with passing trays, changing patients, and preparing for appointments.
"Every day is a little bit different. I do a lot of wound care. I get orders and communicate with the doctors," Neal said. "If there are any changes, I'll communicate that with the families as well."
She earned her LPN license in 2020 after graduating from Chisholm Trail Technology Center in Kingfisher. Additionally, she earned an associate degree in science.
"I decided to get my CNA and work in a hospital for a few months," she said.
The hospital couldn't work with her schedule when she applied for nursing school. So, she applied at Belleview Health & Rehab which accepted her schedule.
She worked as a CNA for about a year and advanced as an LPN charge nurse. Accomplishing that role at Belleview Health & Rehab boosted her confidence. The nurses were very helpful by letting her observe advanced skills during nursing school, she added.
"The nursing staff here is always so helpful. We are a team here," Neal said. "I think the family aspect of the owners trickles down to the staff. It just makes it a great place to work."
New residents may transition from being independent to having someone take care of them. Neal is empathetic. She recalled the need her grandmother had when relying on other people.
"A compassionate person taking care of you just makes it so much better and easier," Neal said.
A nurse will introduce himself or herself upon the arrival of a new patient to make a good first impression. They explain menu items to choose from, call lights, and showers. They are introduced to how the nurses and nurse aides can help them in daily life.
"They have a menu that patients can pick from," Neal said.
A chef is available five days a week and other cooks work on weekends. Their menu also specializes in special diets, including renal, low sodium, and for diabetes. One chef special is available daily, but several other meal alternatives are also available.
"If they don't like that, then we can go talk to the chef. I have a patient who has really been wanting bacon, but she doesn't eat pork. So, our chef has recently ordered turkey bacon just for her. They really specialize in the patient," Neal said.
Residents need someone to listen to them, just as it was when they lived at home with families or a friend.
"A lot of them are so proud about their kids, their grandkids. They tell us stories," Neal said. "I have a patient that tells a joke every morning I come to work. They really get to know you. This morning he said, 'You come into this world naked, and somebody gives you their first bath. And you leave this world naked, and somebody gives you your last bath. So do something good today.'"
Nursing has taught Neal to live life every day as if it were her last.
"I care for people. I want to make sure they have the best care possible. I'm like a mother hen. I like to take care of people and I think that trait has trickled off to my personal life," she said.
To join our team at Bellevue Health and Rehabilitation, click HERE or email Amber at [email protected].