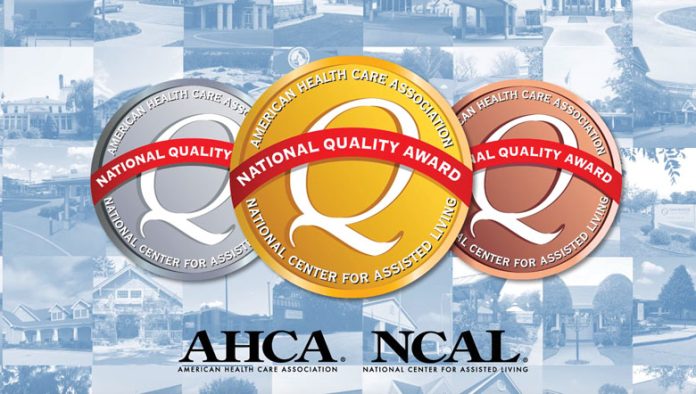 The American Health Care Association and National Center for Assisted Living (AHCA/NCAL) has named ten of Oklahoma's skilled nursing and assisted living facilities as recipients of the 2023 Bronze – Commitment to Quality Award. The award recognizes organizations that meet progressively rigorous standards of performance to improve the lives of residents and staff in long term care.
Recipients in 2023 include:
Elk Crossing (Duncan)
Holiday Heights Healthcare Center (Norman)
Magnolia Creek Skilled Nursing & Therapy (Altus)
Meadowlakes Retirement Village (Oklahoma City)
Montereau (Tulsa)
Montevista Rehabilitation and Skilled Care (Lawton)
St. Ann's Skilled Nursing & Therapy (Oklahoma City)
The Ambassador Skilled Nursing & Therapy (Tulsa)
The Fairmont Skilled Nursing & Therapy (Oklahoma City)
Victorian Estates (Yukon)
Care Providers Oklahoma President and CEO Steven Buck said the award recipients were doing incredible work in an extremely challenging environment.
"These facilities are doing the hard work of improving care, improving training and improving quality of life for their residents," said Buck. "And they are doing so while facing skyrocketing labor costs, a workforce shortage and on the heels of a pandemic. It takes a heroic level of effort to keep raising the bar in that environment, and we should all be thankful for the dedicated men and women who made that success possible."
The AHCA/NCAL National Quality Award Program has three levels: Bronze, Silver, and Gold. Providers begin the quality improvement process at the Bronze level, where they assess their organization's mission, vision, and key factors that lead to success. Trained examiners review each application to determine if the center has met the demands of the criteria. Bronze recipients can then move on to the Silver Award level.
"I applaud all of these providers for taking this important first step in their quality award journey," said Mark Parkinson, President and CEO of AHCA/NCAL. "The work that they have accomplished lays the groundwork to continue to improve the lives of the individuals who live and work in long term care."
The Association will announce the 2023 Silver Awards at the end of June, and Gold Awards in August.
The 2023 National Quality Award Program is sponsored by AHCA/NCAL Associate Business Members: PharMerica, Pinnacle Quality Insight, Prevail by First Quality, HealthCap and MatrixCare.
The National Quality Awards will be presented during Delivering Solutions 23, the AHCA/NCAL Convention & Expo, October 1-4, 2023, in Denver, Colorado.
The ten Oklahoma facilities named 2023 Bronze Award winners join 39 other Oklahoma facilities in the Quality Awards Program. All active Oklahoma award recipients are listed below.


Bronze Award Winners:
Elk Crossing (Duncan)
Holiday Heights Healthcare Center (Norman)
Magnolia Creek Skilled Nursing & Therapy (Altus)
Meadowlakes Retirement Village (Oklahoma City)
Montereau (Tulsa)
Montevista Rehabilitation and Skilled Care (Lawton)
St. Ann's Skilled Nursing & Therapy (Oklahoma City)
The Ambassador Skilled Nursing & Therapy (Tulsa)
The Fairmont Skilled Nursing & Therapy (Oklahoma City)
Victorian Estates (Yukon)
Brookside Nursing Center (Madill)
Elmbrook Home (Ardmore)
Southbrook Healthcare (Ardmore)
Wilkins Health & Rehab Community (Duncan)
North County Nursing and Rehabilitation (Collinsville)
Arbor Village (Sapula)
Franciscan Villa (Broken Arrow)
Grace Living Center Tahlequah University NW (Tahlequah)
Medicalodge of Dewey (Dewey)
Salina Care Center (Salina)
Sequoyah Pointe Living Center (Owasso)
Shawnee Care Center (Shawnee)
Southern Oaks Care Center (Pawnee)
The Timbers Skilled Nursing & Therapy (Edmond)
Tulsa Nursing Center (Tulsa)
Accel at Crystal Park (Oklahoma City)
Brookwood Skilled Nursing & Therapy (Oklahoma City) (Glenpool)
Grace Living Center (El Reno)
Grove Nursing Center (Grove)
Heritage Skilled Nursing & Therapy (Tecumseh)
Kingwood Skilled Nursing & Therapy (Oklahoma City)
Mangum Skilled Nursing & Therapy (Mangum)
Mid-Del Skilled Nursing & Therapy (Del City)
Noble Health Care Center (Noble)
Rebold Manor (Okmulgee)
Senior Village Healthcare Center (Blanchard)
The Gardens (Sapulpa)
The Wilshire Skilled Nursing & Therapy (Oklahoma City)
Broadway Manor Nursing Home (Muskogee)
Eastgate Village Retirement Ctr. (Muskogee)
Ft. Gibson Nursing Home (Fort Gibson)
The Suites at Elmbrook (Ardmore)
Walnut Grove Living Center (McAlester)
Garland Road Nursing & Rehab Center (Enid)
Gregston Nursing Home (Marlow)
Silver Award Winners:
Country Gardens Assisted Living Community (Muskogee)
Golden Age Nursing Home (Guthrie)
The Village at Southern Hills (Tulsa)
Previously the Oklahoma Association of Health Care Providers (OAHCP), Care Providers Oklahoma represents the interests of more than 18,000 residents and 19,000 professionals that work in Oklahoma's long-term care facilities, including nursing homes, assisted living homes and intermediate care facilities for individuals with intellectual disabilities. Care Providers Oklahoma's mission is to assist its members in providing the highest quality care to the seniors, individuals with disabilities and vulnerable Oklahomans who live in our facilities. We advocate for the enhancement of that care so that Oklahoma long-term care residents may live in the comfort and dignity they deserve.
To view a complete list of all 2023 Bronze recipients is available on the AHCA/NCAL Quality Award website at HERE: https://www.ahcancal.org/Quality/National-Quality-Award-Program/Pages/default.aspx