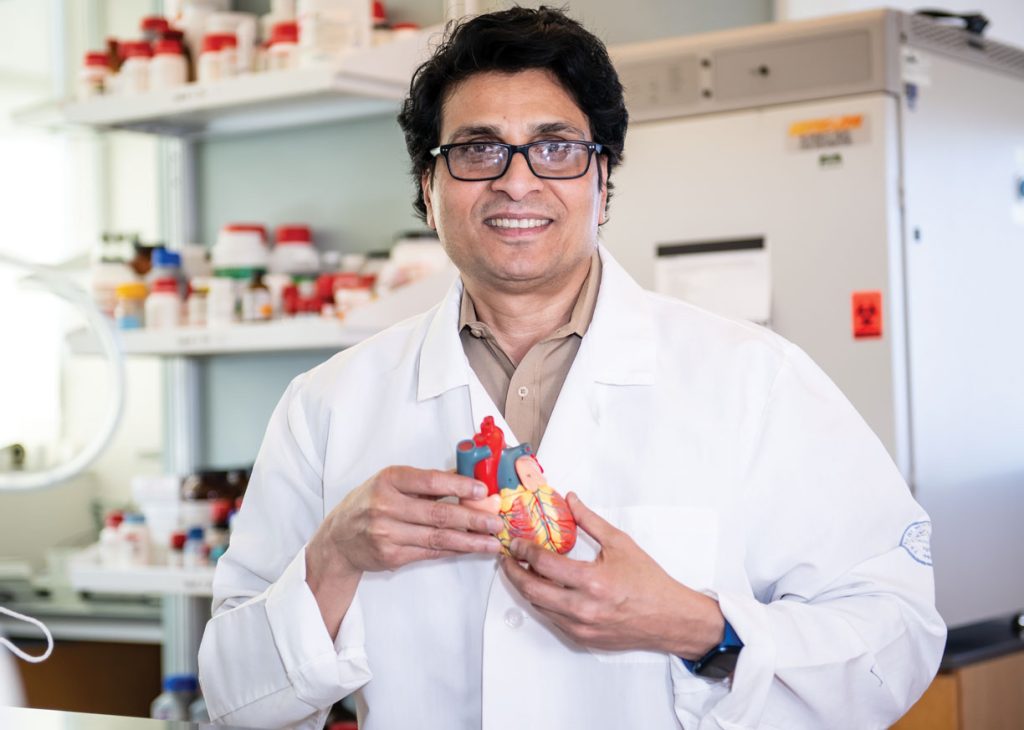 Thirty-five years ago, an HIV diagnosis was a death sentence. Thanks largely to advancements in drug therapies, a person who tests positive for HIV at age 20 can now expect to live just as long as someone without the disease.
With a $2.7 million grant from the National Institutes of Health, Oklahoma Medical Research Foundation scientist Jasim Ahamed, Ph.D., hopes to increase the quality of life for people who take antiretroviral drugs to treat HIV, the virus that causes AIDS.
With the grant, Ahamed is studying whether these drugs – which people with HIV take for their lifetime – contribute to the formation of scar tissue in the heart. This condition, called cardiac fibrosis, ultimately leads to heart failure.
"Certain types of antiretroviral drugs are linked to cardiovascular risk, and people with HIV who die suddenly often show the presence of cardiac fibrosis," Ahamed said. "This research aims to dive deeper into understanding whether their life-saving therapies increase the risk of cardiac fibrosis, and if so, to determine why and which drugs carry that risk."
According to the U.S. Department of Health and Human Services, about 35,000 people in America contract HIV each year. Roughly 1.2 million people in the U.S. live with the virus. Worldwide, the United Nations estimates that nearly 40 million people have HIV. More than half are female, and almost 5% are children. Left untreated, HIV typically leads to AIDS, which is almost always fatal.
Ahamed's lab at OMRF studies TGF beta 1, a protein that can be generated by blood platelets at levels almost 100 times higher than by other cell types in the body. This contributes to several disorders, including cardiac fibrosis.
We believe some antiretroviral drugs activate the platelets to release TGF beta 1, leading to cardiac fibrosis," Ahamed said. "Using research models, we will test all the HIV drugs available on the market – alone and in combination."
Ahamed hopes to discover a way to inhibit the TGF beta 1 release and cardiac fibrosis in people with HIV.
"Science has produced tremendous improvements in HIV therapies over the past three decades," OMRF Vice President of Research Courtney Griffin, Ph.D., said. "If Dr. Ahamed's hypothesis proves correct, it could lead to yet another major advancement for millions of people living with HIV."
Ahamed's four-year grant, 1R01HL167656-01A1, was awarded by the National Heart, Lung, and Blood Institute, part of the NIH.