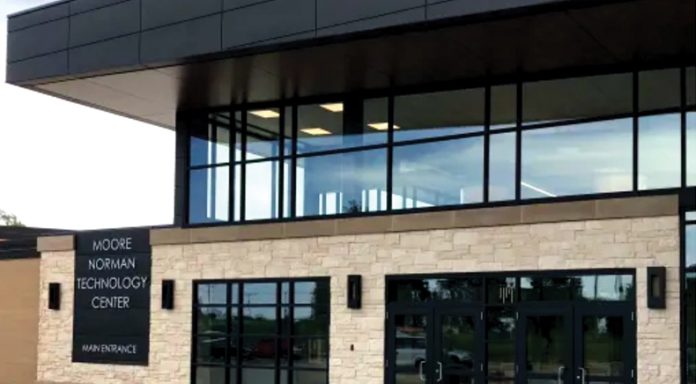 Patients deserve high-quality, evidence-based care. It is imperative nurses stay informed and trained in the most up-to-date techniques and practices. Continued nursing education can contribute to pay increases, renewed job satisfaction, resistance to burnout, and most importantly, the ability to offer the best care to your patients.
Moore Norman Technology Center, and other CareerTech institutions, provide advanced training for nurses at every step of their career. Our instructors know to train nurses – because they are nurses. Between our two campuses in Norman and South Oklahoma City, we currently have 18 Registered Nurses on staff, helping create relevant, fast-paced curriculums and hands-on technical training to best develop the skillsets needed to advance within a nursing career. From a variety of continuing education classes to renew certification like CPR BLS for HealthCare Providers, to skill-building classes like Opioid Education for Healthcare Providers, MNTC offers 30+ unique both online and in-person evening courses to enhance nursing careers and diversify healthcare skillsets.
"We are only one of two schools in Oklahoma who are approved by the Oklahoma Board of Nursing for over sixty different topics," said Katie Reynolds, MNTC Training Coordinator. "We provide re-training for nurses (AUA. RN, LPN, and Advanced Practice Nurses) who have been required by the Oklahoma Board of Nursing to complete one or more classes to receive or reinstate their licenses."
In addition to Nurse Review classes, MNTC always offers an Advanced Unlicensed Assistant course that prepares students to perform an assistive role to licensed nurses in acute care settings. Through classroom instruction, extensive lab demonstrations, and clinical experience, this course prepares students to apply for AUA certification issued by the Oklahoma Board of Nursing. In collaboration with the University of Oklahoma, MNTC also offers a Nurse Refresher course which will meet the requirements for the Oklahoma Board of Nursing as an approved Nurse Refresher course.
Moore Norman Technology Center also works directly with health organizations through our Workforce and Economic Development programs. MNTC Workforce and Economic Development training covers everything from certification maintenance to staff education on emerging technologies within this field. Group training can be conducted on site at your facility, or in one of our health labs. Continued investment in healthcare employees directly correlates with retention and career satisfaction.
"Moore Norman Technology Center has state of the art training facilities with advanced technology in nursing simulation equipment and curriculum," said Dr. Wendy Perry, Director of Health Programs at MNTC. In addition to supporting nurses through advanced training opportunities, MNTC is also working to combat the current nursing shortage which provides additional complications to an already demanding career. "MNTC is working to impact the nursing shortage by offering a pathway for high school seniors to become licensed practical nurses approximately 6-7 months after they graduate from high school. Our adult LPN track is only 10 months long," added Wendy.
Moore Norman Technology Center recognizes the value in committed nursing professionals.
From direct patient care, to case management, to public education and development of complex nursing care systems – Nurses are an indispensable component in public health.
For more information on continued nursing education, certification renewal, or Workplace and Economic Development training visit
https://www.mntc.edu/.