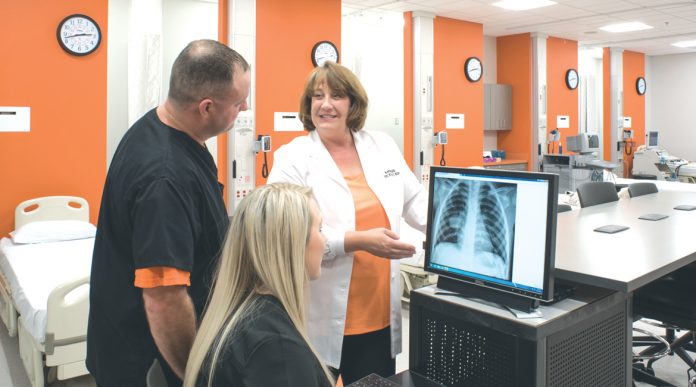 Oklahoma State University RN to BSN student Sage Holder had long known she was interested in a healthcare career. When two of the most important people in her life – her grandfather and mother – received a cancer diagnosis in the same week during her first year of college, her career path came into focus.
"I knew I wanted to be in the healthcare system. I just didn't know exactly where or what that was going to look like when I started college. I knew I wanted to be successful, a person that others needed, and to care for the sick," Holder recalls.
Holder began taking pre-medicine classes but during the second semester of her freshman year, she had what she calls an "aha" moment.
"I was either in class or in the hospital, spending time with my family during my grandpa's chemo treatments or my mom's cancer appointments. I began to notice the nurses. I wanted to be the person that the patient could look to for a smile, a laugh, or a shoulder to cry on." (story continues below)

Confident in her decision to pursue nursing, Holder completed prerequisite courses and went on to earn an associate degree in May 2021 and become a Registered Nurse (RN). She landed a job at the Emergency Room at Stillwater Medical Center.
Ready to continue her education by pursuing a Bachelor of Science in Nursing, Holder found the perfect fit in OSU's fully online RN to BSN program.
"I knew the program would offer flexibility with my lifestyle and allow me to continue working as an RN while taking classes," Holder said. "The faculty have been approachable and easy to reach and to communicate with. I feel like they want me to succeed."
OSU's RN to BSN program, which launched in Fall 2017 and is accredited by the Commission on Collegiate Nursing Education (CCNE), provides students with a convenient and flexible option to complete their bachelor's degree in as little as one year.
OSU students expand their professional nursing knowledge from practical, foundational skills they learned during their associate degree, learning the why behind past education.
"Our students are challenged with a wide array of topics that range from leadership and current trends in nursing to global, cultural and public health, as well as nursing theory," RN to BSN program director Dr. Alana Cluck said.
Ultimately, the mission of the RN to BSN program is to prepare nurses to practice professional nursing that meets the dynamic health care needs of individuals, families, groups, communities and global populations. With this degree, graduates are qualified for leadership roles in a variety of healthcare environments.
OSU's RN to BSN program enjoys a 100 percent satisfaction rate among its graduates. Faculty offer personalized attention and are committed to student success.
"Faculty communicate extremely well, especially considering it's an online program. They offer a variety of ways to share information and foster relationships with our peers, which allows us to be successful. It's easy to have a positive experience when you feel your efforts are not only noticed, but also celebrated," RN to BSN graduate Lacy Smith said.
Kobey Trower, a 2019 graduate of the program, appreciated the experience of his peers and the collaborative nature of courses.
"All of the students were working full-time jobs," Trower said. "We had some people who worked in ICU, some in labor and delivery, others in clinic and research settings. The accessibility of the coursework helped us keep on the same page for group projects. It was super convenient for me to work full time and still have a life without being tieddown. That aspect of it helped keep my attention and keep me moving through the program."
Holder's experience as a student in the program has been first rate. She encourages any RN considering a four-year degree to explore OSU's program.
"Set up a meeting or a zoom call with a faculty or administrative member and give them the chance to provide information and answer questions that are of concern. That is what I did and it sold me. The faculty were so welcoming and flexible."
Applications for the BSN program for Summer and Fall 2022 are now open. Visit nursing.okstate.edu for more information, to schedule a meeting with program administrators or to apply today.