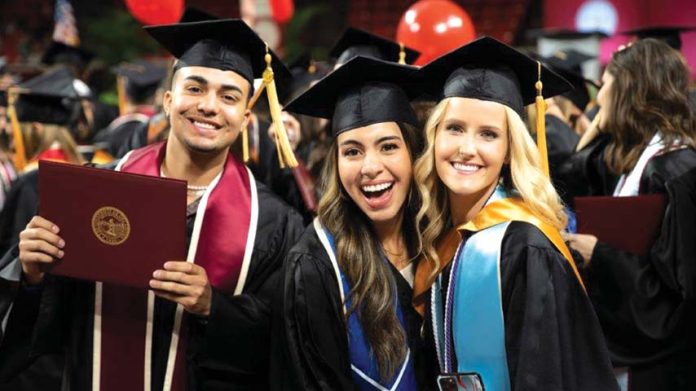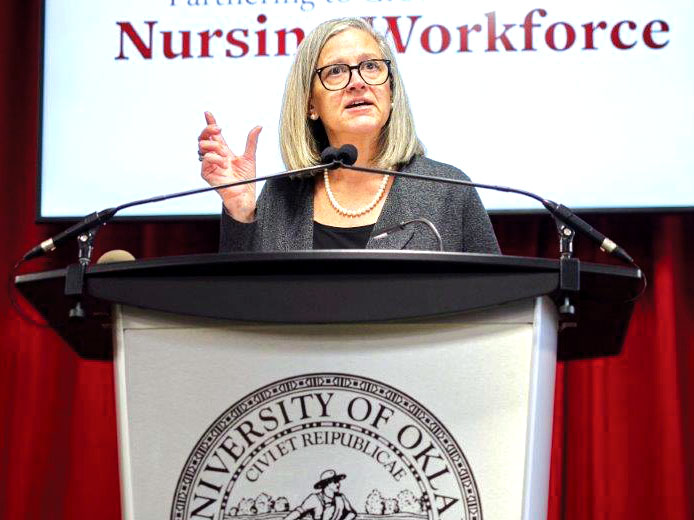 When Julie Hoff, PhD, MPH, RN, first stepped into her role as dean of the University of Oklahoma Fran and Earl Ziegler College of Nursing, she understood the need for nurses in Oklahoma. "I needed to build relationships and understand priorities," Hoff said of her first order of business. "You can't address big complex problems alone. As the flagship college of nursing, I am responsible for nursing workforce development in Oklahoma and regionally.
So Hoff decided to take a three-pronged approach. The first was to build academic programs that aligned with the health sector's needs. From there, Hoff focused on building and strengthening the nurse workforce through enrollment and established academic pathways that advanced the education of practicing nurses.
Finally, she aligned the college with other sectors through strategic partnerships to drive change and influence policy.
The approach was dubbed OK-WINS, which stands for Workforce Innovation in Nursing, and healthcare entities and nursing students throughout the region are reaping the benefits.
"Addressing the nursing workforce shortage takes coordinated efforts of many with the goals of increasing the number of nurse faculty, supporting students through academic success programs and scholarships, and strengthen the nursing education infrastructure," Hoff said. "We have to collaborate across the state and work together with a unified vision of all that is necessary to strengthen the nursing workforce and how doing so will improve the quality of care and health outcomes for all patients." There is little doubt of the vital role nurses play in keeping our families, friends, and communities safe and healthy. Nurses are indeed the oxygen of the healthcare system and the impact they have on society is significant.
"Often on the frontlines of crisis, it is nurses who provide unconquerable spirit, clinical expertise, revolutionary thinking, and healing needed to rally those around them," Hoff said. "We saw this during the pandemic when nurses were involved in changing how care was delivered; nurses created many new products and processes, and nurses found solutions to connect patients to their loved ones." That's the everyday focus for Hoff and OU. In the last few months, OU has announced a number of exciting partnerships to reach that goal.
Most recently, USAO and Murray State partnered with OU to create a pathway to nursing through a direct entry program. Murray State Associate degree nursing graduates can now complete a baccalaureate degree in nursing online at OU.
OU also established a Nurse Intern Program that supports clinical education through paid internships. More than 400 nursing students have participated, and practice partners report a narrowing of the academic-practice gap and improved recruitment and retention post-licensure.
OU has also added new nurse practitioner programs to meet specialty care needs in neonatology and mental health.
Just a few months ago, Hoff announced partnerships with Norman Regional Hospital and Duncan Regional Hospital to increase access to OU nursing education by opening programs at those locations.
The expansion adds to the college's existing locations that offer the traditional BSN – the OU Health Sciences Center in Oklahoma City, the OU-Tulsa Schusterman Center, and Cameron University in Lawton.
"At OU, OK-WINs means we collaborate to build and strengthen the nursing workforce," Hoff said. "Last year OU committed to accept all qualified candidates to our baccalaureate nursing program, increasing prelicensure enrollment by 103 students and overall total enrollment by 185 students.
Hoff pointed out this year's incoming prelicensure nursing class — which has grown from 341 students in Fall 2021 to 439 students in Fall 2022 — is the largest it has ever been.
Tapping multiple resources, OU established the Degree Accelerator Program, a tuition-free, workforce investment program for practicing nurses to earn a BSN, MSN, DNP or PhD degree.
"This program dismantled financial, social, and attitudinal barriers to enable practicing nurses to advance academically and professionally, thus positioning them to exercise their knowledge and power to transform care and improve health outcomes for all Oklahomans," Hoff said.
That partnership across sectors is helping to drive synergistic change, influence policy to modernize nursing regulation, and foster collaboration to ensure sustained investment in nursing education.
"To ease the nursing shortage in Oklahoma it takes all of us working together innovating, integrating, and strengthening academic programming, workforce development, and policy," Hoff said. And it's all been a part of the plan.
For more information about the University of Oklahoma Fran and Earl Ziegler College of Nursing, visit https://nursing.ouhsc.edu/.