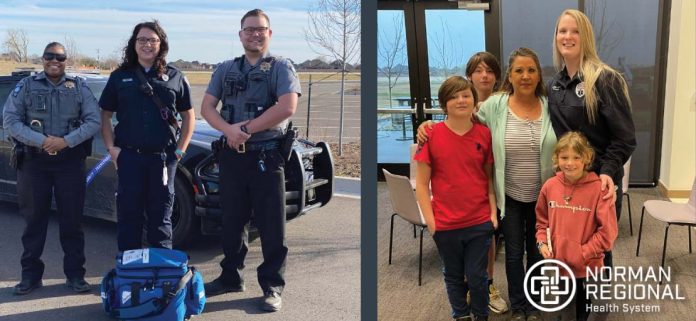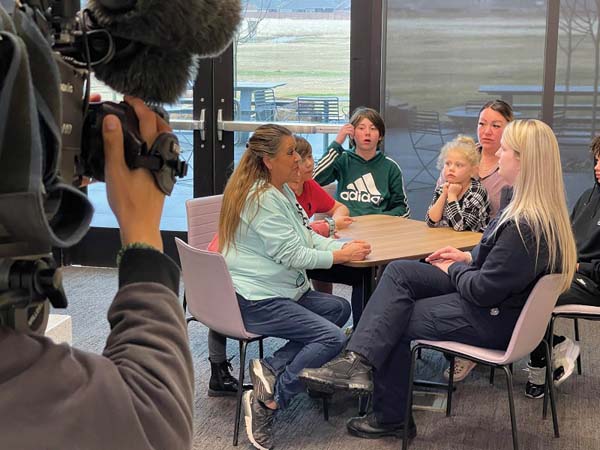 Paramedics Reunites with Family They Rescued
Norman resident Frances Tabler was trapped inside her house with her three children, 12, 10 and seven, when a tornado struck Sunday, February, 26.
Natural gas from a broken meter was spewing gas into the house and the family didn't know what just happened.
Norman Regional EMSSTAT paramedics Meagan Tompkins and Dustin McCoy were the first to arrive on the scene. The Tabler's home was destroyed. The roof had been ripped off and blown into the neighboring street. Debris was scattered all over the neighborhood.
Since both Tompkins and McCoy were first on the scene, they worked quickly without protective gear from the spewing gas to access the home.
They moved bystanders to safety, and Tompkins forced open a door. Once inside, they safely evacuated the family. The medics were even able to evacuate the family's dog, Gracie.
McCoy suffered a gash on his arm from falling debris working to evacuate the family. He denied medical treatment to stay on the job and help more people in need.
Tabler says she doesn't even remember how she got out of the house and it was so dark she doesn't remember specific people. Her family was reunited with paramedic Tompkins at Norman Regional Nine a few days after the tornado.
Tabler described the tornado as "everything happened so fast. Windows began to shatter," Tabler said. "It was very traumatic."
The family said they hope to visit paramedic McCoy soon!
Resourceful Paramedics Improvise with Cop Car to Evacuate People
First responders had to think creatively to free three people trapped inside a building following the Norman tornado Sunday, February 26.
Norman Regional's EMSSTAT worked with the Cleveland County Sheriff's Office to rescue people inside the Postal Training Center, 2701 E Imhoff Rd, Norman, OK 73071, on the night of the tornado.
This incident was among the first reported injuries from the tornado.
When the ambulance arrived near the scene, downed power lines blocked its access to the injured patients.
EMSSTAT medics Kaitlyn Gatlin and Riley Furman formulated a plan with deputies to use a low-profile police car to get closer to the building for evacuation efforts. The deputy's car was low enough to maneuver its way through the downed power lines to the injured people.
Both teams' quick thinking led to successful rescue, transport and treatment.
"I am so proud of our EMSSTAT healers and entire organization for their swift and courageous actions on that night," Norman Regional President and CEO Richie Splitt said. "It once again revealed our deep commitment to assist those we have been entrusted to care for."
EMSSTAT is the paramedic department of Norman Regional Health System, dedicated to the highest quality patient care, patient outcomes and community service. We cover Moore, Norman and surrounding communities — an area of approximately 400 square miles with an average of more than 16,000 calls for service yearly and increasing call volume each year.
Paramedics can handle any type of emergency, from car accidents to cardiac arrests. We partner with the Norman and Moore Fire Departments to respond to all emergency calls in Norman, Moore and immediate surrounding areas. EMSSTAT has four stations throughout Norman and Moore to distribute coverage, with the hub at our Eastside Station north of Norman Regional Hospital on Robinson Street and Porter Avenue.