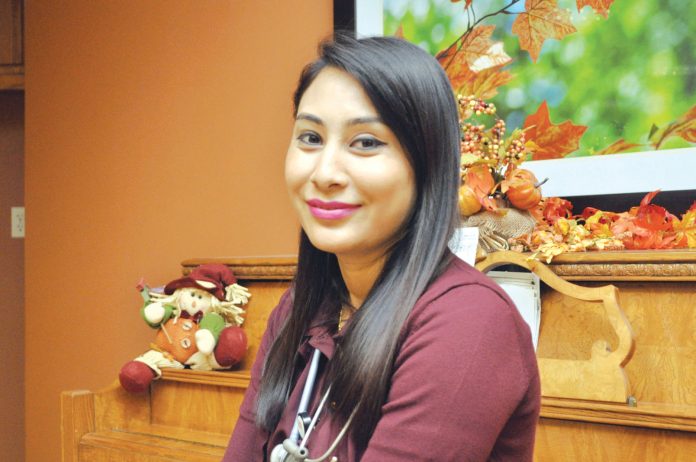 by Vickie Jenkins, Staff Writer
Epworth Villa is an amazing senior living facility in north Oklahoma City, with all levels of senior care. That includes independent living, assisted living, long term care, skilled nursing, and respite care. -Epworth Villa-
Epworth Villa is where you will meet Anita Bhandari, RN, where she works in the skilled nursing unit of Epworth Villa. Anita started from the bottom, moving up. "I have been a nurse for seven years, and a CNA for two years and I started right here at Epworth Villa. I couldn't ask for a better place to work. When I first started as a CNA, I worked on the geriatric side. All of the nurses were so supportive and helpful to me. I could see how smooth and pleasant everything was around here. The nurses helped me grow as a person, preparing me for what was ahead; being a nurse. It was then that I knew I wanted to be a part of helping others, making a difference in other people's lives," she explained.
What is your favorite thing about being a nurse? "When I come in every morning, I make sure to go around and say hi to all of the patients. I am happy to see them, talking to them and asking how they are doing. I think it is good for both of us. Some of the patients are over joyed when I walk into their room as they greet me, sharing all of their stories. It always makes me happy," Julie replied.
When asking Anita to describe herself, she replied, "I am a very compassionate person. When I see a patient, I always try to put myself in their shoes. I think being a nurse has helped me overcome some of my shyness and I see myself growing into more of a leader each and every day that goes by. I plan on continuing my education in the medical field and furthering my education."
Anita was raised in Nepal, Asia and came to the United States fourteen years ago. "It was a big move but I knew I wanted to get a good education. My parents still live in Nepal and I am thankful that I can travel and visit them when I am able. Of course, it is such a long flight," she said with a laugh.
What advice would you give to someone going into the medical field, wanting to be a nurse? "I would tell them to make sure they are going for the right reason; wanting to help people. They have to have compassion, sympathy and empathy. You almost have to feel the patient's pain, putting yourself in their place and build up that trust in them, and them trusting you. A nurse needs to know their skills and continue to study and continue learning. Personally, I think anyone going into the medical field should start out as a CNA. This is where they will learn what lies ahead. I know that was the way I started and there is such a learning process that goes along with it," Anita said.
Anita attended Wichita State University. "While I was in school, all of my instructors were so helpful. My friends were really good about pushing me along the way, guiding me in the right path. When I was a CNA here at Epworth Villa, all of the nurses that I worked with were so encouraging to me. They were so thoughtful. There was a certain individual, an ADON at the time, Andrea, which I considered to be my mentor. She was a great leader and taught me so much. I am thankful for my family, friends and all of those that helped me get where I am today," she explained.
"Epworth Villa is a place where we promote teamwork. I would like to give a big thank you to Brenda, an aide that I work with. We are there for each other and we are definitely a team. Thank you Brenda," Anita said.
Anita is married to a wonderful man, Ishwor Bhandari who is a medical technician for the blood bank at Mercy Hospital. They have a sweet little girl, Ishani, who is two and half years old." Ishani is a combination of both of our names," Anita commented. Anita's hobbies include spending as much time as she can with her family and volunteering at different functions.
Summing up her life in one word, Anita said that word would be PERFECT.
Anita, your perfection is showing!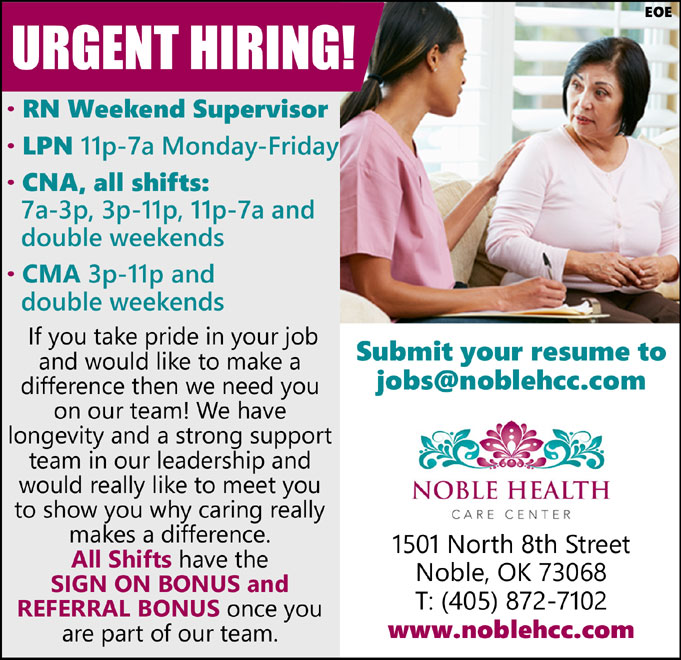 URGENT HIRING!
· RN Weekend Supervisor
· LPN 11p-7a Monday-Friday
· CNA, all shifts: 7a-3p, 3p-11p, 11p-7a and double weekends
· CMA 3p-11p and double weekends
If you take pride in your job and would like to make a difference then we need you on our team!
We have longevity and a strong support team in our leadership and would really like to meet you to show you why caring really makes a difference.
All Shifts have the SIGN ON BONUS and REFERRAL BONUS once you are part of our team.
Submit your resume to jobs@noblehcc.com
Noble Health Care Center
1501 North 8th Street
Noble, OK 73068
T: (405) 872-7102
www.noblehcc.com
EOE