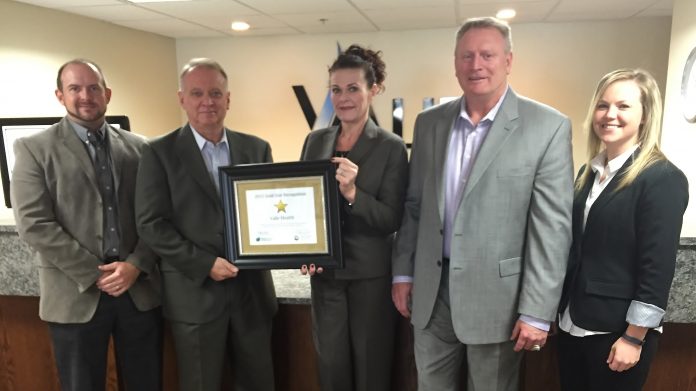 Valir Health was recognized by the Oklahoma Hospital Association's WorkHealthy Hospitals initiative for achieving the highest standard of tobacco-free excellence by providing high-quality tobacco treatment services for employees. The Oklahoma Hospital Association (OHA) partners with Prevention Partners in North Carolina through its Work Healthy AmericaSM initiative to assist hospitals in achieving worksite health improvement through the OHA WorkHealthy Hospitals initiative. Hospitals are awarded a Gold Star for this achievement through Prevention Partners.
WorkHealthy Hospitals is funded by the Oklahoma Tobacco Settlement Endowment Trust (TSET).
In order to receive this recognition, Valir Health has a tobacco-free worksite policy and provides to their employees the most effective treatment benefits currently available. Employees are referred for individualized quit coaching through the Oklahoma Tobacco Helpline, provided the most effective cessation medications to ease nicotine withdrawal discomfort (nicotine-replacement therapy and prescription), and offered incentives to encourage them to quit tobacco and improve their health. These strategies are the most effective and evidence-based components recommended by national health experts including Prevention Partners for comprehensive quit-tobacco systems at worksites.
"OHA is proud to partner with Valir in helping them achieve this goal of receiving the Gold Star," said Joy Leuthard, OHA health improvement initiatives manager. "The commitment of leadership and all staff has set a standard for Oklahoma hospitals to improve their own health and set that example for their community. We look forward to seeing health improvement continue in other areas as well."
Valir Health CEO Tom Tucker stated, "Embedded in the name, Valir Health, there is a dedication to the health and welfare of our employees, patients and visitors. The commitment to a tobacco free environment on this campus is a logical step in that direction"
Prevention Partners collaborates with OHA to engage Valir corporate leaders and staff to enhance and sustain employee wellness efforts. OHA's goal is to provide hospitals with the knowledge and resources to create a healthier employee population and extend that knowledge and health improvement to their communities in order to improve the poor health of all Oklahomans.