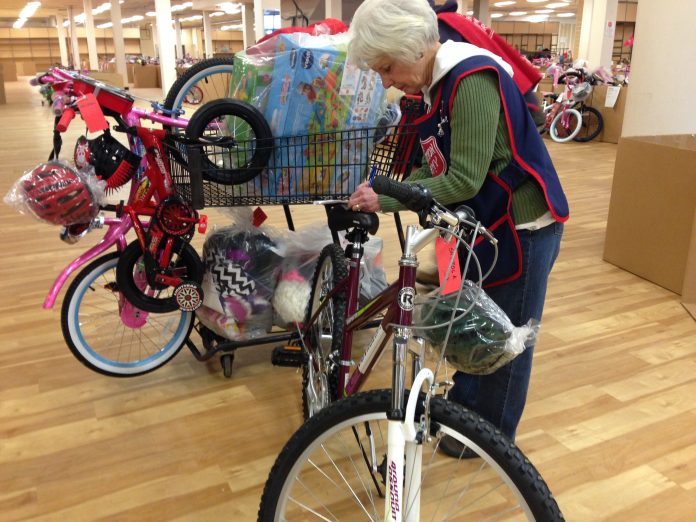 by Bobby Anderson
The holidays are almost upon us. For many it's a time of family, connections and spirit.
But some or all of that is lacking for many Oklahoma families.
That's why Liz Banks, volunteer director at the Salvation Army, says now is the time to make your volunteer plans for the holidays.
The Salvation Army's Central Oklahoma Area Command has a number of volunteer opportunities for the season as well as year-round.
"Volunteers are critical during the Christmas season with our Angel Tree program and Red Kettle campaign," Banks said. "We treasure each and every individual who gives of their time throughout the year and are so grateful for their support.
Angels are also a priority as each Angel tag on the Angel Tree represents a child or senior who is in need in our community.
"Gift donations to the Angel Tree program not only provide tangible items for the Angels, they are gifts of hope, love and joy for that child or senior who otherwise would not have had a Christmas," Banks said.
Angels can be adopted at Penn Square Mall or Quail Springs Mall beginning November 12 through December 10.
The Salvation Army Central Oklahoma is hosting a Thanksgiving Day Community Meal and all are welcome to join for food and fun. Lunch will be served from 11 a.m. to 1 p.m.
Outside, families and individuals will be welcome to enjoy coffee, hot chocolate and donuts.
Individuals who are interested in volunteering may arrive at 9 a.m. at the north entrance of The Salvation Army Chesapeake Energy Center of Hope, 1001 N. Pennsylvania. All who would like to volunteer are welcome and calling to sign up as a Thanksgiving Day Volunteer is not necessary.
Christmas is a season with lots of activities at the Salvation Army, none of which could be accomplished without an army of volunteers.
Opportunities include:
* Christmas Distribution Center: Come help to prepare each Angel's gifts at the distribution center. This is for ages 13 and up with dates running from December 2-14.
* Angel Tree Family Gift Distribution: Be a guide for the Angel Tree families as they come to receive their gifts. For ages 13 and up. This is a great opportunity for corporations and businesses. Dates are December 15-18.
* Ring the Bell: Invite family, friends and coworkers to adopt a red kettle location for four hours, a day or a week. This raises funds for The Salvation Army's programs like the Client Choice Food Pantry, Senior Centers and Boys & Girls Club. Dates run from November 20 – December 24.
The Salvation Army runs on volunteers like Georgann who only knew about The Salvation Army's iconic red kettles when she first visited.
But since that visit four months ago, she has dedicated herself to serve families in need in our community, even though it means stepping out of her comfort zone.
"It really speaks to my heart. It is hard work but it's very rewarding," Georgann shared.
The Salvation Army food pantry has become her favorite place because of the people.
"I began helping a woman in the pantry one day and she shared with me that it was her prayer she receive leg of lamb during her visit," she said. "As we approached the freezer to look at the meat selection, right on the bottom shelf was a leg of lamb for her to have! It was so neat!"
Though she may have been nervous as a first-time volunteer, Georgann has fallen in love with giving back to her community and sharing with others the work going on here.
"I just hope, as the opportunities come around, I can do more. The people that I visit with at church about The Salvation Army…they're thinking it's just the kettle or ringing bells. But, no, it's a whole lot more than that. We're just trying to help people."
If individuals would like to give beyond volunteering or adopting an Angel, giving to the Red Kettle is always appreciated.
The Salvation Army Central Oklahoma is meeting the needs of our community 365 days a year. Donations to the red kettle provides shelter, groceries, utility bill assistance, disaster services and dinner for our community as well as a safe place for children and seniors year round. Donations can be made by visiting www.salvationarmyokcac.org, mailing a check to The Salvation Army Central Oklahoma, Attn: Development Department, 1001 N. Pennsylvania Avenue, Oklahoma City, OK 73107 or dropping change in the red kettle beginning November 20.