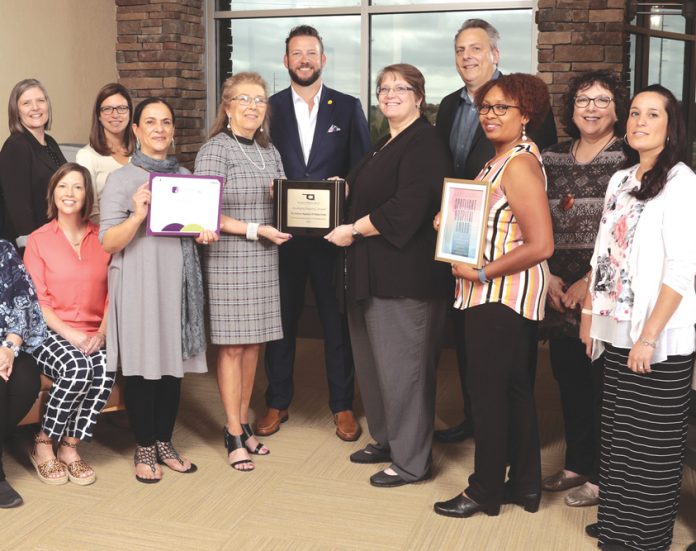 The Children's Hospital at OU Medicine has been awarded a Spotlight Hospital Award for excellence in perinatal care by the Oklahoma Perinatal Quality Improvement Collaborative.
The hospital also received special recognition for being the only hospital attaining the Spotlight Hospital Award for all five years the award has been presented.
Spotlight Hospital Awards recognize hospitals around Oklahoma for participation and sustained improvement in the following areas:
·Early elective deliveries
·Education to prevent abusive head trauma
·Modeling and promoting safe sleep practices
·Accurate newborn screening
·Creating an environment that is supportive of best practices in maternity care and breastfeeding
·Being prepared for obstetrical emergencies through training, guidelines and hospital resources
The awards were presented at the Oklahoma State Department of Health's Preparing for a Lifetime's 10th Anniversary Summit, held September 20, in partnership with the Oklahoma Perinatal Quality Improvement Collaborative.
At The Children's Hospital, pediatric staff blends years of training with education, research and technology to improve the lives of children throughout the region. The obstetric emergency room at The Children's Hospital is a regional referral center for the state, and the neonatal intensive care unit provides the highest level of newborn care in Oklahoma. Children's is also home to the only 24/7 pediatric emergency room in Oklahoma City. With a family-centered approach to healing, Children's offers resources from pet therapy to child life specialists who help families cope with hospitalization and illness. From advanced surgical services to general pediatrics, oncology care and more, The Children's Hospital provides cutting-edge research and treatments through hospital-based and outpatient services. To learn more, visit oumedicine.com/childrens.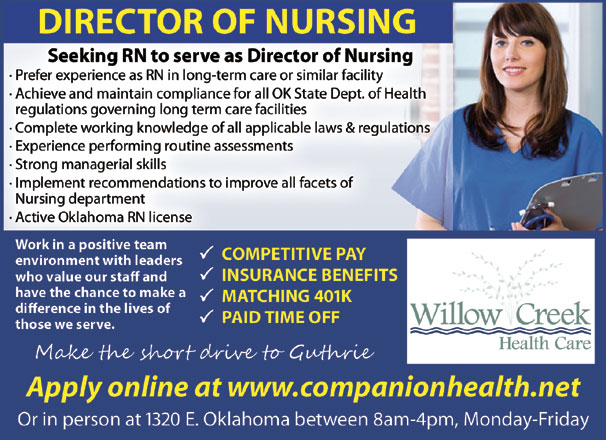 Willow Creek Health Care seeking DIRECTOR OF NURSING
Seeking RN to serve as Director of Nursing
· Prefer experience as RN in long-term care or similar facility
· Achieve and maintain compliance for all OK State Dept. of Health regulations governing long term care facilities
· Complete working knowledge of all applicable laws & regulations
· Experience performing routine assessments
· Strong managerial skills
· Implement recommendations to improve all facets of Nursing department
· Active Oklahoma RN license
Work in a positive team environment with leaders who value our staff and have the chance to make a difference in the lives of those we serve.
· COMPETITIVE PAY
· INSURANCE BENEFITS
· MATCHING 401K
· PAID TIME OFF
Make the short drive to Guthrie
Or in person at 1320 E. Oklahoma between 8am-4pm, Monday-Friday