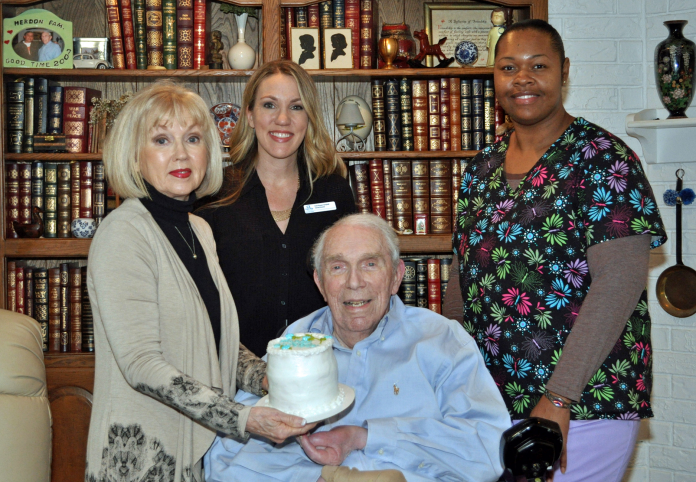 Sweet!
Baking cakes and celebrating with clients and residence
by Vickie Jenkins – Writer/Photographer
Meet Kristi Brewer Campbell, Owner and Director of Care Plus Home Care. "This is a family-owned, licensed and private duty home care agency," Kristi says. "We have certified care-givers and assisted living services to individuals and couples that want to stay home and stay well."
Here, you will find that services are offered 7 days a week up to 24 hours a day. Live-in services are also provided if around-the-clock care is needed. Their caregivers can assist with personal care and hygiene, take care of their medications, prepare meals, clean, do laundry and assist with transportation and errands.
The family-owned business understands how important it is to their clients to feel and remain safe in their own homes. "When people can stay in their home, it makes them feel good about themselves. They feel a bit of independence even though they have a caregiver come in to assist them with their specific needs," Kristi says. "All of our caregivers are bonded, references are verified and Oklahoma State Bureau of Investigation checks are run on each caregiver prior to employment. That is a big plus and when it comes to feeling safe and secure, our clients really like that. It is a peace of mind for the client and their families. The caregivers are carefully screened and undergo a criminal background check. In addition, each caregiver is bonded, insured and covered under workers' compensation insurance. It's nice to know that they can trust their caregiver."
Established in 1993, Care Plus Home Care agency provides an alternative for seniors wanting to remain independent and in the comfort of their own home. The mission here is to meet the home care needs of their clients with respect, compensation and services of the highest quality. They will operate in a manner that will appropriately reward their clients and employees alike. Presently, Care Plus Home Care has about 70 clients but the number varies. "All of our clients are treated with respect, and we want to make them feel like the most important person in the world," Kristi comments.
Kristi Brewer Campbell and her mom Nancy Brewer add a little something special for their clients. "I remember when I was a little girl, there was an elderly lady, Maddox, that we would visit each week, just to stop by to see if she needed anything. I remember how my mom was so nice to her. Now, my mom continues caring for the elderly by making our clients a birthday cake on their special day. Mom has been baking birthday cakes for a little over 3 years now and she loves it," Kristi said. "It certainly brightens their day," she adds. "The two of us deliver the cakes to our clients and sometimes, it's a big celebration with their families. Everyone in the family appreciates us bringing them a birthday cake. That makes us feel really good."
"It was my mom's idea to bake a cake for each of our clients on their birthdays," Kristi said. Asking Nancy how she began baking cakes for the clients, she replied, "Of course it takes a little bit for the client to get used to the daily adjustments when they need assistance in their homes. There was a gentleman that was having a hard time with it and it just happened to be his birthday. Kristi and I decided to bake a cake for his birthday. When we delivered it to his home, his whole attitude changed, for the better. It was amazing! After that, I decided that I would bake a cake for all of the clients on their birthday," she said with a smile.
"How does it make you feel when you deliver a cake to the clients?" I ask Nancy. "Well, it makes me feel really good to know that I am doing something for someone else and by me baking a cake for them, they really appreciate it. Sometimes, Kristi and I are greeted by their families and they want us to stay for the party, etc. It is such a great feeling knowing that such a simple gesture from us can mean so much to them."
Kristi and Nancy deliver the cakes all over Oklahoma, wherever their clients are and they never miss a birthday. The cakes are usually 2 to 3 layers of luscious flavor upon the client's request. Decorated with icing and a Happy Birthday on the top, it almost looks too good to eat! Nancy loves to bake and will continue to bake birthday cakes as long as she is able.
A big thank you to Don and Joan Herndon for allowing me to come into your home and a thank you to Kristi and Nancy for spending your time and effort to go out of your way to make seniors feel special.