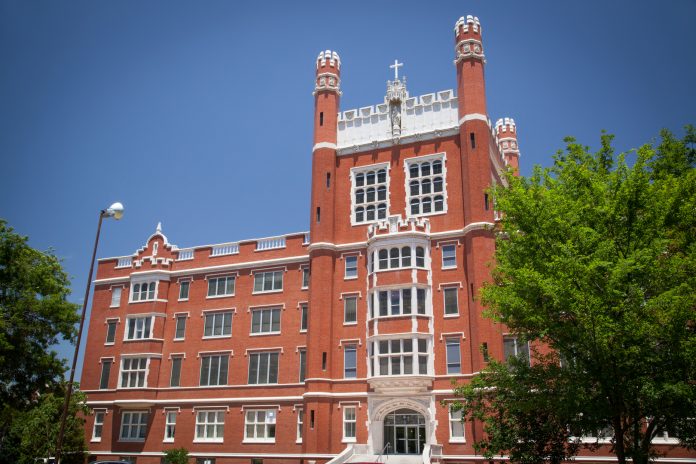 St. Gregory's University announced today that its Bachelor of Science in Nursing (BSN) degree program has been granted full accreditation from the Commission on Collegiate Nursing Education (CCNE). The accreditation is retroactive to October 15, 2015.
"Going through the development and implementation of a nursing program at St. Gregory's is a great illustration of The Little Engine That Could. The faculty and staff have worked tirelessly to make the accreditation process a successful reality," Dr. Susan Barnes, Dean of St. Gregory's School of Nursing said. "This accreditation is a testimony to the good people that are so dedicated and passionate about nursing. This hard work is an acknowledgement of the nursing shortage and our ability to make a contribution to solving the problem. Nurses play an important role in each of our lives."
St. Anthony Hospital, Saint Francis Health System, St. John Medical Center and Mercy Hospital — Oklahoma's four Catholic healthcare systems — are key partners in St. Gregory's nursing program, supporting a caring approach that preserves the dignity of the human person. The curriculum's ethical component is informed by the Catholic Church's moral teaching, and supports the University's overall mission of forming the whole person – mind, body and spirit.
The success of the nursing program has spurred the University to explore the possibility of opening a College of Health Care as part of its recently approved strategic plan, Vision for Our Next Century.
"This is a marquee day for not only our School of Nursing, but also for St. Gregory's University," Michael A. Scaperlanda, President of St. Gregory's, said. "Our nursing program's roots within the Catholic Liberal Arts intellectual tradition prepares our students to go out into the world and become beacons of light within their communities while serving others in a way that respects the dignity of human life. This is only our first step as we continue to look for ways the University can serve the vast Catholic health care network in Oklahoma and across the nation."
The nursing program has previously been approved by the Higher Learning Commission, received provisional approval from the Oklahoma State Board of Nursing and has been offering nursing courses in a traditional format as well as the accelerated Registered Nurse to Bachelor of Science in Nursing (RN to BSN) degree completion program for working adults since August 2014. Currently there are over 75 students enrolled in both the traditional nursing and RN to BSN Degree programs. For more information on St. Gregory's Catholic Nursing or RN to BSN program, contact the St. Gregory's admissions office at [email protected], 1-844-BE EXTRA or visit www.stgregorys.edu/nursing.