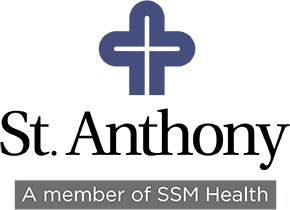 To help patients who suffer from aortic stenosis, St. Anthony Hospital is now offering Transcatheter Aortic Valve Replacement (TAVR), a minimally invasive cardiac procedure.
Adults over the age of 60 are at most risk for aortic stenosis, the most common and serious heart valve disease. Aortic stenosis is the narrowing of the aortic valve opening. The valve controls the flow of blood out of the heart into the whole body through the aorta and its branches. As the valve narrows down over a period of years due to degeneration, calcification, and various other reasons, patients develop symptoms such as difficulty breathing, chest pains and fainting. Often these symptoms will not appear until 10 or 20 years following the onset of the disease. The minimally invasive TAVR procedure repairs the valve without removing the damaged one. Instead, it wedges a replacement valve into the diseased aortic valve's place. When the new valve is expanded, it forces out the damaged valve leaflets, allowing the tissue in the new replacement to take over the regulating of blood flow. "We are very excited to provide this new state of the art procedure at Saints. The procedure will immensely benefit elderly patients who otherwise cannot undergo open heart surgery for valve replacement, as well as patients who have medical conditions which put them at medium or high risk for open heart surgery for valve replacement," said Vinodh Jeevanantham, M.D., MPH, board-certified interventional cardiologist at St. Anthony Hospital.
Development of the TAVR program involves a multidisciplinary approach that includes cardiologists, cardiothoracic surgeons, radiologists, echo sonographers, dedicated valve clinic co-coordinators, expert support staff from catheterization laboratory and the surgery department. "Over the past year, a team of St. Anthony physicians and administrators have developed the TAVR program. With the launch of the TAVR program and other cardiovascular service lines, we are expanding our capabilities to care for cardiovascular patients with more complex conditions," stated Scott Lucas, M.D., board-certified cardiothoracic surgeon at St. Anthony Hospital.