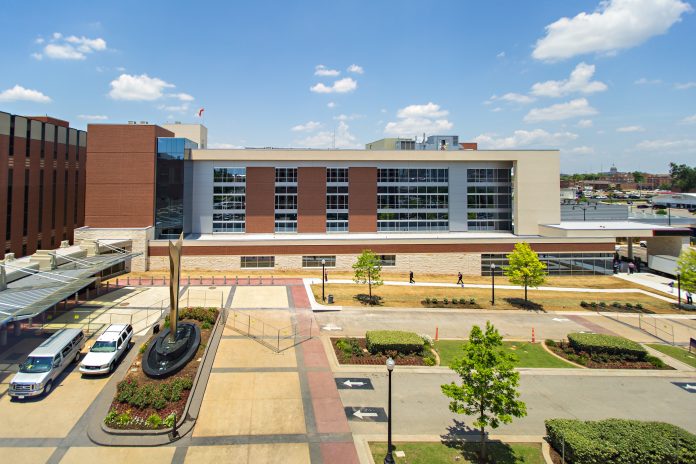 St. Anthony Hospital opened its new Pavilion on Wednesday, June 22. The Pavilion, located on the east side of the campus and accessible from its Walker Avenue entrance, houses a new 36 bed emergency department, two 24 bed intensive care units, and a 24 bed progressive care unit. The 111,000 square foot, four-story facility project represents the crowning point of the hospital's $220 million campus expansion plan announced in 2004 after it affirmed its decision to stay in Midtown. The emergency room is the first department to open in the new facility on June 22, followed by the opening of the new progressive care unit and the two new intensive care units over the next two weeks.
"We are excited about the Pavilion completion, as it represents significant enhancements for the benefit of our patients," stated Tammy Powell, president, St. Anthony Hospital. "Our new emergency room, intensive care units and progressive care unit expand our capacity to accommodate the growth of patients seeking care through our state-wide rural affiliate network and four St. Anthony Healthplex campuses in Oklahoma City. The facility features many medical care advancements to improve upon the exceptional care we provide as well as improve the patient and visitor experience."
The Pavilion expands the St. Anthony Emergency Room to 34 exam rooms and increases the hospital inpatient beds by 72. St. Anthony Hospital's total inpatient licensed beds with the new expansion is 774 beds.
In 2003, St. Anthony Hospital announced it was contemplating a move because the Midtown area was in significant decline. Dilapidated buildings were common place in Midtown, and very little business investment was occurring outside of the hospital complex. In 2004, after collaborating with community and civic leaders, the hospital made the decision to stay in its 100+ year home. St. Anthony revealed an aggressive redevelopment plan for its campus. The City of Oklahoma City committed to provide assistance with streetscapes and traffic flow improvements. Over the past 12 years, the hospital invested in upgrades of patient care and common areas, redesigned and expanded its east entrance, opened a new medical office building, rehabilitation unit and $30 million surgery center, and completed numerous campus beautification projects.
City improvements in the area included the construction of two roundabouts as well as numerous streetscape projects. The City also offered assistance with the removal of dilapidated buildings. As improvements in the area were made, Midtown became an attractive area for developers. Today, Midtown is vibrant as a walkable community with restaurants, entertainment, housing and retail growth.
Rees and Associates were the architects for the $53 million project, and Turner Construction Company was the general contractor.