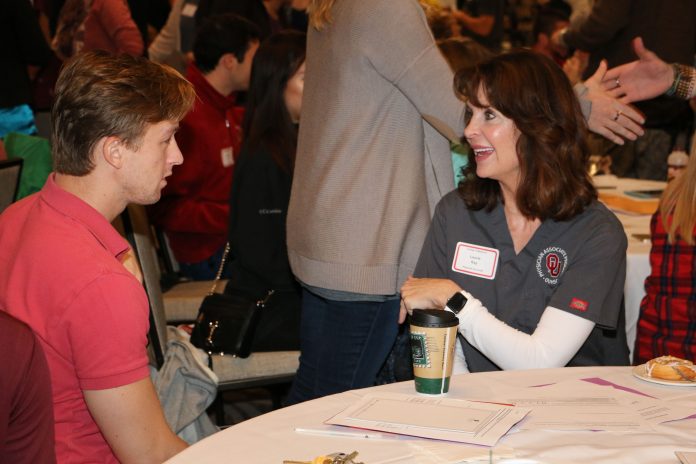 OU program targets communication, collaboration and improved care
"Hi, I'm Nancy. I'm studying to be a doctor."
"I'm Jim . I'm going to be a pharmacist."
It's not your typical speed dating encounter. While the activity starts much the same, these sessions are not about meeting your future spouse. Instead, they focus on meeting future colleagues across a variety of health professions.
It's all part of an inter-professional training program at the University of Oklahoma Health Sciences Center. The goal is to enhance education for students who plan careers in health, to advance care and to empower patients.
"We are somewhat unique here at the OU Health Sciences Center with so many health profession students of many different disciplines training on the same campus. This allows us to pull students together for this very important training," said Dale Bratzler, D.O., M.P.H., professor and associate dean of the OU College of Public Health. Bratzler also is part of the core faculty for the inter-professional training programs at OU.
Peggy Wisdom and the Wisdom Family Foundation played an important role in the development of the inter-professional training program at OU.
"I am reminded that we learned in the 20th century that it takes a village to raise a child. Now, in the 21st century, we are learning that it takes inter-professional teams of health care professionals to keep us well when we are still healthy, keep us safe when we are acutely ill or guide us in getting well when we become unhealthy," Wisdom said.
Inter-professional training at OU launched several years ago with a small pilot project called EPIC – Empowering Patients through Inter-professional Collaboration. Based on the success of that project, the effort has expanded significantly. Now, it provides hundreds of students from diverse health professions with the opportunity to participate..
"Traditionally, health professions education has been provided in discipline-specific silos with limited opportunities for students to interact or learn about and from other disciplines with whom they will need to interact in practice," said Bratzler.
It's been more than 10 years since the Institute of Medicine's committee on health professions noted that while health professionals are often asked to work together in interdisciplinary teams to manage patients with complex health conditions, they are seldom educated together or trained in team-based skills. For the past three years, though, Bratzler and a team of core faculty at the OU Health Sciences Center have worked to change that.
Faculty from the OU Colleges of Medicine, Nursing, Pharmacy, Public Health, Allied Health, Social Work, and Dentistry worked together to create inter-professional learning opportunities that would allow students to work in teams similar to the healthcare teams in which they would work during clinical practice. To date, some of its biggest proponents have been the students themselves.
"I think having a common ground with people from other professions allows you to work more closely and to greater effect than you would if you did not participate in this training," said Preston Seaburg, a participant in a pilot version of the program. "It was probably the most valuable education experience I had in my whole medical training."
Students like Seaburg also helped faculty refine the training and expand it.
"During the two years of the EPIC pilot, we were able to develop the educational content that did lend itself to training a large segment of the student body here," Bratzler said.
Gathering more than 850 students from a variety of health professions was one thing. Introducing them to one another was completely another. And that's where speed dating comes in. This time, though, the speed-dating exercise is designed to allow students to learn more about each other's health professions and to begin gaining an appreciation for the work they each will perform to keep their patients healthy and safe.
"This is a communication experience as well as a learning-about-one-another experience. This is an early exercise in helping the 'team' develop effective communication skills," said Martha Ferretti, PT, MPH, FAPTA, who also was a leader in developing the inter-professional training program at the OU Health Sciences Center.
Bratzler said it's clear that inter-professional training is here to stay and that it is becoming increasingly important.
"I think it is becoming much more common, and many of the health professions accrediting programs now require this type of activity to be a part of the educational curriculum," he said.