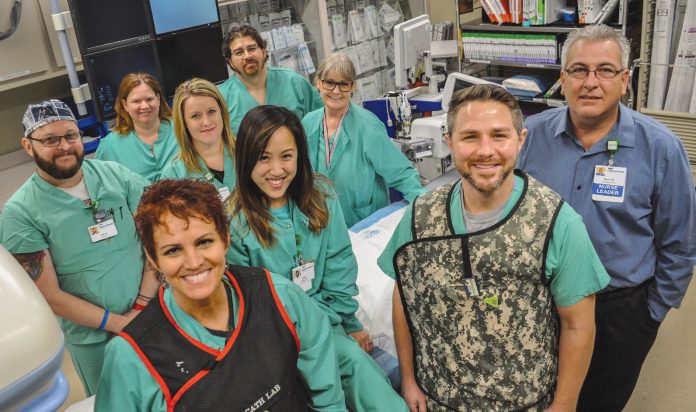 by Bobby Anderson
Staff Writer
The message sent to the Midwest City community a few months back was resounding.
More than two years of work and planning by multiple AllianceHealth Midwest departments culminated in a prestigious accolade that will benefit patients throughout the metro.
For the first time, the hospital received full Chest Pain Center with PCI (Percutaneous Coronary Intervention) Accreditation from the Society of Cardiovascular Patient Care.
"Essentially what it did was validated to our community we were serious about our cardiology program and our treatment and our evaluation of chest pain patients," said Mark Macklin, RN, BSN, cardiology director and chest pain coordinator. "This has always been a community-based hospital and it was important for us to relay that to the community that we had committed ourselves to improving in those particular areas."
To receive accreditation, AllianceHealth Midwest demonstrated its expertise and commitment to quality patient care by meeting or exceeding a wide set of stringent criteria and completing on-site evaluation by a SCPC review team.
AllianceHealth Midwest is the only hospital in the state of Oklahoma to receive this level of accreditation.
"This accreditation is another large step in our commitment to providing superior emergency and cardiac care to the residents of Midwest City and Eastern Oklahoma County" said Damon Brown, CEO, AllianceHealth Midwest. "This accreditation was made possible because of the dedicated work and commitment of a multi-disciplinary team that included employees, physicians and paramedics."
Macklin has spent the last 12 of 22 years in nursing in cardiac care after an emergency medicine and trauma background.
And he's seen cardiac care come to the forefront.
TREMENDOUS NEED
"Any community in Oklahoma, cardiovascular disease is going to be a primary focus," Macklin said. "Particularly for the process of chest pain accreditation it was important for us because of our volume throughputs, lengths of stay and those issues that we standardized the process so patients are treated not exactly the same but at least within the same guidelines and standards … so we don't miss small things along the way."
Macklin stressed that the purpose of obtaining chest pain accreditation wasn't to just put the emblem on the paperwork. The process was one the entire AllianceHealth system has committed to in order to improve its processes and insure better outcomes.
"What it tells (the community) is that along with the accreditation process is the process of ongoing performance improvement and what might be standard of care today is fluid and those standards change annually, even more often than not based on evidence-based practice and clinical research."
"We have cardiologists that embrace the recommendations that come out of the American College of Cardiology and published literature."
Macklin likes to use the phrase "parking lot to parking lot" to describe the program.
The program simply doesn't work if all departments don't work together.
"It's not just an emergency process, it's not just a cath lab process and it's not just an inpatient observation process," Macklin said.
That became obvious during the entire accreditation process.
"What we identified early on in the process was we were already pretty good at the acute MI," Macklin said. "What we identified through the process and our surveyor's neutral eyes was that our biggest opportunity was our EMS arrivals and starting to take those EMS patients who were acutely myocardial infarcting … straight to the cath labs, shaving 20 sometimes 30-times off our perfusion times."
"That's been our biggest improvement you can see on a daily basis. We've empowered EMS … that if it walks like a duck, and it quacks like a duck call it a duck and we'll take them to the lab."
The process is ongoing.
Macklin knows time is muscle and staff are always up against the clock.
The pride comes through the continual refinement of the process.
Representatives from every department met regularly through the accreditation process and still are called back in to maintain improvement.
"This is a group of people who aren't afraid to call somebody out and it's a group that isn't afraid to tell you what they need," Macklin said. "This is a team sport."
Certification lasts for two years but statistics are monitored monthly by the accreditation agency.
Ongoing employee education and community education are tenets of maintaining certifications.
And the process for recertification has already begun.
And everyone is involved.