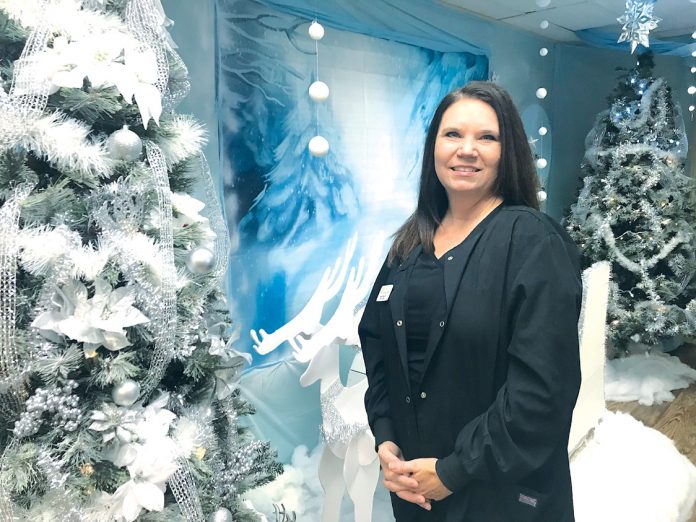 by James Coburn – staff writer
After Christmas, people have their Christmas memories to shine in their hearts. A smile and laughter can go a long way, said Melissa Wilson, RN, and the director of nursing of Bradford Village Healthcare Center in Edmond.
Residents don't have the opportunity to walk through a winter wonderland. But at Bradford Village Healthcare Center they were given the opportunity to do just that. People connect with Christmas holidays of yesteryear and by creating new memories.
Wilson has tried to create memories wherever she has worked. As a registered nurse, Wilson has served as the director of nursing of Bradford Village Healthcare Center for about 18 months. She and her daughter created a photographic memory during the Christmas season where residents and their families could pose by Santa and his sled. (story continues below)
OU HEALTH UNIVERSITY OF OKLAHOMA MEDICAL CENTER SEEKING Respiratory Care Practitioners
She asked a maintenance man to save her large pieces of cardboard for creating the snowy wonderland. He brought her the biggest boxes he could find. The sleigh was a little too big for the trunk of her BMW. So, her daughter strapped it down in her truck to transport to Bradford Village.
Soon the time came when families gathered at a Christmas party to amid the backdrop. They could see the snow on the trees or ride on the sleigh.
"I'm a Christmas nut, I love Christmas, it's my favorite time of year," Wilson said. "I'm not the greatest craftsman, but it's about creating an opportunity for the family to get with their loved one to create that memory. It may trigger something that they might have done as a child and with their family in the past."
The experience reinforces a sense of home and belonging. After all, Bradford Village Healthcare Center in Edmond is their home. Residents and family members feel valued and loved that the staff would provide such a beautiful image for them, Wilson said. They often say thank you.
"We have to help with mental health, too," Wilson said of being a nurse and uplifting the mind, body, and spirit. "You know if they're not healthy mentally, then they're not going to be healthy physically. And there's a lot of things that we can't fix quickly with a pill or medication, but we can make someone smile."
Bradford hosts a New Year celebration each year at midnight. Residents share non-alcoholic drinks as confetti is tossed. They also gathered at Thanksgiving. And they are grateful to return to activities after what some of them have endured during the COVID pandemic.
This new year, Wilson hopes for the health of her family, happiness for everyone, and no more COVID.
"Last year was difficult for our residents beyond measure. It was hard. You can't put a definition on how challenging it was for them. Even though many of them didn't say a lot of how challenging it was — you know that it was."
Celebrating the seasons makes a world of difference for those being cared for in the long-term. The feeling of home is back because their families are there, Wilson said.
For Wilson, her Christmas was with her daughters and husband. They enjoyed a small dinner and opened gifts. Her children are grown now, so the holiday is different from when they were youngsters, she said. She watched her grand babies living out of state open their gifts on Face Time.
"It's a time of thinking back what your true blessings are, and that's having your family with you," Wilson said.
Some of her most precious memories of Christmas are of being young with her parents celebrating at her side. Wilson has lost her mother, so she gets teared up when thinking about her now.
"Having her here is my best memory," she said.
Today, Wilson likes the thought of adopting all the Bradford residents as her grandparents. It's very easy to do, she continued. She loves them all.
"There's some that you just want to cuddle all the time," she said. "So, you adopt them all as your grandma and grandpa," she said.
This love cannot be taught. But her compassion flickered along with other nursing students ready to help the lives of others as students at Oklahoma Baptist University in Shawnee. She worked several years in Texas as a licensed practical nurse before earning her Bachelor of Science degree in Nursing. She continued course to achieve her master's degree online at California at Miramar University.
It was the reputation of Bradford Village Healthcare Center that attracted her to accept a position there. She wanted to work with the administrator and team spirit thriving at Bradford. The team of nurses sets the tone that she admires today.
"Knowing I was going to have a wonderful team — I was sold," she said.
For more information about Bradford Village Healthcare Center visit: www.bradfordok.com or call (405) 341-0810.