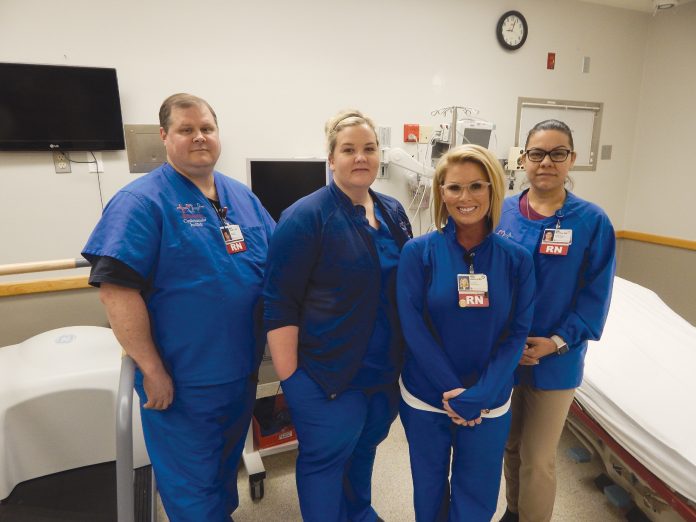 Saving lives: OU Medical Center is ready for the challenge
story and photo by James Coburn
Most of the people don't ask to be sick or plan a hospital admission. But when there is a health crisis, they find help at OU Medical Center Oklahoma City.
Dedicated nurses serving in the cardiac program, or Cardiovascular Institute at OU Medical Center are part of a continuum of care navigating the hospitals with opportunities.
"Our nurses have the opportunity every day to work in CVT and still have mobility in different areas," said Scott Coppenbarger, hospital spokesman.
This continuum of care is a high priority for the patients' experience as nurses are specialized in certain areas.
Examples include the Cardiac Intensive Care Unit, step down, in house telemetry, cardiac floor, cardiac rehab, cardiac trauma, cardiac service line management, ability to impact STEMI times and outcomes, cath lab, adult congenital program, thoracic program, perioperative services, and the heart, lung and valve clinic.
Corinna Reed, RN, has been a nurse for 21 years. She works in the cath lab where diagnostic and interventional procedures are performed.
"For blockages in the heart, we stop heart attacks. We put pacemakers in and help eliminate blood clots," Reed said. "There's so many procedures we do. It's becoming more and more encompassing."
She said some procedures have been transferred from surgery to the cath lab setting where it is less evasive. Patients can be in and out of the cath lab in an afternoon versus surgery where they may stay overnight. So comprehensive care is becoming much easier for patients and families, Reed explained.
All of the cath lab nurses are critical care nurses. Reed has always circled back to focusing on the heart.
"I like to see people walk out of here," Reed said. "One of my biggest rewards when I recovered open hearts was getting to take the ventilator off, and then the next day walking them down the hall to the cardiac nursing floor."
A few days later, Reed would watch her patients wave goodbye as they were wheeled out of the hospital.
During Shawn Penington's nine years at OU Medical Center he has worked in intensive care and cardiac intensive care units. The RN currently serves patients in the cath lab. OU Medical Center has been good to him by providing vital experience.
Patients who have had open heart surgeries will sometimes come to the cath lab for stents. The RN is familiar with all the medications they take.
"Some of those people come in. They are not scared. Some of them have a lot of anxiety," he said. "So I like to identify with those kind of people."
Understanding their emotions by acknowledging they are scared helps to ease their mind.
"Usually I tell them I would be scared, too, 'if I was where you're at," Penington said. "Even though I know there's good outcomes of what we do and nothing's going to go wrong I would still be afraid myself. That's usually where I can meet them on level ground to help calm their fear."
Nurses are attracted to cardiovascular ICU care because of the complexity of the work, said Bertha Nunez, RN, nurse manager for cardiovascular intensive care. It's the hard work, she added.
"The critical thinking aspect, the busyness, because if your heart's not working right then other things won't work right either," Nunez said. "And you have to have the anatomy, physiology knowledge behind it. Know your medications and how it impacts one organ and the rest of the body as well."
Some nurses have been in different roles with OU Medical Center for more than 20 years, she said. There are also younger nurses the hospital works hard to keep on staff.
Nunez commends the nursing staff for their dedication, she said. They take the extra effort to help patients feel better, she said.
They also incorporate the family and feel gratified that for the 12 hours of work, they made a difference in a patient's condition.
"That's what attracted me to nursing was the ability to help somebody who may be anxious like Shawn said, or somebody that doesn't know what's going on and taking the time to explain," Nunez said.
Teamwork and support through all aspects of the organization makes OU Medical Center's stellar reputation thrive.
Ashley Milam, RN, works in the cardiothoracic ICU. She aids in heart recovery after open heart surgery and other dealings with the lungs and esophagus.
"We get them after surgery. They see us after the procedure is done and throughout their stay in the recovery process," Nunez said.
Patients going to the hospital are trusting their lives with someone else.
"I admire their fight and their drive," she continued. "And how they can be in an area that is very scary and they remain calm a lot of times. I admire they put so much trust in us."
The staff remains updated with the flow of state-of-the-art technology be means of a computer system, said Chandra Ross, RN, manager of the cardiovascular progressive care floor unit.
"To update we use evidence based practice articles," Ross said. We have a couple nurses that do that often, pull that up for us and spread it through the units."
Information is shared during huddles and weekly updates.
There are no side effects in the Ativan No Prescription morning or throughout the day.
"I was always drawn to the seriousness of different heart diseases," Ross said. "I've loved every aspect of it from the floor nurse, supervisor and now the manager," she said.
Nurses stick with cardiac nursing because of its energy and complexity of different procedures, Ross said.
"They get to see a whole variety of things because how the heart impacts stroke, vascularization and different things. They love new challenges," Ross said.