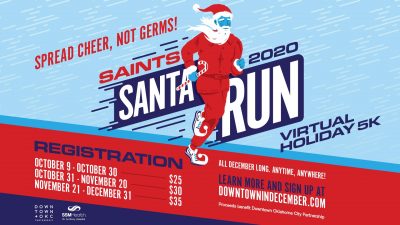 Downtown Oklahoma City Partnership's family-friendly holiday run is bringing all ages, and even pets, to downtown Oklahoma City on Saturday, Dec. 4 for the city's most festive race, the Saints Santa Run. The Santa Run is one of Downtown in December's signature events and includes a 5K race, a one-mile Fun Run, and a free Kids' Dash.
After shifting to a virtual event in 2020, Downtown OKC Partnership is excited to return to an in-person run with a new route and start/finish located at SSM Health – St. Anthony in Midtown. The 5K route takes runners through the Midtown district and historic Heritage Hills neighborhood and allows family, friends, or coworkers stay active and spread holiday cheer.
"SSM Health St. Anthony Hospital values all of the exceptional work done by Downtown OKC Partnership to support revitalization and growth in Midtown," said Sandra Payne, Regional Vice President at SSM Health – St. Anthony Hospital. "We have especially enjoyed participating in events such as the Santa Run which supports a healthy lifestyle for families as well as provides an opportunity to highlight all that downtown Oklahoma City has to offer."
Participants in the 5K and Fun Run are also invited to dress up like Santa or in their most festive holiday costume for a chance to win the costume contest. Cash prizes for Best Santa and Best Non-Santa costumes will be awarded immediately following the race. Cash prizes will also be awarded to the top overall male and female 5K race winners.
The registration fee is $20 for the one-mile Fun Run and $35 for the 5K Walk/Run. Registration is currently open online at DowntownInDecember.com/Santa-Run and will close Friday, Dec. 3 at 5 p.m. but will re-open for day-of registration at 7:30 a.m. on Saturday, Dec. 4 on-site. Registration fees increase by $5 for day-of registration. All 5K and Fun Run participants will receive a commemorative 2021 Saints Santa Run t-shirt and finisher medal.
The 50-yard Kids' Dash for runners age 8 and under will take place at 8:45 a.m. before the races and there is no cost to participate.
Day-of packet pick up will begin at 7:30 a.m. on Saturday, Dec. 4 at the SSM Health – St. Anthony campus located at 1000 N. Lee Avenue. Runners can also retrieve their packets early on Friday, Dec. 3 at the drive-thru pick up at SSM Health from 10 a.m. to 2 p.m. or the walk-up pick up at OK Runner (708 N. Broadway Ave.) from 2 p.m. to 7 p.m.
Schedule for race day is as follows:
7:30 a.m. – Day-Of Registration, Packet Pick Up & Festivities
8:45 a.m. – 50 Yard Kids' Dash begins
9 a.m. – 1-Mile Fun Run/Walk begins
9:30 a.m. – 5K Run/Walk begins
10:15 a.m. – Race Results & Awards
10:30 a.m. – Costume Contest
Proceeds from the Saints Santa Run benefit Downtown Oklahoma City Partnership. Downtown Oklahoma City Partnership, Downtown Oklahoma City Initiatives, and the Downtown Business Improvement District collectively provide services to the downtown area. This event is made possible through the generous support of SSM Health – St. Anthony. For more information and a list of holiday activities happening in downtown Oklahoma City, visit DowntownInDecember.com.