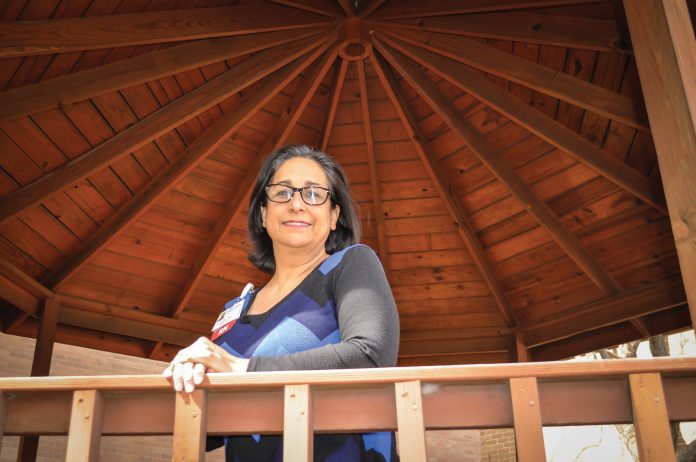 by Bobby Anderson,
Staff Writer
Gloria Ceballos, RN, PhD has worked in just about every nursing area you can imagine. From the operating room to home care to the classroom, Ceballos' 40 years in nursing has taken her to places she never thought possible.
Now, as the Chief Nursing Office of AllianceHealth Midwest, Ceballos is lending that experience to growing local nurses who want to work for their hometown hospital.
Ceballos has helped transition the former Midwest Regional Hospital to the new AllianceHealth Midwest name.
"It has been a great ride with committing to quality of care here at Alliance Midwest," Ceballos said. "We've seen a lot of change this year, changing our name and recruiting new nurses. We've recruited over 25 brand new nurses where for a while this hospital was hiring just one or two new nurses."
Growing nurses is a passion for Ceballos.
She made sure AllianceHealth Midwest awarded eight $5,000 scholarships to students in the medical field last year. Four went to high school students and the rest went to college students already in a medical program.
Ceballos assigned mentors from the hospital to help them along.
"The scholarship doesn't tie them to us – we hope it does," Ceballos said. "It's more mentoring through their schooling. In the end, they could choose to work for us if they wanted to."
By being one of the largest employers in the area, AllianceHealth Midwest is able to be a strong supporter of employment opportunities within the community. AllianceHealth employs more than 1,500 individuals, equaling to more than $70 million a year paid in salaries and benefits.
What was established in 1962 as a community hospital is now a 255-bed acute care facility. AllianceHealth Midwest was the first metro hospital to meet the requirements to be recognized as a Certified Level III Trauma Center by the Oklahoma State Department of Health.
"There are nurses that want to stay here in the community and if we encourage them they will stay," Ceballos said. "Oklahoma needs every single nurse it can keep. Nursing is a career you can take worldwide, really. We want to keep the nurses that want to stay close to home and to their families and not have to leave."
Formerly, Ceballos worked as a consultant in Florida. Ironically, it was that job that brought her to Midwest City.
She came to help with finding solutions but found a great opportunity in front of her.
"I saw the effort this team put in. They convinced me to come," Ceballos said. "Most people don't get to see their organizations from the inside before they're hired. I got to see that and test it."
With healthcare rapidly moving to a pay-for-performance model, Ceballos says communication of that fact to employees is critical.
Under Ceballos quality scores have improved.
"We are incrementally improving and sustaining, which is very important," Ceballos said. "Nationally, hospitals are struggling with their satisfaction scores. Patients are not well when they come to us. Our goal is for them to understand why they are hospitalized and what they need to know before they leave.
"We want to make sure if they need us again they are sure to come back.
"I want the nurses to embrace the new healthcare environment because it's here to stay."
With the increasing importance of scores derived from the Hospital Consumer Assessment of Healthcare Providers and Systems (HCAHPS), Ceballos says it's important that nurses understand how the assessment works.
The HCAHPS survey contains 21 patient perspectives on care and patient rating items that encompass nine key topics: communication with doctors, communication with nurses, responsiveness of hospital staff, pain management, communication about medicines, discharge information, cleanliness of the hospital environment, quietness of the hospital environment, and transition of care.
The survey also includes four screener questions and seven demographic items, which are used for adjusting the mix of patients across hospitals and for analytical purposes. The survey is 32 questions in length.
"Those questions are being correlated with patients coming back in the hospital," Ceballos said. "Patients who answered poorly in some of these questions nationally are correlating maybe with readmissions, not taking their medications or not following up with their doctors. The patients still have to make the decisions but when they leave the hospital we should have given them the opportunity to have those questions answered."
And one by one, Ceballos is answering any questions people might have about whether AllianceHealth Midwest is the right place for them.