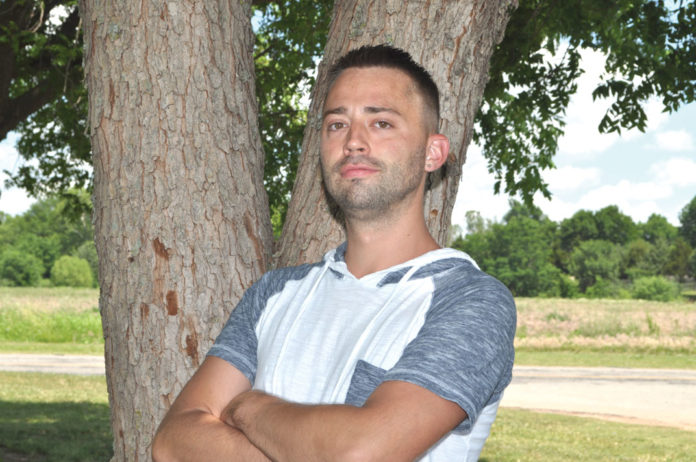 by Vickie Jenkins, Staff Writer
There are many nurses that give their all in their work. That is the case for Kris Buckley, RN. You will find Kris caring for patients at OU Medicine. A top-notch individual, Kris is always willing to help.
"I finished LPN school in 2014 and became an RN in 2016. I have always been an empathetic person and felt it was in my nature to care. As a child, I would bring home sick and injured animals every chance I got with the intent of nursing them back to health," Kris commented. "When I was eighteen years old, I followed in my mom's footsteps and became a CNA. Over the years I cared for mostly geriatric patients in LTC and hospice until I became an LPN at the age of twenty-eight. I continued to work in hospice until I graduated college with my RN and decided to try critical care. After three years of working full time in MICU and a level I trauma ICU, I was ready for a change in pace," he added.
Growing up in Enid, OK, Kris moved to Oklahoma City at the age of eighteen. "My first job as a nurse was with Crossroads Hospice where I had been working as a hospice aide for six years prior to graduating nursing school. I attended Rose State College and SWOSU," Kris said.
Asking Kris what qualities make a good nurse, he replied, "Nurses need to be knowledgeable and skillful above all else. We also must be compassionate and thoughtful to prove quality care. Nurses should be tolerate and accepting of all people regardless of differences."
As a nurse, Kris explained what his biggest reward is. "To me, when I finish a shift and leave work, I have a feeling of accomplishment; That happens when my team and I run a code in the ICU and save a life. What an overwhelming feeling;" Kris said. "To know that we actually helped save someone."
On the other hand, Kris' biggest challenge is common among nurses. "I can't and don't need to handle all of the world's problems. I always complete tasks meticulously and sometimes become anxious when there is a problem that I can't solve. I'm working on letting go of the problems in life that I cannot control," he commented.
Kris' desire to be a nurse was sparked by his mom. "At an early age, it felt natural to go into nursing as an adult. Actually, when I was little, I wanted to be a vet. I guess I didn't get too far from it."
"One of my top mentors in school was a nursing professor from Rose State College, Debbie Hill Murphy. She taught me to become a logical caregiver both in the classroom and in the field during clinicals. After finishing nursing school, I remained in contact through social media. She continues to guide me with encouragement, praise and social support. For that I will be forever grateful."
Do you consider yourself a leader or a follower? "I consider myself a leader. I've always stepped up and done whatever I need to whether I had support or not. I don't expect anyone to follow, I'm just an independent person."
Do you have any hobbies? "My favorite hobby is to travel with my family. When we're not traveling I like to spend time outdoors, hiking, camping, fishing and gardening. I live with my partner Travis who is also in nursing and I have a nine year old son named Lyle."
We have two dogs Sahani and Merlot and a cat named Pig. We also have a duck named Darkwing and an aquarium with a pufferfish and moray eel."
Advice I would give to someone going into the medical field? "I would tell somebody going into the medical field to first take care of their own mental and physical health at all times. You cannot provide quality patient care if you aren't taking care of yourself."
"My family and friends were my greatest mentors. My grandmother passed away a month after I started my nursing program and through my education, my family continues to remind me how proud she would have been. It motivate me to continue on when times are tough."
Kris was recently recognized on KFOR for his outstanding work as one of the nurses on the frontline. Over the years, he was selected as employee of the month when he worked at Crossroads Hospice.

FIVE STAR RATED CMS
Great opportunity to work with us with excellent benefits, including great employer matching 401K,
Tuition Reimbursement, Christmas bonus and the opportunity for quarterly bonuses!
COMMUNITY HOSPITAL
INTEGRIS NETWORK
NORTHWEST SURGICAL HOSPITAL
INTEGRIS NETWORK
Nursing Leadership Opportunities:
· RN Administrative Director of Nursing
· RN System Director – Utilization Review / Case Management
· RN Director of Nursing, Northwest Surgical Hospital
· RN Circulator, Lead, Northwest Surgical Hospital
South Campus:
· RN Med-Surg, FT Night $5000 SIGN ON BONUS*
· RN Circulator, FT $5000 SIGN ON BONUS*
· RN Pre Op/Phase II Recovery, FT
· RN Pre-Admission Testing, FT
· RN ER, PRN
· MRI Tech, PRN
· Radiographer, PRN
· Ultrasound Tech, PRN
· Nutritional Services Support, FT
· Patient Access Rep, FT
North Campus:
· RN Circulator, FT & FT Prime
· RN Pre Op/Phase II Recovery, FT
· RN PACU, FT & FT Prime
· RN Pre-Admission Testing, FT & PRN
· RN Med-Surg, FT & PRN Night *$5000 SIGN ON BONUS (FT)
· Surgical Tech, FT
· Materials Management Tech, FT
· MRI Tech, FT *$2000 SIGN ON BONUS (FT)*
· CT Tech, FT
· Mammography Tech, PRN
Northwest Surgical Hospital:
· RN Circulator, FT- *$5000 SIGN ON BONUS (FT)*
· RN Medical Surgical, PRN Nights & Days
· RN PACU, PRN
· Surgical Orderly/Materials Assistant, FT
Apply online
CommunityHospitalOKC.com/job-postings
NWSurgicalOKC.com/job-postings
Community Hospital/Northwest Surgical Hospital complies with applicable Federal civil rights laws and does not discriminate on the basis of race, color, national origin, age, disability, or sex.
Community Hospital/Northwest Surgical Hospital is a facility in which physicians have an ownership or investment interest.
The list of physician owners or investors is available to you upon request.