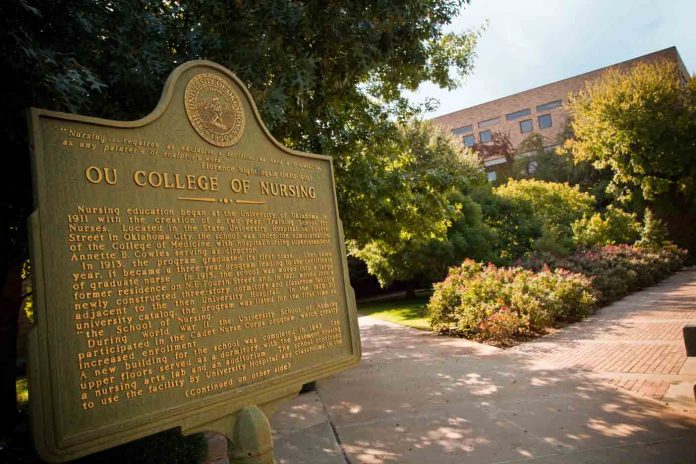 The Fran and Earl Ziegler College of Nursing at the University of Oklahoma is renowned for producing some of the most well-prepared nurses in the profession.
That reputation continues to be bolstered as several students as well as faculty were recently announced as recipients of competative awards.
The student awards were given at the 13-state region's Midwest Nursing Research Society's annual research conference in April.
The theme for the 2018 conference was "The Future of Nursing Research: Economic Realities and Creative Solutions."
The learner outcomes for the conference were to identify strategies that engage stakeholders to advance nursing research and the preparation of nurse scientists; discuss emerging realities and challenges in nursing research across environments as well as examine creative solutions for sustaining nursing research
Several OU students conducting research excelled at this year's conference which is the highlight event for the 13-state regional MNRS organization, which is charged with promoting nursing science and supporting the next generation of nurse scientists.
"We have amazing students who are dedicated to the pursuit of research," said Barbara Holtzclaw, Ph.D., RN, FAAN, associate dean for research at the OU College of Nursing. "Everything that nurses do for patients should have research evidence for it, and our students are being prepared to make a significant difference in their professions."
Student poster competition winners in the undergraduate category were:
* 1st place winner – Aprill Knox Phillips, May 2018 BSN Graduate – "Effectiveness of Dance on Cognitive Function in Older Adults." Knox Phillips is also a Geriatric Nursing Emerging Leader Awardee.
* 2nd place winner – Marleigh Feigenbaum, May 2018 BSN Graduate "Effects of Dance Interventions on Improvements in Gait and Balance in Older Adults with Parkinson's disease: A Review of Literature." Feigenbaum is another Geriatric Nursing Emerging Leader Awardee.
In the Masters (MS/MSN) category OU winners were:
* 1st place winner – Kali Johnson, May 2018 MSN Graduate. – "Influence of Individualized Exercise Therapy on Quality of Life in Heart Failure." Johnson is an Office of Research Travel Award Recipient.
* 3rd place winner – Ingrid Dixon, MSN student – "Interpretation of Newborn Communication Cues: An Evidence Based Practice Integrative Review." Dixon is in her first year as a PhD student.
In the PhD category
* 3rd place winner – Clara Edwards, PhD student – "Care Needs for Persons with Parkinson's Disease Associated Dysphagia and their Care Partners: State of the Science." Edwards is a two-time MNRS winner, placing first in last year's competition.
From the very beginning of their nursing education, OU students are taught the importance of researching and implementing an evidence-based practice.
That mission and vision comes from the very top with Interim Dean Gary L. Loving.
"Two consecutive years our students and faculty have had tremendous success disseminating student research at this national meeting," Loving said. "Congratulations to all our students who garnered honors at MNRS. I'm very proud of them and of our faculty who have expertly mentored the students in their research."
In March, the National Association of Clinical Nurse Specialists (NACNS) presented its prestigious Brenda Lyon Leadership Award to Melissa Craft, PhD, APRN-CNS, AOCN, Assistant Professor, Interim Associate Dean for Academic Administration and Graduate Education and PhD Program Director.
The award recognizes extraordinary leadership in service to NACNS.
OU College of Nursing faculty mentors and advisors include: Drs. Carol Rogers, Mark Fisher, Stephanie Marfurt, Karen Rose, Rene Leasure, Barbara Carlson, Janet S. Wilson, and Barbara Holtzclaw.