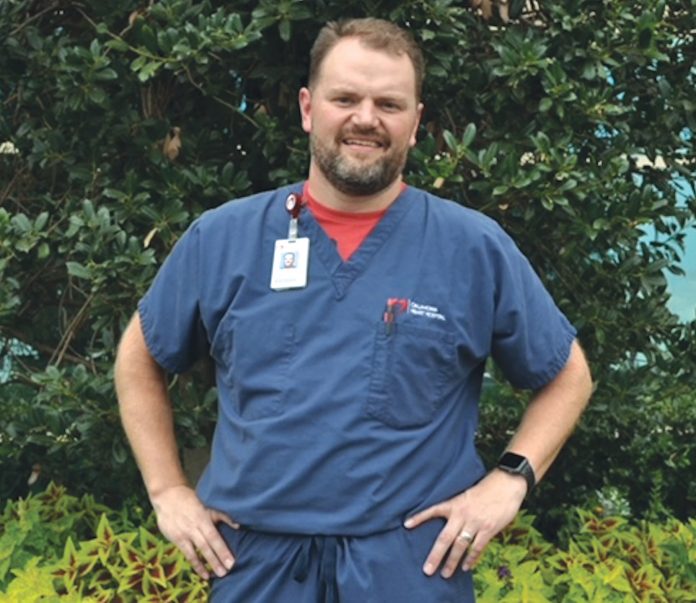 by Vickie Jenkins, staff writer
Compassion and dedication come natural to Deron Dunnington RN, CCRN-CSC. Deron is a Cardiovascular ICU, CVICU nurse at the Oklahoma Heart Hospital. He is also volunteering as the Program Coordinator with the Oklahoma City Area Chapter of AACN (American Association of Critical Care Nurses or OKCAACN)
Deron has been a nurse for twenty-two years. "I'm employed in the CVICU at the Oklahoma Heart Hospital at 4050 West Memorial. I love Oklahoma Heart Hospital and it truly has become my work home. ICU Nursing at OHH has a heavy reliance on hemodynamics with our cardiac population of patients and recovering open heart surgery is one of my true loves. As an ICU nurse you always have to be ready for the just in case moments. We train hard at OHH to make these moments count so that our patients and families can have the best outcome. There is a lot of heart that goes into being an ICU nurse because sometimes, we are caring for more than just the patient. In those moments, I rely on my faith to help families cope with comfort care and sometimes, death. I feel that God is using my spiritual gifts of mercy, service and healing daily as I work with a great team around me at the hospital." (story continues below)
OU HEALTH UNIVERSITY OF OKLAHOMA MEDICAL CENTER SEEKING Respiratory Care Practitioners
Growing up in Nashville, TN, Deron moved to Oklahoma City, finishing high school at PC West and then, onto Southern Nazarene University for Nursing School.
Asking Deron what he wanted to be as a child, he replied, "I always wanted to be in healthcare. I think I decided nursing because of the male nurses that I saw taking care of my dad with his cancer in the hospital in 1985," Deron said. "It was definitely my dad that influenced me to be a nurse," he added.
When it comes to excellent qualities of a nurse, Deron stated that those qualities should be, someone that can ask questions, listen intently, emphasize when needed, think critically fast, and can deliver effective messages while still being real and authentic with patients. It is obvious that Deron possess all of these qualities.
The mentor that stands out to Deron the most is leadership preceptor, Cindy Masse. "She taught me about being authentic and real, pushing me into the nursing pool and letting me work. She always kept a careful eye on me and jumped in to save me occasionally. It was a great experience."
Deron considers being a nurse very rewarding. "There are several big awards as a bedside nurse. 1. Seeing a past patient walk back into the ICU months later to say hello and thank you. 2. Precepting nursing students and interns on days that big concepts finally make sense and nursing ownership becomes evident while watching them care for patients. 3. Volunteering since 2012 to work behind the scenes as the Program Coordinator for the OKCAACN Chapter planning, setting up, and implementing nursing education for seasoned OKC nurses events like the annual Spring Symposium, the CCRN/PCCN Certification review course, and monthly vendor dinner meetings," Deron explained.
Deron stays busy throughout the day. "I work 12-18 shifts a month so I'm probably seeing twenty patients monthly. My day begins by checking my assignments for the day. Upon meeting my patient, I starts my conversation with, "Hi, I'm Deron. I'm going to be your nurse today. You can call me De-Ron because that is what they call me around here," he said.
Deron is definitely a leader. "Leading is done by example," he said. "Taking initiative, building up those around me and taking responsibility." As far as Deron furthering his education, he commented, "You're never done with education in the medical field. I plan to continue my Nursing education through lectures, journals and continuing education classes. I will not rule out a masters degree for my future."
Deron is happily married to his high school sweetheart Deawn and they have been married for twenty-two years. They have two teenage daughters, Hannah and Hailey. Deron's hobbies include riding his road bike around the trails of Oklahoma. He enjoys being around family and friends, and watching Cincinnati Reds baseball. Asking Deron if he had any hidden talents, he replied, "I was a car mechanic and a lock smith while going through nursing school."
Summing up his life in three words, Deron replied, "Be the best." It sounds like an excellent description of Deron's life at the Oklahoma Heart Hospital.
For more information about Oklahoma Heart Hospital visit: www.okheart.com.