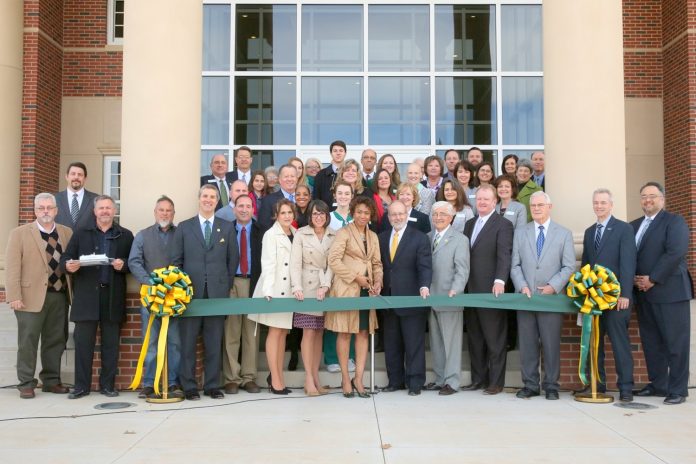 Oklahoma Baptist University hosted a dedication and ribbon cutting for its state-of-the-art nursing building, Jane E. and Nick K. Stavros Hall, in February. The 32,000-square-foot facility is the new home to the OBU College of Nursing and is designed to provide cutting-edge nursing education for both undergraduate and graduate-level students. Members of the University community, local leaders, members of the health care industry, and University Board of Trustees members as well as health care leaders were on hand for the ceremony.
Stavros Hall includes five classrooms, a 109-seat lecture hall and a computer classroom, as well as spaces for students to study, meet and interact with faculty. The facility features six high-fidelity skills simulation labs, a medium skills lab, a health assessment skills lab, and a home health and bathing training room, totaling 24 beds.
The high-fidelity simulation labs are equipped with the industry's most advanced medical simulation solutions. They include lifelike human patient simulators that can blink, accept fluids, and respond to a nurse's care. Instructors control the simulators and create changing symptoms for the students to respond to, ranging from fever, regurgitation, cardiac arrest, and more. The high-fidelity labs even include a birthing suite, with a simulator that "gives birth" to a simulated baby, passing through all stages of labor.
Dr. Will Smallwood, vice president for university advancement, welcomed guests to the ceremony. Nico Gomez, CEO of the Oklahoma Health Care Authority, offered the opening prayer. Dr. David W. Whitlock, president, and Dr. Lepaine McHenry, dean of the College of Nursing, both offered remarks.
In 2014, Nick Stavros provided the lead gift for construction of the new facility for the OBU College of Nursing in honor of his late wife, Jane, who was the daughter of Victor C. Hurt, legendary OBU athletic director and football, basketball and track coach. The building is named in their honor. Members of the Stavros family also gave remarks during the ceremony, including Christina Stavros-Morton, Stephanie Stavros-Guinn and John Stavros.
In 1952, the Oklahoma State Board of Nursing granted OBU the approval for Oklahoma's first baccalaureate nursing program. The inaugural class of 11 students graduated in 1956.
OBU's nursing program now offers a Bachelor of Science in Nursing degree, a BSN completion degree for nurses with an associate degree, an LPN to BSN degree, and a Master of Science in Nursing degree with a focus in either nursing education or global nursing.
You can learn more about the College of Nursing by visiting the OBU website at www.okbu.edu/nursing. If you would like to share memories associated with the College of Nursing, you can share those on social media using the hashtags #OBUNursing or #StavrosHall.
With campuses in Shawnee, Oklahoma, and Oklahoma City, OBU offers 10 bachelor's degrees with 88 fields of study and four master's degree programs. The Christian liberal arts university has an overall enrollment of 1,986, with students from 40 states and 35 other countries. OBU has been rated as one of the top 10 regional colleges in the West by U.S. News and World Report for 24 consecutive years and has been Oklahoma's highest rated regional college in the U.S. News rankings for 22 consecutive years. OBU is one of three universities in Oklahoma and the only private Oklahoma university listed on Great Value College's rankings of 50 Great Affordable Colleges in the Midwest. Forbes.com consistently ranks OBU as a top university in Oklahoma and the Princeton Review has named OBU one of the best colleges and universities in the western United States for 11 consecutive years.