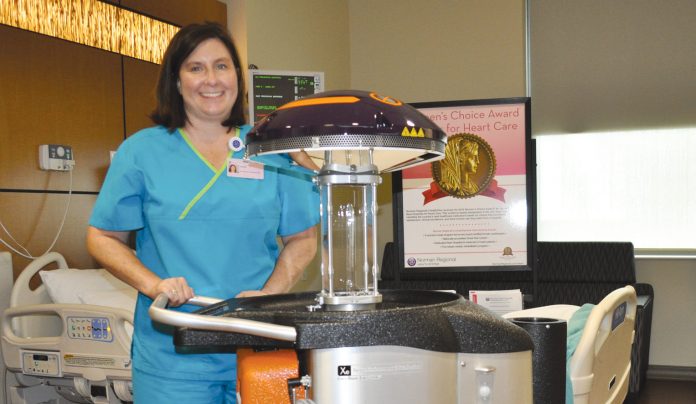 story and photo by Bobby Anderson, Staff Writer
Norman Regional Health System Infection Prevention Specialist Julie Smith, RN, MS, CIC has a new ally in the war on germs in her health system.
Actually, she has four new allies and not one of them is over four-foot tall.
Norman Regional Hospital recently invested more than $400,000 in new Xenex Germ-Zapping Robots, which have been credited by other healthcare facilities across the U.S. for helping reduce infection rates.
"We've begun to see an impact already," Smith said. "Your typical day-to-day cleaner doesn't clean C-diff spores so you have to use special cleaners such as bleach, which is the only thing that works. This will kill the C-diff spores and it cleans the air.
"We have already seen a decrease in hospital-acquired infections."
Think R2D2 with the ability to emit UV light 10 times brighter than the surface of the sun.
Norman Regional has four new pulsed xenon ultraviolet (UV) disinfection robots that will enhance patient safety by destroying the microorganisms that cause hospital acquired Infections (HAIs).
These robots use UV light technology to quickly disinfect an enclosed space. The Germ-Zapping Robots emit a blast of UV light that kills bacteria and viruses in minutes within an enclosed area.
Depending on the size of the room, the Xenex robots can disinfect in just 5-10 minutes. The germicidal UV light disinfects a variety of areas and surfaces including bedrails, tray tables, machines, monitors, keyboards and computers.
"We've taken the approach that patients come first," Smith said. "That's our main stance. If it takes a little longer to turn over the room then we're going to do it. It's the right thing to do."
The technology also provides a total kill of the Ebola and Zika viruses.
It has shown impressive declines in a number of organisms at various hospital sites around the country including:
*70% reduction in ICU C. diff infection rates
*53% reduction in C. diff infection rates
*57% reduction in MRSA infection rates
*100% elimination of VRE in isolation rooms
"The Xenex LightStrike, no-touch disinfection system uses pulses of full spectrum UV light to fuse the DNA of organisms. Once the organism's DNA is fused it can no longer replicate or mutate, and is no longer infectious," said Clyde Brawner, director of environmental services at Norman Regional.
Two robots will be stationed at Norman Regional Hospital and two will be at the Norman Regional HealthPlex. After a housekeeper has completed the process of cleaning a room which includes removing trash and wiping surfaces with a disinfectant, the robot will be wheeled into the room to begin its work. The robot uses intense bursts of UV light to disinfect high-touch areas in patient rooms and operating room suites.
It can also be used to disinfect other areas such as utility closets, waiting rooms and more.
"The UV robots are another way that Norman Regional is making patient safety a priority," said Darin Smith, Pharm.D., vice president of quality and performance improvement. "It's both important and necessary to have multiple methods of effective disinfection in our arsenal to protect patients, visitors, and healthcare staff."
Xenex's patented Full Spectrum pulsed xenon UV room disinfection system is used for the advanced disinfection of healthcare facilities. Due to its speed and ease of use, the Xenex system has proven to integrate smoothly into hospital existing disinfection operations.
Norman Regional Health System is a multi-campus system that serves the healthcare needs of south central Oklahoma.
Norman Regional Hospital is licensed for 324 beds and offers a full range of services including emergency care, oncology, an intensive care unit, surgery and more.
The Norman Regional HealthPlex campus is licensed for 136 beds and features the services of cardiovascular, spine and orthopedics, women's and children's and more. The Norman Regional HealthPlex is also the home of the Chest Pain Center and the HealthPlex Heart Hospital.
It has grown to employ more than 2,700 people and have 356 physicians credentialed on the Medical Staff.
The burden of treatment costs has shifted from insurers and CMS to hospitals.
Centers for Disease Control and Prevention (CDC) statistics show that in the United States, one in 25 patients will contract an HAI while in care, with close to 75,000 of these patients dying annually.
CDC figures also show that HAIs cost the United States healthcare industry upwards of $30 billion dollars.