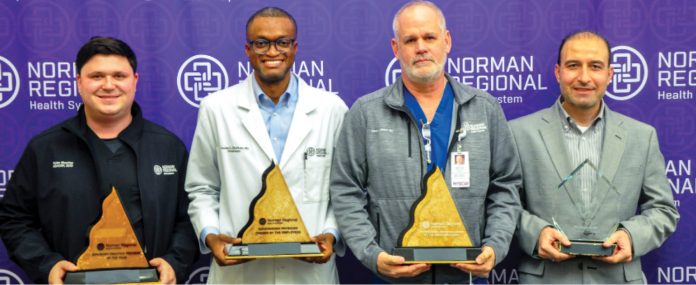 Norman Regional Health System honored multiple physicians and providers for their commitment to patients and the community in 2021.
Norman Regional announced the 2021 award winners for Outstanding Physician of the Year; Physician Peer Award; Hal Belknap, MD Heart of Gold Community Award; Advanced Practice Provider of the Year, and Nurse of the Year. The finalist and first runner up for the Nurse of the Year award were also announced. To read about the Nurse of the Year, please click here.
Aaron Boyd, MD, was awarded Outstanding Physician of the Year after being chosen by Norman Regional employees. All employees were given the opportunity to vote for one physician they thought best personified three traits: compassionate care of patients, building of collegial relationships and the pursuit of professional excellence. (story continues below)
Oklahoma Children's Hospital OU Health seeking Respiratory Care Practitioners
Dr. Boyd worked countless hours during the pandemic helping nurses and fellow physicians. His nominations noted that he always finds time to be there for everyone and it shows. Dr. Boyd has served as the Chief Medical Officer for the Health System for 11 years.
Nzube Okonkwo, MD, a hospitalist, was chosen for the Physician Peer Award. Physicians voted for a fellow physician they thought best personified three traits: compassionate care of patients, building of collegial relationships and the pursuit of professional excellence.
Dr. Okonkwo is a board certified Family Medicine and Geriatrics physician and completed an accredited Geriatric Medicine Fellowship at Hennepin County Medical Center in Minneapolis, MN. He has significant experience in inpatient and long-term care.
Saria Refai, MD, was honored as the Hal Belknap, MD Heart of Gold Community Award.
Each year, one physician is given the Hal Belknap Heart of Gold award, which honors a physician for his or her service to the community. Dr. Hal Belknap was on the Medical Staff at Norman Regional from 1967 until he passed away in 2008. He made remarkable contributions both locally and globally, ranging from supporting a Boy Scout troop at Norman Regional to founding a health clinic in Africa.
Dr. Refai gives back to the community in many ways including speaking publically about diabetes and preventive medicine, performing sports physicals for local schools and also providing health screenings for low income and uninsured people.
Dr. Refai is a neurologist at Norman Regional. His educational background includes completing medical school at Damascus University in Syria, Family Medicine residency at William Beaumont Hospital in Michigan, and Neurology residency then Clinical Neurophysiology fellowship at the University of Oklahoma Health Sciences Center.
Dylan Shockley, AGACNP-BC, was awarded Advanced Practice Provider of the Year. Shockley is an Adult-Gerontology Acute Care Nurse Practitioner at GI of Norman. He received his Master of Science in Nursing from the University of South Alabama, and his Bachelor of Science in Nursing from the University of Central Oklahoma. Dylan has passion for education, a passion that extends to his patients as well as nursing students at Oklahoma City Community College where he is an adjunct professor.