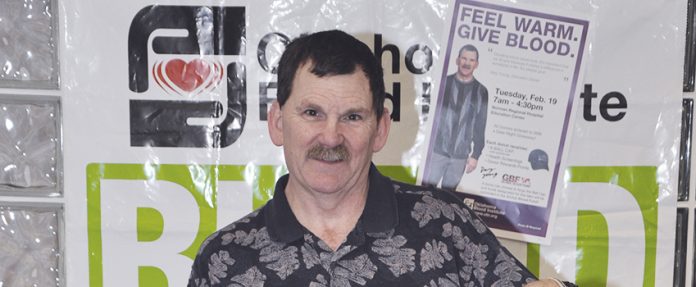 Norman Regional Health System's Gary Young is gearing up for Thursday's blood drive, after already donating seven gallons of blood.
Young, an Education Center representative at Norman Regional, has been donating blood four to five times a year for the past 13 years.
Young was on Norman Regional's Blood Drive Committee for more than a year before he decided he should start giving blood if he's going to be on the committee, Young said. Since then, he's donated blood at 56 blood drives at Norman Regional, only missing one because he had low iron and was unable to give.
"It's wild," Young said. "Hopefully it's been used to save a lot of lives."
Young, 56, was born at Norman Regional Hospital and grew up in Norman, so he only gives blood at Norman Regional in hopes of his blood being able to help another Norman resident.
"It's close to home. I like it here. It's more like giving blood to a family member," Young said.
"Through the years, we've had special people who needed the blood so I wanted to help those people. It gives me joy in my heart that I could save someone's life with my blood."
Young will have his 24th anniversary at Norman Regional this August and plans to retire from Norman Regional in about six years, but that won't stop him from donating blood at Norman Regional.
"I plan to continue giving as long as I can, even after retirement," Young said.
During Young's time on the Blood Drive Committee, he came up with the idea of using an employee's photo on Oklahoma Blood Institute's blood drive posters so employees would pay more attention to the posters. Since it was Young's idea, he was the first Norman Regional employee to be featured on a poster three years ago.
"It draws more attention since they know them. It's been a better turnout since coming up with the idea," Young said. "I still have my poster." Stacy Hicks, mechanic operations with Engineering Services, is featured on the next blood drive's poster with his granddaughter.
"I like the feeling that I am helping people in need. My granddaughter was a blood donor recipient in 2017. Your donation makes a difference," Hicks's quote reads on the poster.
On average, about 50-55 people give blood at Norman Regional Hospital, approximately 35-40 people give blood at Norman Regional HealthPlex, and at least 20 people give blood at Norman Regional Moore.
Young said Norman Regional Moore's blood drives are continuing to grow again. Blood drives were hosted at Norman Regional Moore before the May 2013 tornado, but they waited a year after the hospital was reopened before beginning to host the blood drives there again.
Norman Regional's next blood drive will be hosted from 7 a.m. to 4:30 p.m. Thursday, March 8th at Norman Regional Moore.
The blood drives are open to anyone and everyone, and Young said he hopes more people from the community attend and donate blood to save lives.