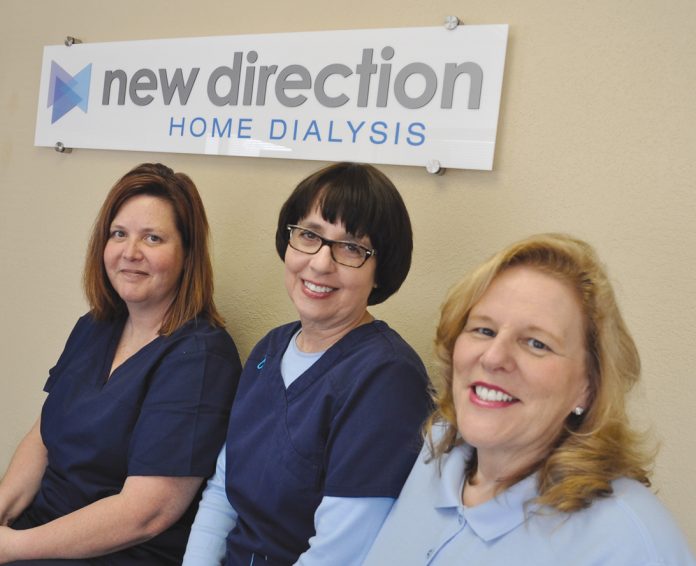 Anyone who has ever researched dialysis companies for themselves or a loved one knows the market is dominated by a pair of multinational corporations.
Those companies open their doors daily to hundreds of thousands of patients living their lives around a regimented treatment schedule.
As one of the last remaining independent dialysis companies in Oklahoma, New Direction Home Dialysis works around their patients, offering them choices in how they want to live their lives.
That means giving patients the freedom to receive their dialysis treatment in their own home.
"We don't want them to stress out," Administrator Leslie Whiles said. "We'll come to them. That's what we do."
Simply put, New Direction is driven by the patient.
Vikki Howe, RN, DON worked for both of those large dialysis companies before she met Whiles and came to work for New Direction.
"(Larger companies) are a lot more impersonal," Howe said. "You see your patient and you love your patient to a T but you don't know your upper bosses as much. You get policies and you don't understand as much as why you are doing what you are doing.
"With an independent company you are one-on-one with your bosses. You are involved in making policies. You are involved in the why."
The 'why' as it turns out is always what's best for the patient. Whiles wouldn't have it any other way.
New Direction trains the patient and/or their caregiver for eight weeks on how to properly dialyze at home.
"It's more private at their home," says New Direction's Dede Pickle, RN, BSN, CNN. "They get to determine their schedule so there's no appointment to go to."
New Direction staff will also go to a patient's home to draw their labs.
"They love it," Pickle said. "A lot of the patients are doing this because they can't go to an incenter facility but still need hemodialysis. Some of these patients are on a ventilator or they're just immobile or have no transportation back and forth.
"They just have some hurdles that prevent them from getting outpatient dialysis."
New Direction nurse Janie Wigley, RN, enjoys the fact New Direction travels to the patient.
Seeing patients in their home setting provides insights into how better help them manage their disease process.
For many patients who have traveled to dialysis centers three times a week for years, home hemodialysis is lifechanging.
"Patients think this is the only kind," Pickle said. "There's several options for the way you get dialysis. Patients need to know there are definite choices in what modalities they choose.
"I can't tell you how many times when I'm in a hospital doing acute dialysis and they are set up to do hemodialysis in an outpatient clinic and I mention peritoneal dialysis and they say "What's that?' No one has even talked to them about it."
Consistency in quality care provided to patients is at the heart of New Direction Home Dialysis. The care provided is based on a comprehensive training program that highlights standards for care of the End Stage Renal Disease patient.
Their dedication to providing the highest quality outcomes for patients cannot be surpassed. New Direction nurses are available 24 hours-a-day, seven days-a-week.
The Dietary and Social Services Coordinator follows each patient to ensure they are able to make informed decisions regarding care.
Some patients who are younger and working are prime candidates for peritoneal dialysis.
"There's no reason why they couldn't have more control," said Pickle, who also teaches CPR classes for the public and healthcare providers. "I'm a big advocate of peritoneal dialysis. It gives the patient a whole lot more."
In an effort to get the word out, New Directions stays active in the community. During the recent OKC Kidney Walk to promote awareness and research, Pickle raised more money than any other walker while New Directions raised the second-largest amount as a team for the event.
Pickle urged those patients who have had difficulty obtaining dialysis due to existing circumstances to contact New Directions to discuss their situation.
"I think because we are independent we are able to do more than bigger companies," Wigley said.
And that means giving patients a new direction in how they manage their disease.