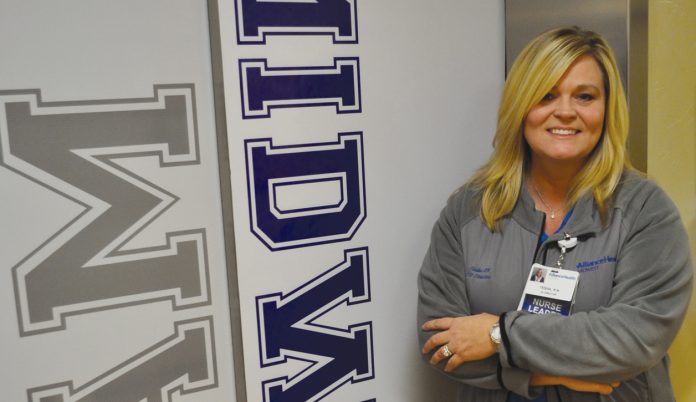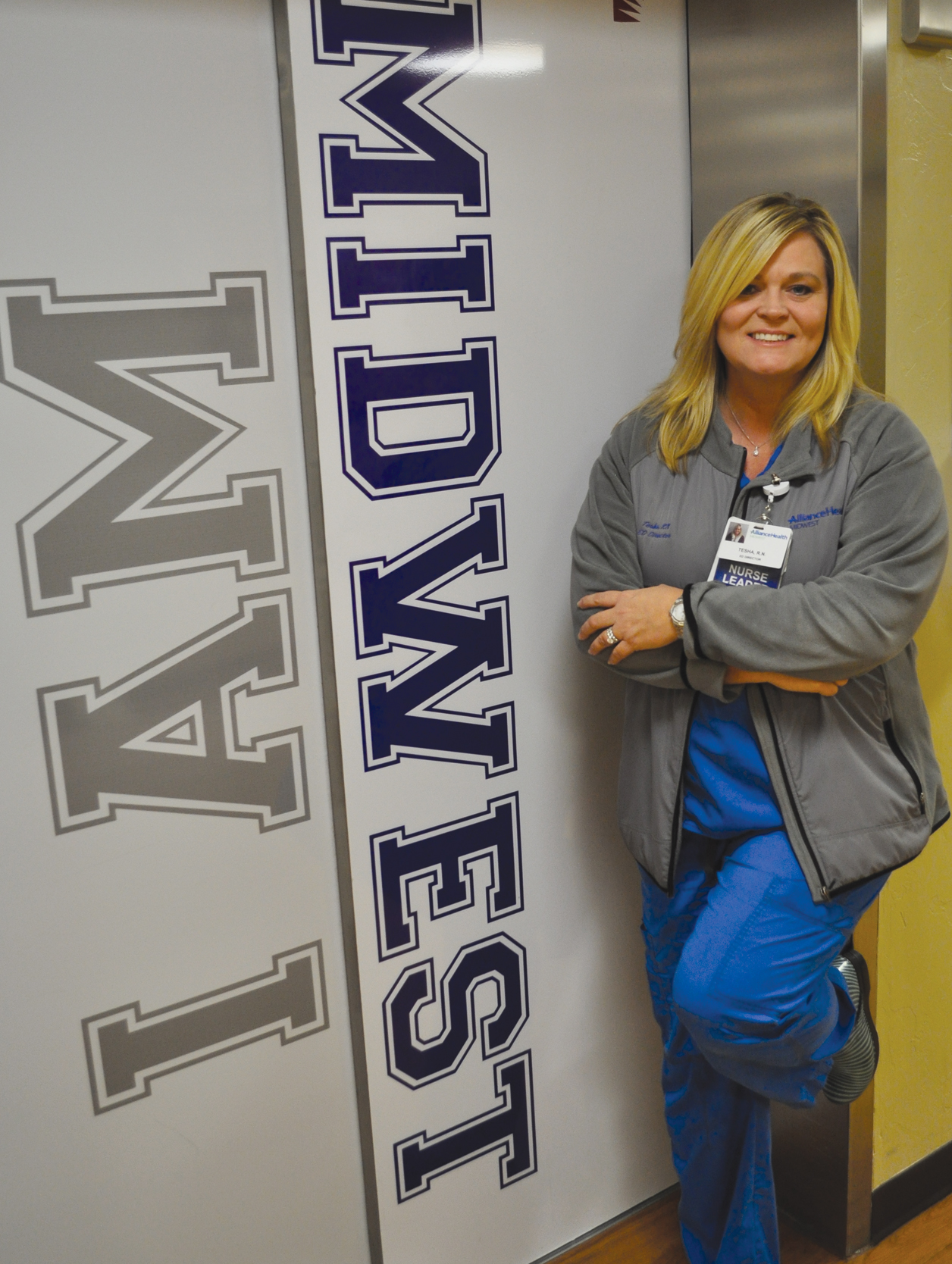 story and photo by Bobby Anderson, Staff Writer
Leave it to an emergency room nurse to roll up her sleeves and figure out a way to accomplish what few thought possible.
That's been Tesha Loven's story for the past 23 years. The registered nurse has spent that time working in emergency rooms, seeing people at their lowest and then finding a way to put the pieces back together to get them on the road to recovery.
"Only the emergency room, that's the only thing I've truly felt passionate about," said Loven, BSN, RN.
And it was that skillset that earned her the position of emergency room director at AllianceHealth Midwest.
"I came to Midwest at a time when I knew they needed leadership," Loven explained. "I felt like the community was ready for a change, deserved a change and someone to take a chance to come in with some new ideas and passion."
She's celebrating four years at AllianceHealth Midwest after initially hiring on as the ER manager and then moving to the director role a little more than a year later.
RENAISSANCE
The hospital's management company uncertainties were front page news a few years ago when the City of Midwest was looking to make changes.
Where most saw upheaval, Loven saw opportunity.
Her friends feared for her sanity.
"Most people around the city knew Midwest had some struggles with the leasing of the hospital and all the things that were going on," Loven said. "Pretty much all we were hearing out in the community was the issues with the city and the hospital. I got a lot of negative responses. A lot of physicians and nurses I worked with for 20-plus years thought I was crazy for taking the chance to come here coming from another facility I enjoyed working at."
"I just prayed about it and knew this was where I was supposed to come."
BEND DON'T BREAK
More than a decade ago Loven began immersing herself into medical mission trips.
She felt a calling to step outside of herself.
She was told straight up that if you weren't flexible going in you were going to break.
"I've been able to carry that on into the medical field and especially the emergency department," she said. "It's all about flexibility. Nothing is the same day-to-day and you have to be able to change with the times, even from one day to the next, one hour to the next. Just being able to be flexible and understanding the patients coming into the ER are different hour-by-hour."
In many ways, she saw that flexible spirit in her new emergency room. In other ways, she brought it in.
"I have the utmost respect for all the emergency room nurses," Loven said, bragging on her staff. "We expect them to go above and beyond every shift. Some people think it's just part of being an ER nurse. It's really not. The things we ask of them are very difficult. There are good times and bad times. We see the worst of the worst but we also see the best of the best. As far as an ER nurse you are expected to put your personal feelings aside and jump into that moment. You have to be what that patient needs you to be at that time."
AMBASSADOR ROLE
For Loven, the message to her staff is one of service excellence. And deserved or not, her emergency room nurses are often the only interaction some will have with AllianceHealth Midwest.
"They know that every opportunity with a patient is the opportunity," Loven said. "I've always heard you never get a second chance to make a first impression. I take that into the ER. From the moment they hit the front door we're there to provide that service."
"No matter what else happens it's all about that patient at that time."
Loven stresses that her nurses control what happens within their four walls. Dignity and respect are the mission.
Thirty beds encompass the AllianceHealth Midwest's Level III emergency department, which is called on to serve almost 4,000 patients per month at a pledge of 30 minutes or less.
"It's basically our pledge to the community that we're going to provide quality care as quickly and efficiently as possible," said Loven, who notes that door to provider times average 24 minutes in her department.
Which, after all, is what emergency room nurses like Loven do the best.