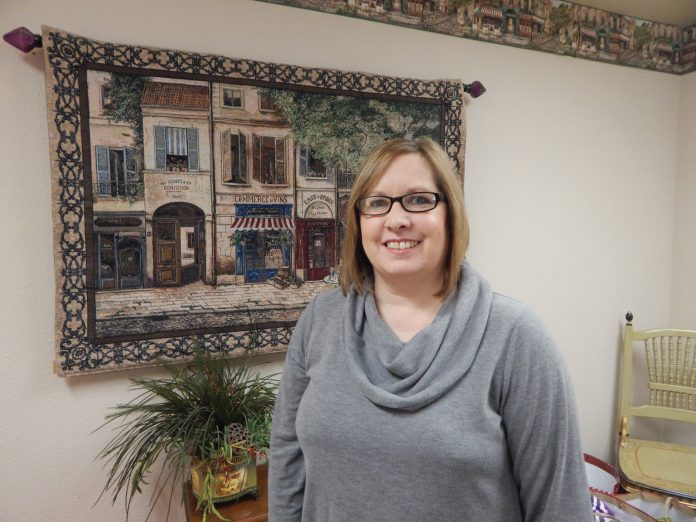 by James Coburn
Staff Writer
When Kim Selvey was a young teenager she started volunteering in nursing homes as part of a church activity. Selvey became a CNA at the young age of 16 after volunteering as a dishwasher.
"I thought it was really fun and those people always had such appreciation for us when we came," Selvey said.
From that moment she never turned her back on nursing but set her sight forward and embraced nursing as a career.
"I always wanted to be a nurse," she Selvey, RN, director of nursing at Meadow Lake Estates in Oklahoma City.
She worked in the oncology unit of then-Presbyterian Hospital (OU Medical Center) beginning in 1989. When she graduated from school she stayed in the oncology unit. During her career in long-term care, she has even earned a National Leadership Award in Nursing.
She earned her Bachelor of Science degree in Nursing at the University of Central Oklahoma in 1991 when it was known as Central State University.
She worked in hospice intermittently to broaden her experience.
"I just wanted to get my hands in everything. I've kind of touched it all. I always had a heart for elderly people," Selvey said. After I got my feet wet in nursing and felt I got acclimated and grounded, I came back to long-term care."
Selvey will mark her one-year anniversary in January serving Meadow Lake Estates. She oversees the designated skilled nursing hall and long-term care comprising 124 beds, she said. Across the street is the assisted living area of Meadow Lake Estates.
"Right now we're pretty full. We don't even have any empty beds," Selvey said.
Long-term care inspires her to get out of bed every morning motivated for work.
"I get as much out of it as they do. As nurses we give and get," she said. "They give us a lot, too. Everybody says look at them as your mom or grandma. Well our generation is changing. That doesn't work anymore."
"So you have to look at them like they are someone's child. And that person is long-gone and you need someone to watch over them."
Meadow Lake Estates is one big family and everyone relates to it, Selvey continued. She has gotten to know the elders everywhere she has worked by seeing them almost every day. The stability of knowing each other and building relationships is long lasting, Selvey said. She found room for improvement when she came to the nursing department, just like anywhere else in the health care industry. But she loved finding the close relationships the nurses have with the residents and with each other. The staff embodies a close affinity. They bond for success in making a good team, Selvey said. She made efforts to fine-tune the team to build on the strong leadership potential they already had going.
"Just getting our drive back to excellence is what I was hoping," she said. "And I'm a fairly competitive person. I want to be the best wherever I'm at, whether it's nursing or playing softball. I feel like we're really making a great winning team now."
There is an active female resident team involved with the staff, working with them on different activities and things they want to achieve. Selvey loves this aspect of the elders. They have their own Bible study they have developed that they read themselves. The men are also becoming interested in the group.
"That to me is they're taking ownership for where they live," Selvey said. "This is their community and they want to help run it."
Selvey said the stories they can tell are reminiscent of wars. They've worked in the circus and have incredible stories to tell.
She sees her own family making their own stories of life. Her son is 21 years old and her daughter is 18. Both of them attend UCO where Selvey graduated from the university. She and her husband, Garry, have been married since 1991.
"We met in high school, dated for six years and got married," she said. "We just spend a lot of time together. We play games. We're just really family oriented. We do a lot of things together."
In 2017 Selvey will continue to work with her new administrator. Their drive together will continue to evolve the nursing center and skilled nursing hall to one of exemplary care, Selvey said.
They will get committees together so people will feel part of a spirit of unity. The community will draw closer to improve the care and outcomes.
"We had one of the best state surveys this building has ever had this year. They were followed by the federal surveyors. And we had a zero deficiency in the federal survey. We're really proud of that. They pointed out several things that we are efficient at, and it was just a huge compliment to know your work is recognized and that you're doing a good job, not just myself, but the team of nurses and the aides, the dietary staff and housekeeping staff," Selvey said.