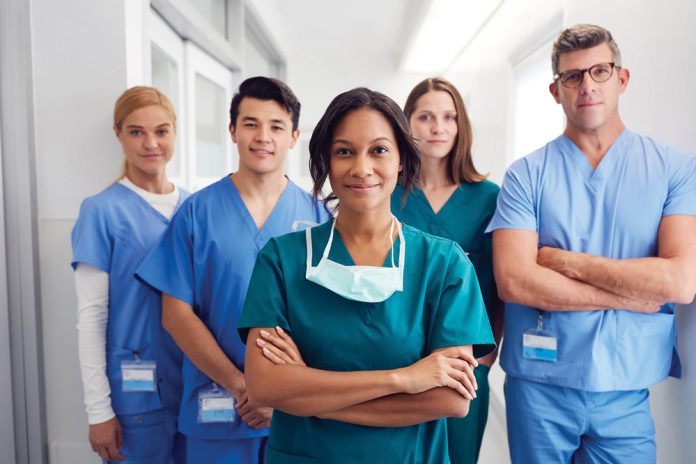 A Nursing Program offered in partnership with Oklahoma Christian University
If you've ever considered being a nurse, you'll want to hear about this new program. INTEGRIS Health University powered by INTEGRIS Health and Oklahoma Christian University, is the result of an innovative academic partnership designed to increase the available pipeline of nurses.
There has been a nursing shortage in the United States, including Oklahoma, for many years – long before the existence of COVID-19. One thing the pandemic has certainly shown us, is that nurses are the backbone of the medical profession and we desperately need more of them. (story continues below)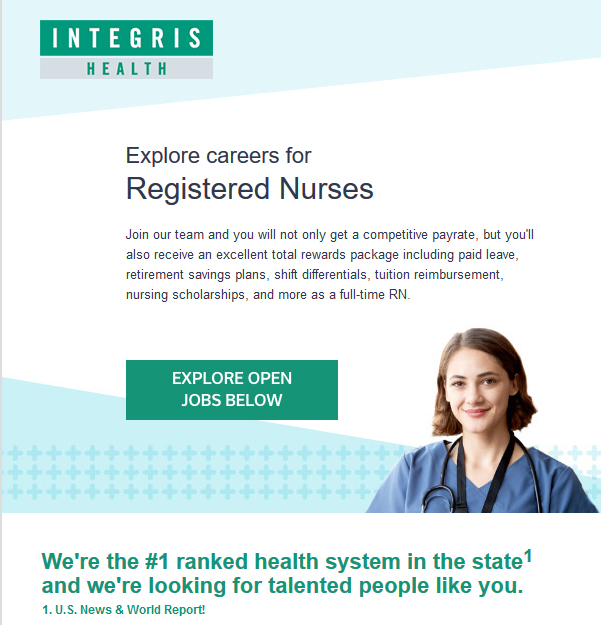 INTEGRIS Bass – Enid, OK
JOB # 726091
RN FT – Nights – Med Surg ICU
JOB # 726350
RN FT – Days – Outpatient-Ambulatory Surgery
INTEGRIS Health Baptist Medical Center
JOB # 725885
RN Infection Preventionist FT – Days
JOB # 727332
RN FT – Days – Surgical Admissions Unit (SAU)
JOB # 726020
RN FT – Mon – Fri (8:30a – 5p) – Advanced Endoscopy
JOB # 727426
RN FT (7p – 7a) – Cardiothoracic ICU
JOB # 727467
CV OR RN FT – Days – Cardiovascular Surgery
JOB # 726934
RN Coordinator Transplant FT – Days – Kidney Acquisition-Living Donor
JOB # 726346
RN Coordinator Transplant FT – Days – Liver Post Transplant
JOB # 727313
Manager Nursing Bennett Fertility
JOB # 726868
RN Case Manager FT – Days – Integrated Care Management
INTEGRIS Health Baptist Medical Center Portland Avenue
JOB # 727682
OR RN Circulator FT – Days – Surgery
JOB # 726117
RN FT (7p – 7a) Intermediate Care
INTEGRIS Health Canadian Valley Hospital, Yukon, OK
JOB # 727226
OR RN Circulator FT – (Mon – Fri, Days) – Surgery
JOB # 725853
RN FT (7p – 7a) – Intermediate Care
JOB # 727560
RN Consultant to VP/CNO FT – Nursing Administration
INTEGRIS Health Edmond
JOB # 727610
RN FT (7a – 7p) – Intermediate Care
JOB # 727617
RN FT (7p – 7a) – Intermediate Care
JOB # 728029
Manager Nursing (RN) Surgical Services
JOB # 727975
RN OR Circulator FT (5:30a – 2p) – Surgical Services
INTEGRIS Health OKC Metro
JOB # 726498
RN FT (7a – 7p) ICU
INTEGRIS Meadowlake – Enid, OK
JOB # 725899
RN FT – Dual Diagnosis
INTEGRIS Southwest Medical Center
JOB # 726126
RN FT – Days – Heart Cath Lab
JOB # 725227
RN FT (7p – 7a) – Intermediate Care
JOB # 727587
OR RN Circulator FT (Mon – Fri, Days) – Surgery
Lakeside Women's Hospital
JOB # 727593
OR RN Circulator FT (Mon – Fri) – Surgery
Nurse Resident, new graduate opportunities are posted!
Start your nursing career with a proven program of support and mentorship!
The Nurse Resident is a new graduate of an accredited RN program who is eligible to sit for the NCLEX. As a Nurse Resident, you can expect classroom instruction and hands-on clinical experience under the preceptorship of an experienced RN.
Explore Nurse Resident Opportunities Now!
Join us serving the community together.
APPLY NOW
INTEGRIS considers all qualified applicants regardless of protected status as defined by applicable law, including protected veteran or disability status. AA/EOE
INTEGRIS Health University creates flexibility for candidates by allowing them to work in a hospital setting while receiving their necessary credits. It uses a transformational nursing education model that is moving away from traditional education to a more blended approach with hands-on learning and online instruction.
The Certified Nurse Assistant (CNA) to Registered Nurse (RN) program is open to CNAs and non-CNAs alike, meaning you do not have to be a CNA to participate. In fact, if a candidate is not already a CNA, INTEGRIS Health will pay for that candidate to become one through partnerships with several different vocational schools.
"INTEGRIS Health is eager to partner with academic institutions across the state to begin strategically transforming the future of nursing for Oklahoma," says Kerri Bayer, the chief nurse executive at INTEGRIS Health. "It is through intentional effort that we will begin establishing pathways into the most noble and trusted profession of nursing in a way that aligns with student needs of today."
She continues, "We are not only committed to growing the nursing workforce, but to ensuring life-long success for our nurses."
The program is intended for both recent high school graduates and adults. Each student will perform delegated direct patient care activities to an assigned group of patients, under the supervision of a Registered Nurse.
Interested candidates will need to apply to both INTEGRIS Health and Oklahoma Christian University. Application forms provided in hyperlinks.