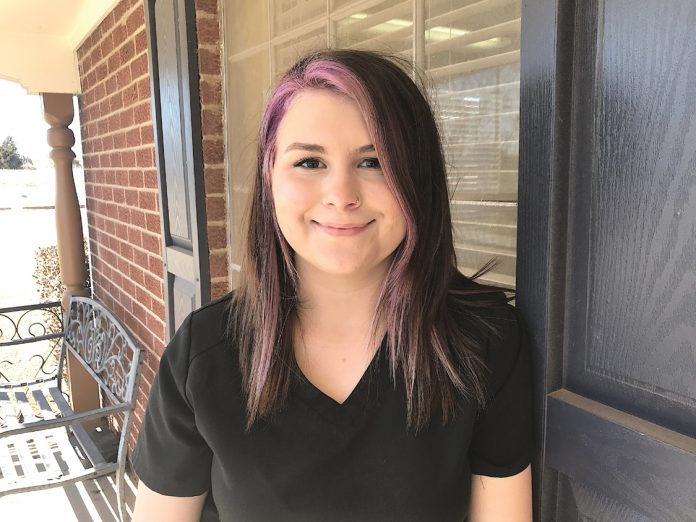 by James Coburn – staff writer
Hearing a nursing home resident tell her they love her for the first time is what warms her heart the most as a nurse, Kayla Colter said.
"It's like we are the people they rely on from day-to-day. I didn't think I was making that much of an impact until one of them told me that they loved me," said Colter, LPN, at The Wilshire Skilled Nursing and Therapy, located in Oklahoma City.
Geriatric nursing wasn't Colter's first ambition in becoming a nurse. However, nursing homes hire LPNs more readily that a hospital will, Colter said. And she fell in love with working for the elderly.
"They tend to pull on your heart strings. And I think I really found the field of nursing that I want to be in," she said. (story continues below)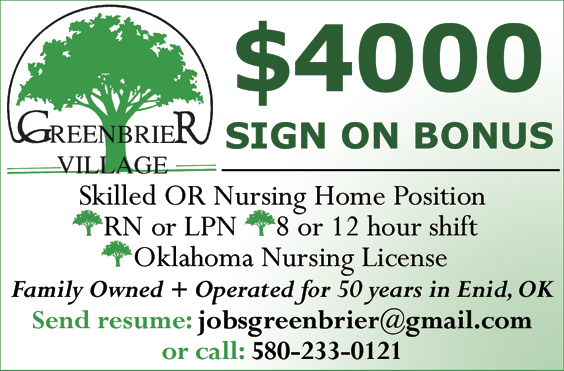 Colter is a recent nursing school graduate, having earned her LPN license in August after studying at Oklahoma City Community College.
She began serving at The Wilshire Skilled Nursing and Therapy on Sept. 1.
"I'm going for my RN," Colter said. OCCC offers a challenging curriculum, she continued. She chose OCCC because it offers one of the best programs in the state, she said. OCCC prepared her well for a nursing career with informative instructors, Colter said.
"I know a lot more information, I think than a nursing student that would go to a different college," she said.
Colter was grateful to find a nursing staff with a work ethic to serve when coming to The Wilshire Skilled Nursing and Therapy. They work extremely hard and their actions demonstrate they care deeply for their patients, she mentioned.
"You can tell by the way they do things every day. They get them up to look nice, and they help them with their daily living activities. They do it with dignity."
The main thing a nurse needs to know when working in a skilled nursing and therapy center is that it is home for the residents. Nurses should be respectful and compassionate while having the professional knowledge needed to care for the residents, she said.
"We treat them the way you'd want your family to be treated," Colter said.
Unlike a hospital setting, nursing homes offer chances for nurses to know their patients with more depth during the days, weeks, months, and years they share together. Bonding with the residents in a home-like setting has helped alleviate some of the worry they feel when not being able to see their families during the COVID-19 pandemic, Colter said.
"One of the important things is companionship. They don't really get to see their families. You can be there, and you get to listen to their concerns and spend time with them. You don't just go in there and get what you need done. You go in there and talk to them and do things for them. I know that sometimes I'll take extra time out of my day to do their nails and hair because they need that interaction and that socialization."
Colter said it was when she had her first daughter that she felt inclined to pursue a nursing career.
"I was in (Mercy Hospital) and the nurses there were fantastic," she said. "They helped me tremendously. I was in a scary situation. I had to have an emergency C-section, and the nurses just really helped me through that, and I realized I wanted to do that for other people."
As a nurse, her history of having been a patient also helped her to relate more to the role of a patient. Nurses are everything, she said. They give out medications with a caring spirit, help people to walk, and in a way are similar to therapists by encouraging others, she said.
"They push you and let you talk about your feelings," she said.
Geriatric nursing is opposite the polar spectrum of pediatric care. And today, she says that geriatric nursing chose her.
"Like I said, once I got into it and got the experience — I fell in love with it," Colter said.