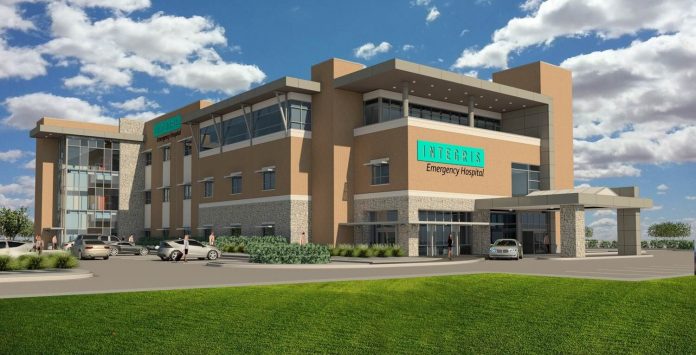 INTEGRIS today is announcing a major initiative to build and operate micro-hospitals in a number of locations across central Oklahoma. The first INTEGRIS micro-hospital will open in south Moore in 2018 with at least three other facilities planned to open in different quadrants of metro Oklahoma City within the next 24 months.
Micro-hospitals are small-scale, fully licensed inpatient hospital facilities that are open 24-hours a day, seven days a week. Micro-hospitals house between eight and 10 inpatient beds for observation and short-stay use, and include a similar number of emergency treatment and triage rooms, along with primary care and specialty care physicians, diagnostic and other outpatient clinic services.
"We are pleased to be the first health system in Oklahoma to build a hospital of this kind," says INTEGRIS President and Chief Executive Officer Bruce Lawrence, "because we recognize central Oklahomans expect us to lead the way in providing even more choice, convenience and value when their health care needs arise. Our new micro-hospitals will bring to local neighborhoods 90 percent of the health care services our patients and families may ever need."
Lawrence believes these new micro-hospitals will further strengthen the already strong continuum of care INTEGRIS provides, and offer another way INTEGRIS helps accomplish its goal to provide high-quality, easy-to-access health care in central Oklahoma. He calls the micro-hospital concept transformative and has watched similar facilities work very well in places like Dallas, Denver and Houston.
As part of this expansion initiative, INTEGRIS is entering into a partnership with Emerus, an innovator in the delivery of efficient medical care and the partner of choice to major health care brands across the nation, to build and manage micro-hospitals.
"We are honored to partner with INTEGRIS as it expands its footprint throughout central Oklahoma," said Emerus Chief Executive Officer Toby Hamilton, M.D. "Micro-hospitals offer an innovative approach to providing quality, accessible medicine. By partnering with INTEGRIS, an award-winning, highly respected health system brand, patients know they will receive premier medical care from doctors and staff they can trust."
Each INTEGRIS micro-hospital will be fully licensed and accredited, housed in state-of-the-art facilities and equipped to respond to almost any medical issue including those that may be life threatening and require complex, critical care.