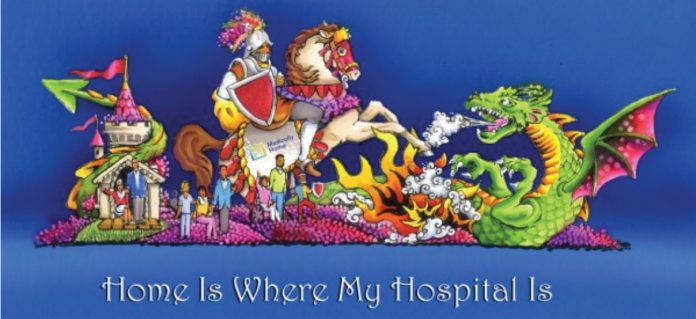 For millions of people around the world, the Rose Parade is an iconic New Year's Day tradition. This year, Lisa Rother, the director of INTEGRIS [email protected], will represent this newly formed program as a partner participant for the Medically Home Group, Inc. float. Rother and other representatives from partner hospitals will travel to Pasadena to participate in the float depicting the heroic journey undertaken to deliver a new era of hospital-level care for millions of patients and their families.
The Hospital at Home model provides hospital-level care to patients in the comfort and convenience of their own homes. It is only available through a handful of health systems across the country. Eligible patients typically suffer from common chronic conditions such as congestive heart failure, respiratory ailments, diabetes complications, infections like pneumonia, as well as COVID-19.
The "Home Is Where My Hospital Is" float represents the dragon of herculean obstacles that had to be overcome to safely hospitalize patients in their homes. The float symbolizes the spirit of perseverance of everyone involved to achieve this impossible dream – a global movement on behalf of patients.
"We are excited to be leading care delivery transformation in Oklahoma. Our partnership with Medically Home is also moving INTEGRIS Health to a leadership position for this emerging care model on a national level," said Aric Sharp, the chief transformation officer for INTEGRIS Health.
The INTEGRIS [email protected] program is completing the design and build stage now and will be transitioning soon to the testing and training stage. The program is expected to officially launch in early February.