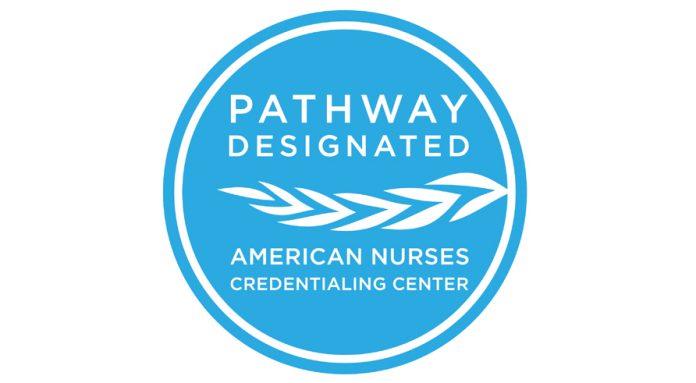 For Second Consecutive Four-Year Term
The American Nurses Credentialing Center has designated both INTEGRIS Health Edmond and INTEGRIS Southwest Medical Center as Pathway to Excellence® hospitals for the second consecutive four-year term. INTEGRIS Canadian Valley Hospital received re-designation last year.
"Words cannot express what an accomplishment this is or how proud I am of these nurses," says Kerri Bayer, executive vice president and chief nurse executive at INTEGRIS. "I am particularly impressed with the high participation rate (73%-76%) and the fact that each hospital received a greater than 75% positive response rate on a majority of the survey questions."
The Pathway to Excellence designation identifies health care organizations committed to a culture of sustained excellence and a positive practice environment.
What does LIVING PATHWAY mean?
As a Pathway-designated organization, our nurses embody the Pathway Standards through the work they do each and every day:
1. Shared decision-making: The organization has an established shared governance structure as the foundation for involving direct care nurses in decision-making.
2. Leadership: Leadership fosters the foundation of collaboration among staff and supports a shared governance environment.
3. Safety: The organization protects the safety and well-being of nurses, staff, and patients through safety policies and processes.
4. Quality: Organization-wide quality initiatives are evidence-based, focused on improving patient outcomes, developed through interprofessional collaboration, and implemented based on internal and external benchmarking.
5. Wellbeing: Staff have the opportunity to develop a balance between work and personal life. Achievements for community service, patient advocacy, and contributions to improving population health are encouraged, supported, and recognized by the organization.
6. Professional development: The organization recognizes the importance of staff orientation, collaboration, and professional development in the delivery of safe and effective patient care.
INTEGRIS will continue to deliver on our Pathway Promise to create a healthy work environment where nurses excel and feel empowered as an integral part of the team. Our organization's investment in our nursing leadership, policies, and safety means better quality care from our nurses and better outcomes for our patients.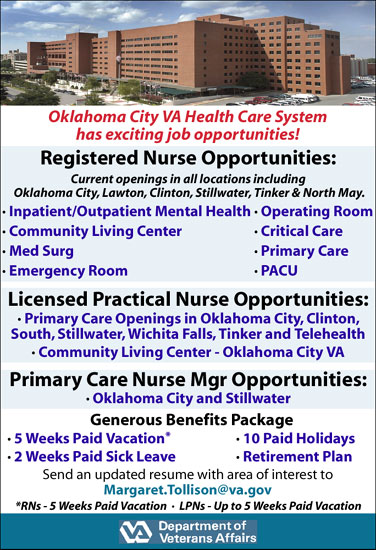 Oklahoma City VA Health Care System has exciting job opportunities!
Registered Nurse Opportunities:
Current openings in all locations including Oklahoma City, Lawton, Clinton, Stillwater, Tinker & North May.
· Inpatient/Outpatient Mental Health · Community Living Center · Med Surg · Emergency Room · Operating Room · Critical Care · Primary Care · PACU
Licensed Practical Nurse Opportunities: · Primary Care Openings in Oklahoma City, Clinton, South, Stillwater, Wichita Falls, Tinker and Telehealth · Community Living Center – Oklahoma City VA
Primary Care Nurse Mgr Opportunities: · Oklahoma City and Stillwater
Generous Benefits Package
· 5 Weeks Paid Vacation* · 2 Weeks Paid Sick Leave · 10 Paid Holidays · Retirement Plan
Send an updated resume with area of interest to [email protected]
*RNs – 5 Weeks Paid Vacation · LPNs – Up to 5 Weeks Paid Vacation
U.S. Department of Veterans Affairs