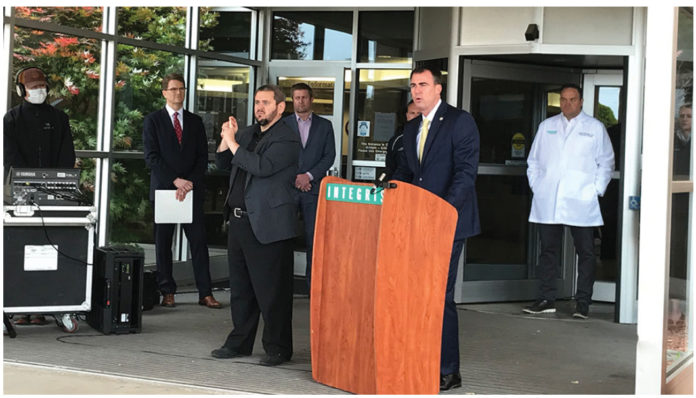 Gov. Kevin Stitt announced today that the INTEGRIS Baptist Medical Center Portland Avenue campus will play a vital role in the state of Oklahoma's COVID-19 Emergency Response Plan.
The announcement was made during a press conference at the facility this morning. "State officials contacted me last week after hearing we were consolidating patients from our Portland Avenue campus to our N.W. Expressway campus and asked if they could potentially use this space," said Timothy Pehrson, the president and chief executive officer of INTEGRIS Health. "We were pleased to have the opportunity to partner with the State during this time of crisis."
After surveying the space, the Army Corps of Engineers found the campus to be suitable to serve as a Level 2 safety net hospital once all the other hospitals in the metro had reached a 40-percent surge capacity of COVID patients.
"Because the Portland Avenue campus will remain an integral part of the INTEGRIS Baptist Medical Center complex, we were not able to offer full use of the Portland Avenue campus, but we were able to reserve a 110-bed unit for the cause," explained Pehrson.
He went on to say that the partial bed lease will be accomplished without any disruption to normal operations at the INTEGRIS Baptist Portland Avenue campus. "Safety is our number one priority, and the patients who seek non-COVID-19 services will continue to receive the safe care they have always received at this valued facility," Pehrson declared.
Governor Stitt thanked INTEGRIS for allowing partial use of the facility during the pandemic. "If we need additional capacity, INTEGRIS Baptist Medical Center Portland Avenue has stepped up to be our COVID flex location here in Oklahoma City," said Stitt. "We are so grateful to our hospital community for partnering with us to provide Oklahomans the care that they need."
The other overflow safety net hospital in Oklahoma will be OSU Medical Center in Tulsa.