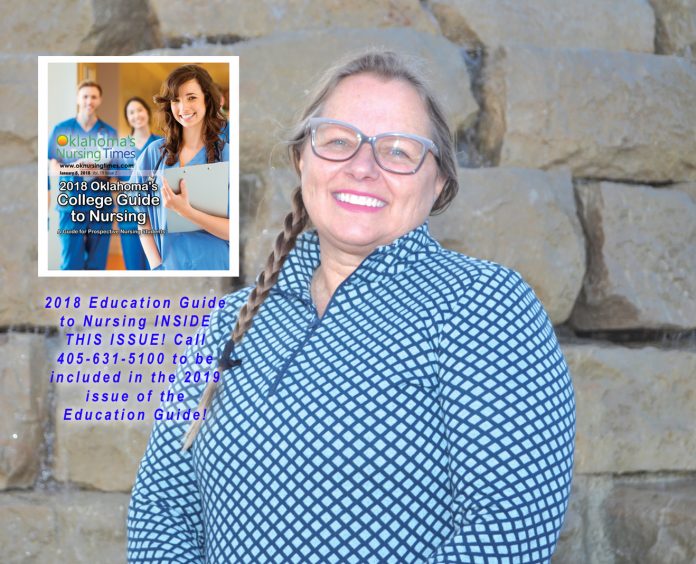 by Vickie Jenkins, Staff Writer
Founded in 1899, Southern Nazarene University is a private, Christian, liberal arts university, a service of the Church of the Nazarene. Located on a 40-acre campus just west of Oklahoma City, SNU grew out of several small colleges committed to training people for lives of service to God, leadership and reconciliation toward their neighbors and within the global community. More than 32,000 alumni work and serve throughout the United States and the world.
Deb McCullock, DNP, is a assistant professor of the School of Nursing at SNU, just one of the many professors here at the university. Deb grew up in Indianapolis and moved to Oklahoma when she was in high school. "My family and I relocated and I have lived here in Oklahoma ever since," she said. "At the time, I wasn't too sure about it. I'm considered an Okie now though," she added. "There was such a difference in the two states, it was unreal. That was a long time ago and I suppose that I adjusted to the change just fine, Oklahoma is definitely my home now."
Deb has been a nurse for 32 years and a Professor at SNU for 2 years. "Even when I was a little girl, I knew that I wanted to be a mom and a nurse," she said. "I can't imagine doing anything else. I enjoy teaching and seeing the students learn. It is a good feeling knowing that I am teaching these students to become nurses. I know teaching others in the medical field is what I was meant to do with my life."
Asking Deb where she went to school, she had quite a list for me. "Let's see, after high school, I went to Redlands Community College in El Reno, OK for my associate's degree. Then, Southern Nazarene University for my Bachelor's degree. After that, I attended OU Health Science Center for my master's degree and Family Nurse Practitioner. Moving forward, I went to the University of Alabama for my doctrine of nursing practice. After all of that, I ended up here at SNU," Deb replied.
"My biggest reward in my work as a professor is the fact that I get the opportunity to watch the students gain understanding of concepts that they were previously confused by. It is rewarding for me, as a professor to see their minds absorb so much information. I am proud of all of my students. On the other hand, my biggest challenge is time management. I have a hard time with that sometimes but I am trying to fit everything into a certain time frame. I'm still working on that myself, but I am getting better," she said with a laugh.
What advice do you give to your students? "Some of the most important advice I can give to my students is to tell them how important it is to remember that your family and your patients are people. Sometimes, I think we tend to forget to acknowledge that," she replied. "We need to make that a priority and know that is important in any practice. Our attitude towards others is everything," Deb added.
Asking Deb what qualities she thought made a good nurse, she replied, "I think it is very important to pay attention to detail, time management, current knowledge and flexibility. Those are some of the best qualities about a nurse."
When Deb is not teaching at SNU, she enjoys spending time with her husband, four children, their spouses, and her three grandchildren, ages, three, six and nine. "I love spending time with my family," she said with a smile. I also like to run when I get the chance."
Deb has traveled to quite a few places to help others learn about nursing. She has been to Haiti and Peru. One thing that keeps Deb extra busy is her non-profit business; reading and writing grants in Zambia, Africa. She usually travels once or twice a year with a group of volunteers. "The volunteering encompasses lots of things; we work with the local organizations, provide equipment and supplies to those in need and partner with local companies to work together and do whatever we need to do to help others, "she said. "I just love traveling, knowing that I'm helping them in such a huge way."
The most positive words Deb uses when speaking to her students? I'm Proud of You. What an encouragement to all.