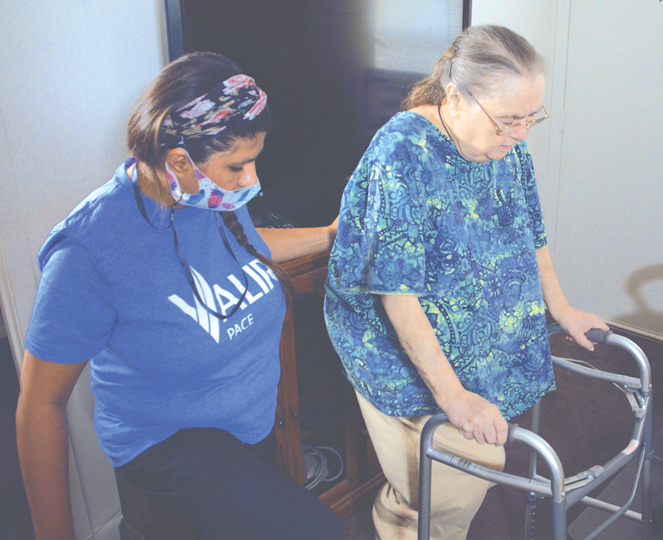 Senior assistance program goes exclusively mobile and online
More than six months have passed since the COVID-19 pandemic sent at-risk seniors into self-isolation. The centers where they used to enjoy meals, meet friends, and receive therapy and other services remain closed, but their need for camaraderie, nutrition and care remains unchanged. So, one Oklahoma program has taken its show on the road and online. (story continues below)

"We took our entire practice at the center and just uprooted it. Now, we are caring for everybody decentralized," said Kevin Morefield, director of Community Development for Valir PACE, a program that provides all-inclusive care to medically and economically challenged seniors in central Oklahoma.
PACE (Program of All-inclusive Care for the Elderly) currently cares for more than 270 senior citizens, each with a unique set of circumstances and needs. Susan Cote, 73, of Oklahoma City is among them.
"Ready to do some exercises," said PACE Restorative Aide Amanda Fish as she entered Cote's home for a recent physical therapy house call. Cote now receives her therapy as well as a variety of other services in the comfort of her own home.
"I get my blood work done here. PT comes out. I have a home health aide. They deliver food and drinks for me. I am all set. Everybody comes to me and I like that," Cote said.
Fish, who used to see patients for therapy at PACE's facility just west of downtown Oklahoma City, has been on the road providing care ever since COVID-19 forced the temporary closure of the PACE center.
"I am in Warr Acres, Noble, Norman – so it's a lot. Sometimes it is kind of difficult, but we just take it day by day and I am lucky to have co-workers who help out if needed," Fish said.
On this day, Fish also delivered a tablet to Cote so that she could visit with her health care provider virtually.
"Sounds like you are doing very well. I am very proud of you," said PACE Nurse Practitioner Justin Henson, talking to Cote as she held the tablet for her online checkup.
"I am coming along really well," Cote said. "I am not 100 percent yet, but I'm getting a lot stronger than I was when I left the hospital."
Technology has helped a lot as the PACE team adjusts to life and work amid a pandemic. By marrying technology with old-fashioned house calls, they have continued to provide care and support to PACE participants.
"I think it has been great to get to go out to their homes, to see where they live and to be in their own environment. Our goal at PACE is to keep people out of nursing homes, where they can live their own life at their own house," Fish said.
PACE is not unaccustomed to providing services at home, but Morefield said never at this level.
"We have always offered home health, mobile meals and other services in the home. It's just that before COVID-19 hit, many of our participants came to our day center on weekdays where they got breakfast and lunch, onsite therapy and a full health clinic, as well as a variety of activities. Now, we take all of those things to participants so they can stay safely at home."
Morefield said the program has added resources to meet the expanded demands on their team and the team has stepped up to the challenge too, developing new ways to stay connected with participants.
"We are also doing virtual activities with Bingo; Tai Chi with our PT department; nutrition classes with our dieticians every day. So, they are interacting with our team a lot from a technology standpoint," he said. "Our entire focus is on getting participants proper medical care and therapy, as well as socialization, meals, transportation and more. We are still doing all of that. None of it has stopped. We're just doing that in a different way and to a different level."
Change has become a way of life for the team at PACE as they continue to shift, adjust, refine programs and protocols. One thing that has not changed, though, is their focus on keeping the seniors in their program healthy and living independently. Though team members and participants are anxious to return to the PACE center, Morefield said it is too soon to say when they will be able to reopen.
"People want to come back and we want them to come back. They are part of our family and we love seeing them. We want to be able to shake hands and hug participants again, but at the end of the day, we need to make sure they are safe and healthy."
He added they are still adding participants and will continue to follow CDC, state health and government guidance to keep participants safe at home until it is advisable and safe to reopen their center to participants again.