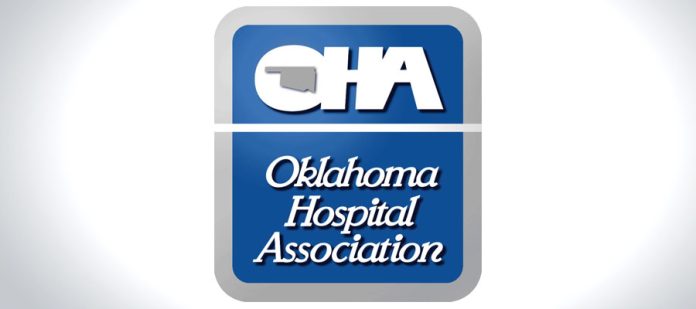 Hospitals Helping Patients Quit (HHPQ), an Oklahoma Hospital Association (OHA) initiative, recognized 11 hospitals and clinic partners at OHA's recent Connect 22 annual conference that have achieved notable benchmarks in reducing tobacco use in Oklahoma. These visionary hospitals and clinics have implemented a permanent and standard best-practice protocol for identifying, counseling, and referring individuals to the Oklahoma Tobacco Helpline (OTH) for coaching support and nicotine replacement therapy.
OHA recognized these hospital leaders for achieving notable benchmarks in clinical tobacco treatment:
Helpline Referrals 100-499
Great Plains Regional Medical Center, Elk City – 100 referrals

McAlester Regional Health Center – 150 referrals
Cedar Ridge Behavioral Hospital, Oklahoma City– 275 referrals
Helpline Referrals 500-999

AllianceHealth Ponca City – 500 referrals

Stillwater Medical Center – 600 referrals
INTEGRIS Health Edmond – 600 referrals
Helpline Referrals 1000-1999
OU Health, Oklahoma City – 1,000 referrals
Comanche County Memorial Hospital, Lawton – 1,100 referrals
Helpline Referrals 2000 or more
SSM Health St. Anthony Hospital – Oklahoma City – 2,850 referrals

Chickasaw Nation Medical Center, Ada – 5,000 referrals

INTEGRIS Outpatient Clinics – 8,600 referrals
Through effective, health care provider-driven tobacco treatment services, HHPQ partner hospitals and clinics have referred 55,000 patients to the OTH, resulting in an estimated 39,000 years of life saved and $19.5 million dollars in reduced health care costs as well as personal spending on tobacco products.
The Tobacco Settlement Endowment Trust (TSET) supports OHA's Hospitals Helping Patients Quit and the Oklahoma Tobacco Helpline. For more information the HHPQ initiative, go to https://www.okoha.com/hhpq. For information on the Oklahoma Tobacco Helpline,
http://okhelpline.com.